For many people who are not aware of the fact, let me tell them that scientists have only been able to explore 5 percent of the ocean's world.
Within this 5 percent, so many deadly and dangerous species have been discovered that we cannot go to sea without having a fear of them for instance, shark or octopus. But there are many other species and toxic creatures still lurking in the dark, waiting to be discovered.
Today, we bring you the most dangerous sea creatures which have been known to human beings. They have a high level of toxicity, and their venom can kill humans in a few minutes. So, it is always best to be aware of the water that you are swimming in and stay away from danger as possible. Let's have a look.
Most Dangerous Sea Creatures
Titan Triggerfish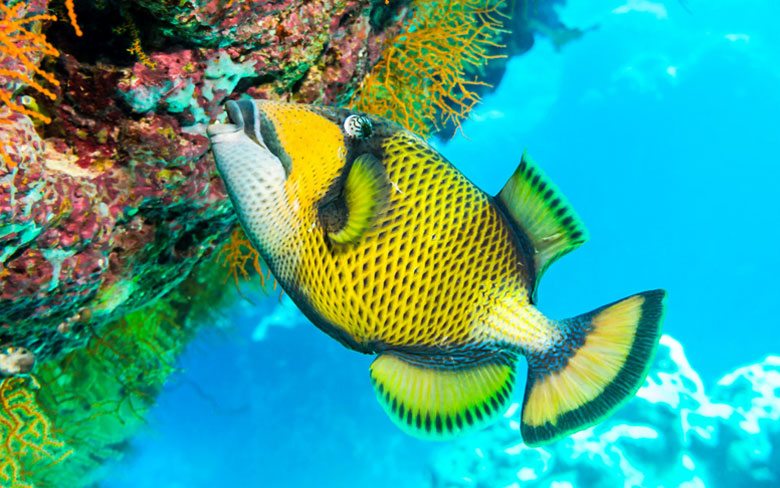 Image Source
Though it is not as dangerous as any shark, any diver is aware of the danger this fish causes. The dangerous thing is that it attacks when it is not even provoked. To add more misery is the fact that this titan triggerfish attacks at the divers' fins and flesh and bite away carelessly. Found in the coral reefs of Australia and Thailand, it is considered to be a beautiful creature which must be admired but forms a distance.
Stingray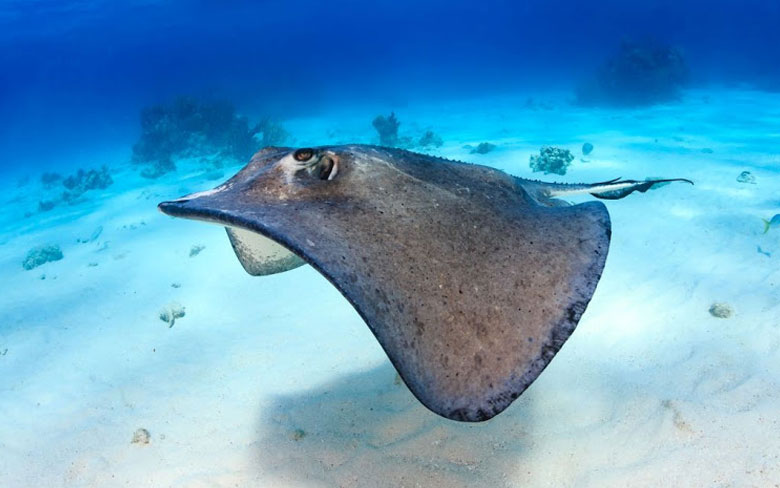 Image Source
Everyone knows that stingrays are dangerous as they can cause serious electric jolts from their tails. The sting is not electric, but the feel is just like one. Usually, they attack when provoked, and danger is never over if the tails hit the heart which can cause you a cardiac arrest in a few seconds.
Flower Urchin
Image Source
This fish may have the name of a flower, but it is not one. This fish has such dangerous tentacles which have a jaw full of toxic venom in them. This venom is so powerful that it can even kill a human being. No wonders it is included in this list of most dangerous sea creatures.
Electric Eel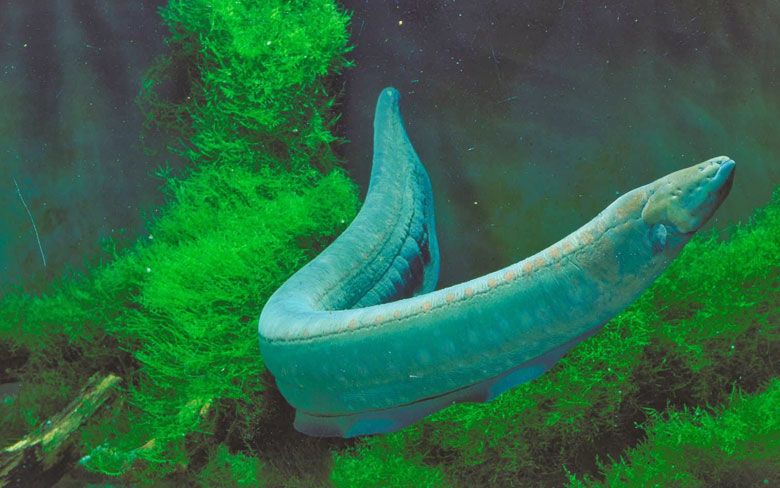 Image Source
Electric eel has thousands of electrolytes present in their body, and they set out adangerous amount of electric shock to whoever threatens them. This electric shock can cause serious injuries and even death if they get provoked beyond control.
I must mention here that the number of electrolytes present in different body organs is much like small batteries and they combine to get rid of the threatening factors.
Textile Cone Snail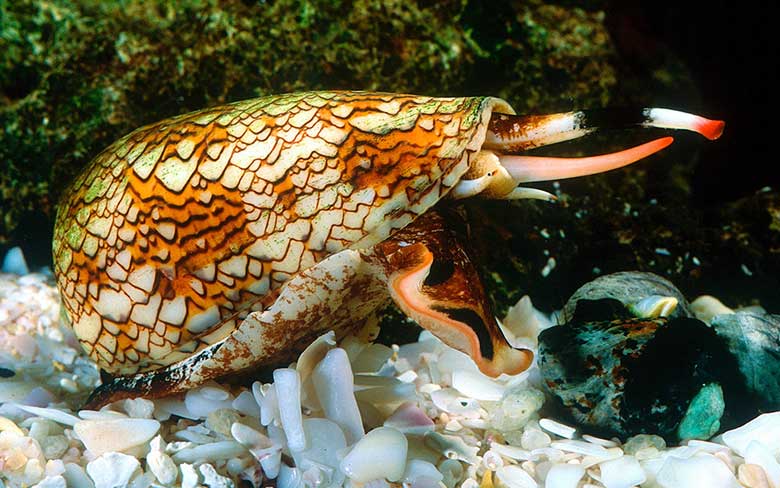 Image Source
The shell is so beautiful of this fish that it is almost impossible to resist the colors but a word of caution here. Don't get fooled by the luscious, colorful shell as this small snail has toxic venom in them which they inject into their preys through their teeth. The venom is toxic enough to paralyze a human even to death.
Blue-Ringed Octopus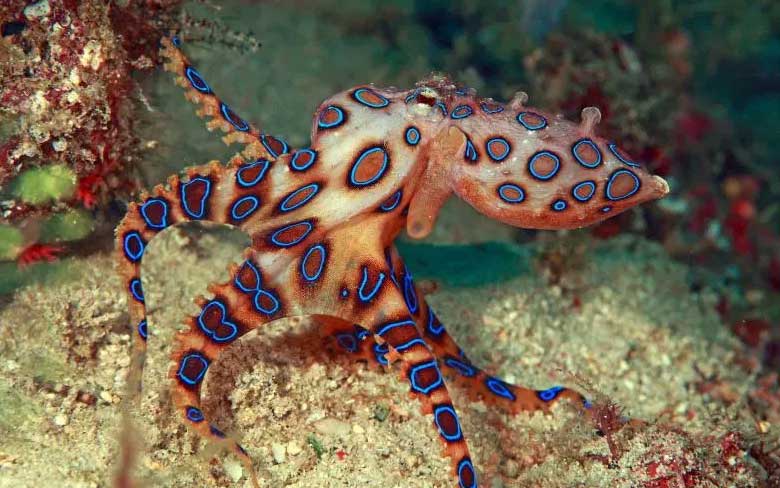 Image Source
Octopus is always though to be dangerous. But this blue-ringed octopus is the most dangerous octopus on the planet. This octopus is super colorful and vibrant, but it contains venom which is 1000 times more dangerous than cyanide. If you give this venom to humans then as per some calculation, 26 humans can die within 1 minute.
Dubois Sea Snake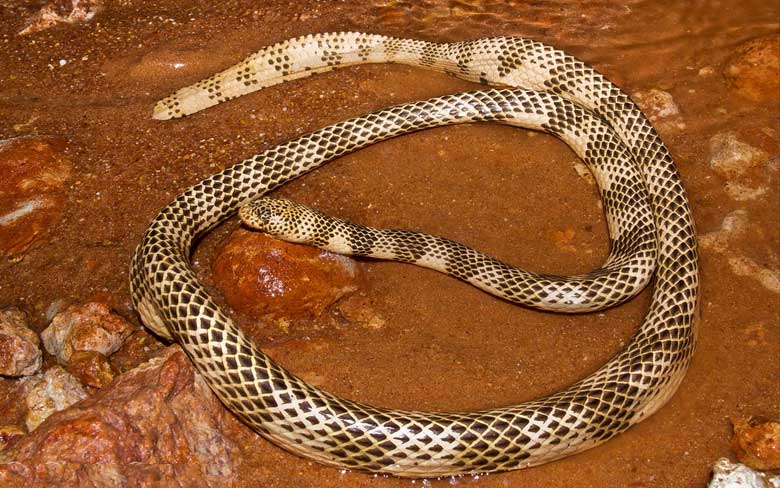 Image Source
One of the three most dangerous sea snake in the world, it is rumored to kill its prey within a few seconds. The reason is the venom which is strong enough to cause swelling, paralyzing and even cause death before one can do anything.
Pufferfish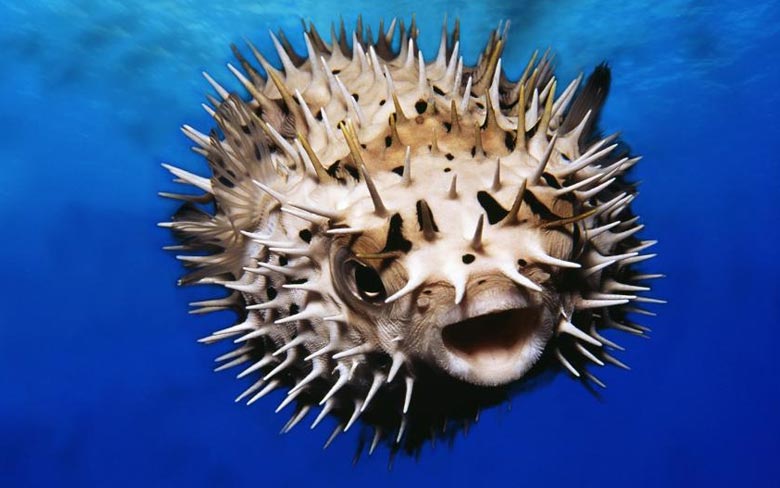 Image Source
Unlike what it seems like, this fish which is also known as blowfish contains 1200 times more venom than cyanide. Despite this deadly danger it holds, it is considered to be an exotic dish which chefs prepare for very heavy fees. It is usually eaten when it is in the inflated state but again, a word of precaution: a single wrong cut can cause death to both a chef or the person eating this Pufferfish.
Box Jellyfish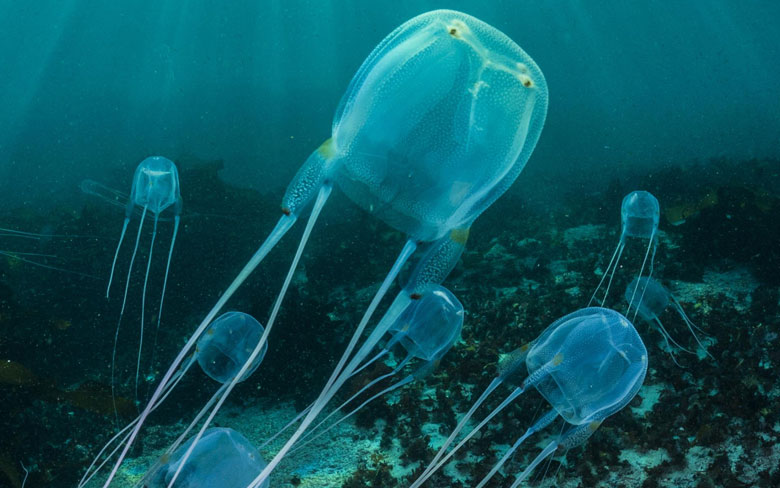 Image Source
jellyfish is known for its deathliness, but box jellyfish has outdone other members of the family. The venom from this fish is so fast acting that it can kill sea creatures before they are even knew that is happening to them. For humans, it can cause extreme pain to cardiac arrest, and the victims are so helpless that it is reported that they die before they could even reach land.
Stonefish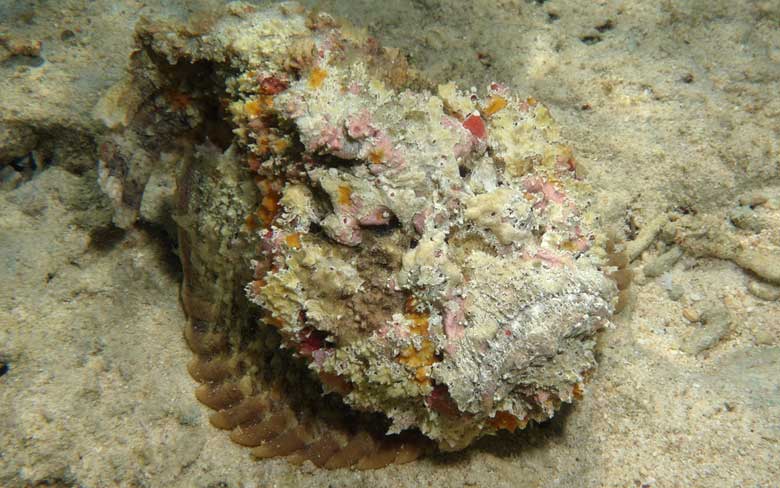 Image Source
Stonefish may look nothing so dangerous, but the truth is that it contains 13 spines on its dorsal body which are enough to kill the tissue and even put human to shock. The pain experienced by the stung of this fish is very excruciating and painful to death. But no deaths have been reported as such.
Lionfish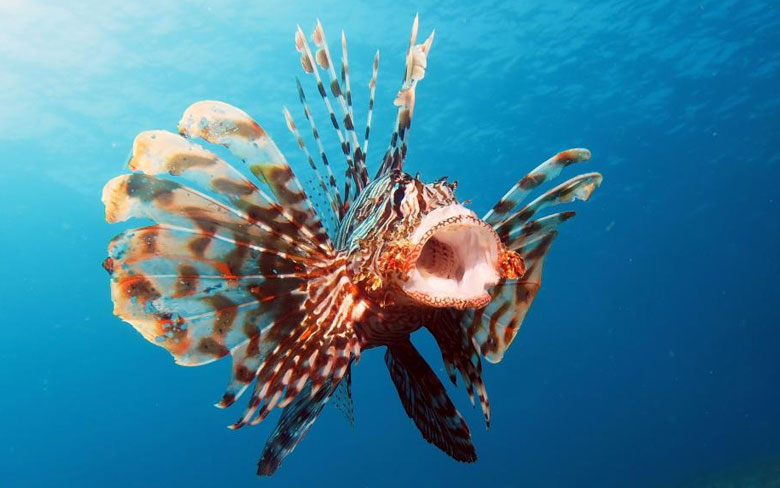 Image Source
The name of this fish is mainly because of its resemblance with male lion's mane as it has long luscious dorsal spines which are full of venom. Lionfish is highly dangerous as it attacks while injecting the venom and the intensity of the venom is so petrifying that it can cause severe pain, respiratory failure, and even paralysis.
Flamboyant Cuttlefish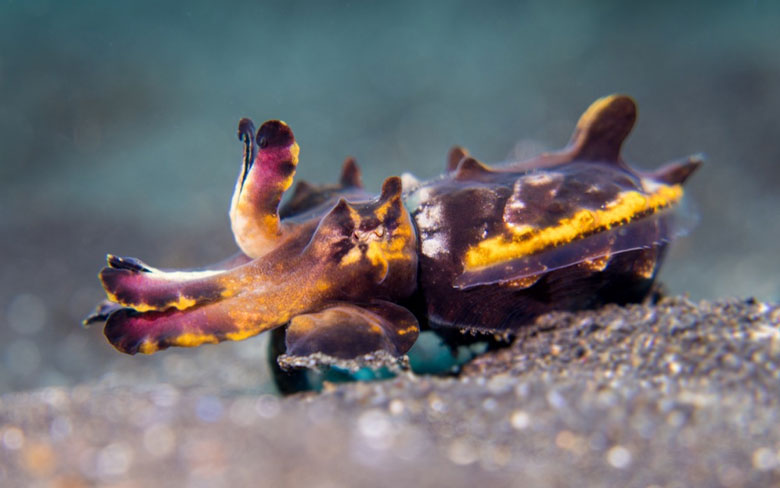 Just like the blue-ringed octopus, this cuttlefish is the only toxic fish out in the sea. The venom is of a high level as of blue-ringed octopus, and it is the reason why it is often compared with that octopus. According to marine biologists, it uses the vibrant outer color to defend themselves and warn others as well. Due to this, it is often referred to as flamboyant cuttlefish.
Sea Slugs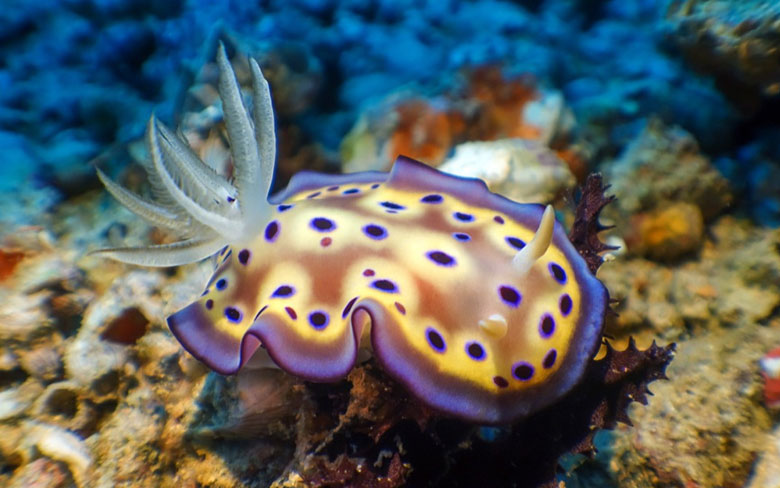 They are highly beautiful for their outer vibrant colored covering, but this does not mean that you can go and touch one. They are known for storing the dangerous chemicals they collect when they eat their preys and use that chemical for later usage. When they are provoked, they can inject this venom for their defense and cause such painful experiences that can lead to death. There are some cases where it has been linked the deaths of many canines.
Fire Corals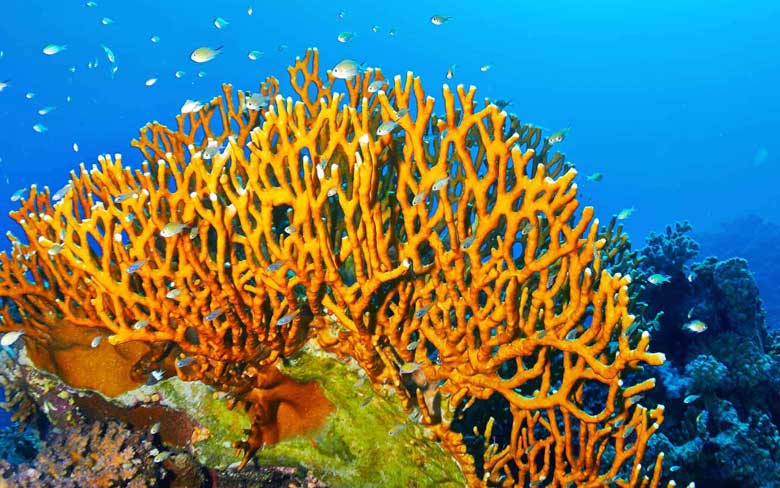 Image Source
Though they are named coral they are not, and they belong to a class of jellyfish. And because they belong to that family, it contains that same style of stung which can cause fire like burning and raised rash.
Beaked Sea Snake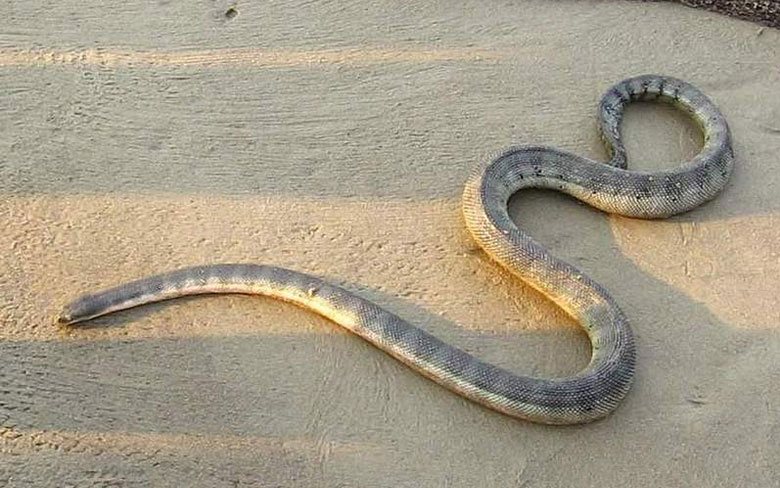 Image Source
The most sea snake bites are caused by this snake which contains approximately 7.9 – 9 mg venom in each bite and asper the science, only 1.5 mg venom is enough to kill a human being. The level of fatality it can cause can be imagined by this snake venom rate.
Stargazer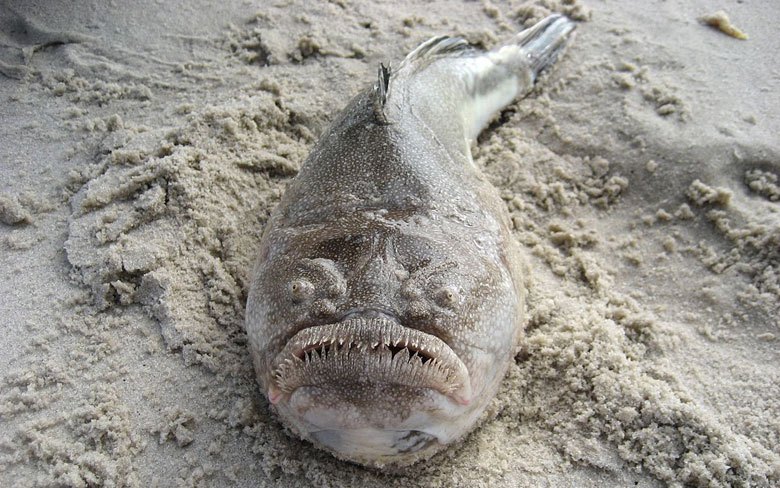 Image Source
This fish can hide under the sand and become invisible. So be cautious because it attacks when you are not looking, and its sting is extremely painful. The stung area can cause you bleeding and swelling. Also, you will feel the stung being like an electric shock.
Crown-of-thorns Starfish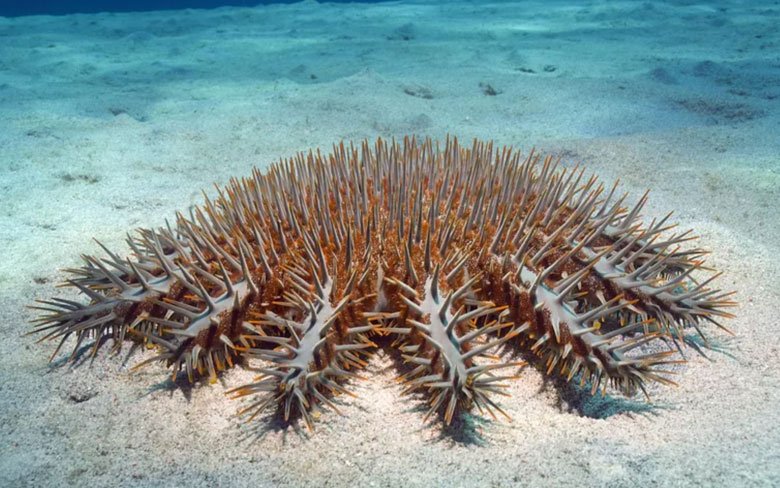 Image Source
This starfish is respectively larger than other members of the family. With its size being 13 inches in diameter and containing more venom than other starfishes, it is included in this list is a must. This starfish is covered entirely in spines which contain so much venom, and that is so dangerous as it causes immense, stabbing pain. This pain can last up to 3 hours which is pure agony.
Portuguese Man-of-War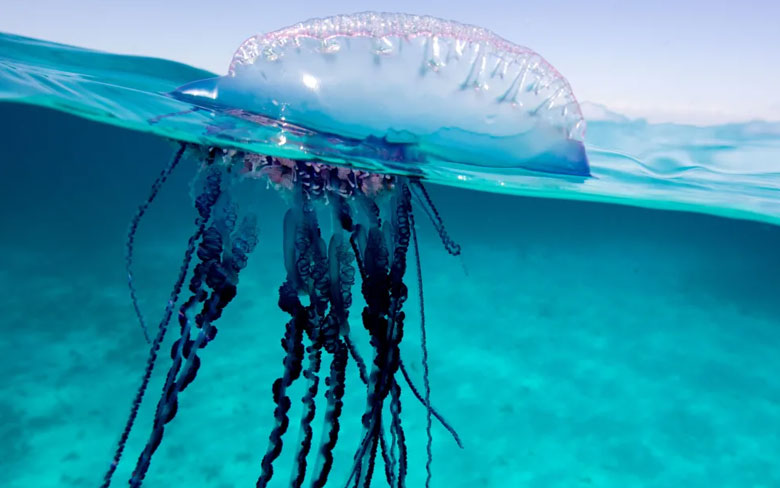 Image Source
Despite being only 12 inches long, its tentacles can go up to 165 feet, which is very long and dangerous. As these tentacles have venom in them, this venom is used to paralyze the preys. But on a good note, the venom of Portuguese man-of-war cannot paralyze the humans. Sure, it is still dangerous, and its sting is very hard to bear. About this fish, it is also rumored that it can also sting when it is dead so beware if you find a dead Portuguese man-of-war on the seashore, it can still cause you serious pains.
Candiru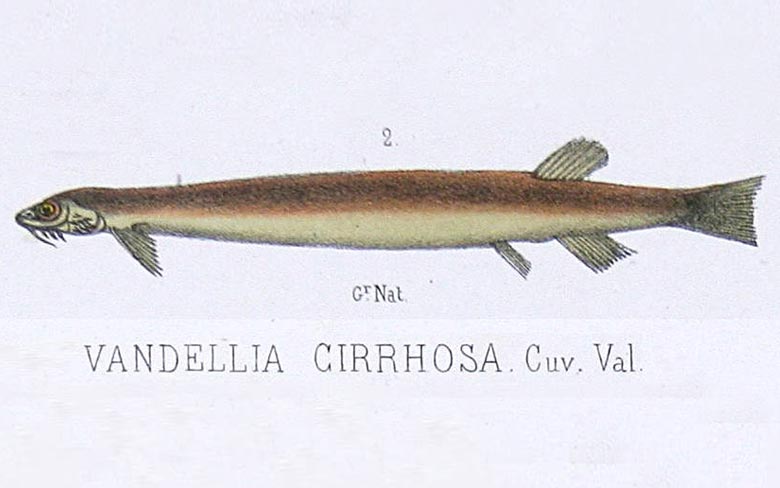 Looks like an ordinary fish but it is so dangerous in reality that it is hard to believe. If we are to trust the rumors then believe it folks it feeds on the blood of other fishes. Being only 2.5 cm in size, it can easily get into the gills of larger fishes and from there it sucks the blood. It is a vampire fish. To add more to the nightmares, this fish is also rumored to be attracted towards the stream of the urine. And hence feed on the urethras of swimmers. So, beware while swimming in water where this fish is rumored to be found.
Striped Surgeonfish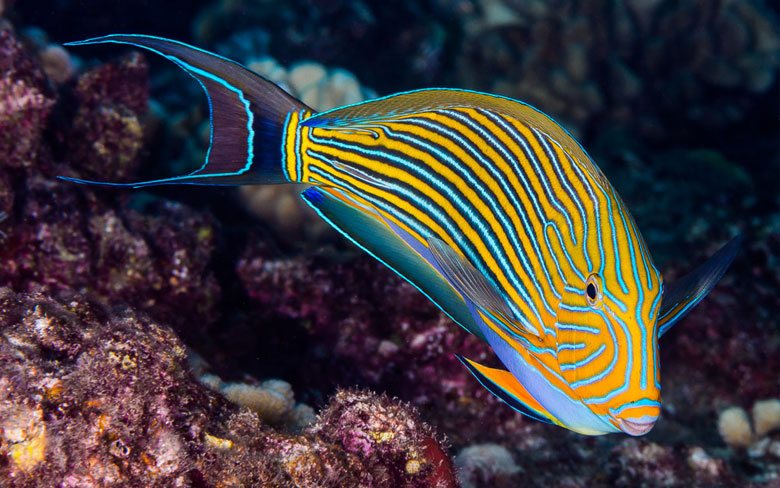 Image Source
This fish looks beautiful, and sure it is, but it has some of such sharp features which can be deadly too. In case you come across this fish then you should change your path as soon as possible because it has extremely sharp venomous spines which can cause seriously deep wounds. Sometimes, the injury is so serious that one has to go to a surgeon to get the wound coverup.
Crocodiles
Image Source
The natural born attackers, crocodiles are known for their aggressive and adaptation nature. Usually found in the rivers, swamps and lakes; exceptional cases like American Crocodile are also found in seawater. They have amazing hiding ability, and it is quite hard to distinguish them in water as they have stealth mode where they hide silently under the water surface. They can be deadly or make you seriously injured. Therefore, it is suggested to stay away from such waters where you see one or hear someone saw it.
Great White Shark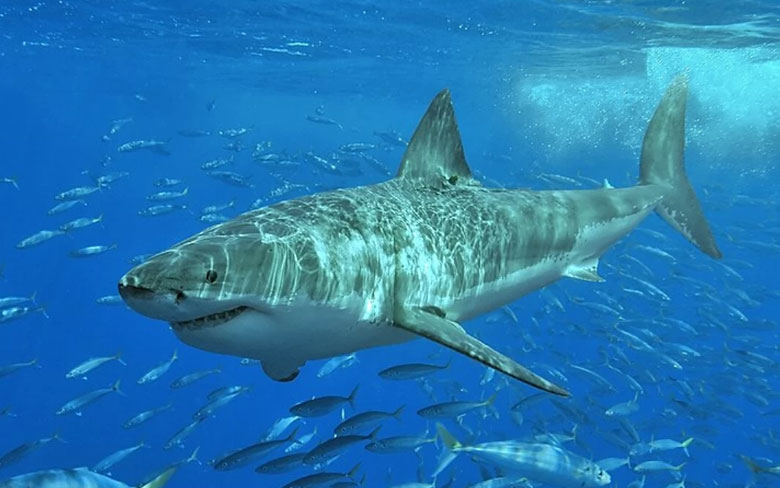 Image Source
No list of dangerous sea creatures is complete without the Great White shark. The deadliest creature according to me. The teeth are designed to tear the flesh, and the lightest smell of blood can create a frenzy for them. They are mostly after humans. It is found in California, South Africa, Hawaii and other regions where humans are easily accessed to it. This shark has been doing the most serious damage to the humans when it comes to attack. The fatality rate is getting higher than ever and this shark due to its huge size, take full advantage of it.