The urge to have sports in our lives can create lots of joyful and exciting moments, but a life without sports is less sensational and boring. There are plenty of safe-livers who do not encourage most dangerous sports and like to stick to their typical routines without involving any kind of amusement in their lives.
On the other hand, some players like it dangerous and surfing through the deadly meadows every day is a daily dose of amusement and excitement for them. Sure, playing dangerous sports is kind of terrifying, but the amount of pleasure one receives when he/she overcomes their fears is something very special.
There are plenty of places that act as ideal places for dangerous sports, but how can one come across such exciting and thrilling moments? However, amazing moments are not always waiting to happen, they can happen anywhere and anytime.
Still, we keep ourselves busy with our typical nerve-wracking routines and have no source of enjoyment, and our boring routines have made us less-risk taking persons. Lucky for you, here you will learn how to keep yourself out of your boring routine and transform you into adventurous persons by revealing the true charms of life.
Most Dangerous Sports
Following are some of most dangerous sports which are very popular all over the world.
Cheese Rolling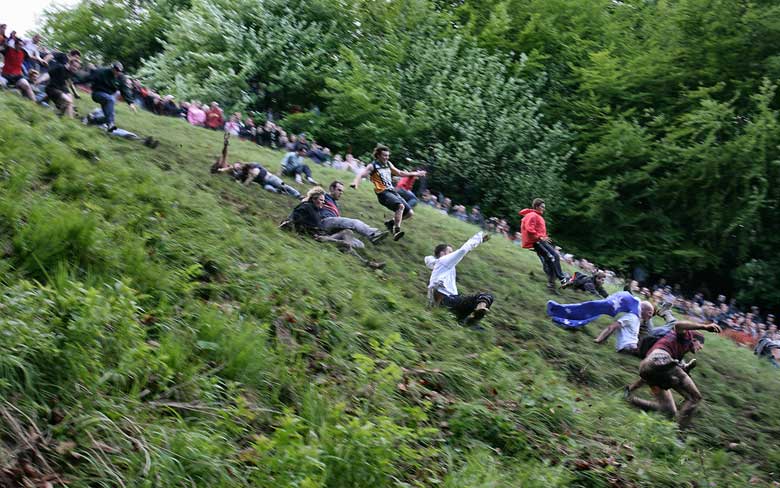 Cheese Rolling: Watch video
Cheese rolling might not sound like a dangerous or exhilarating sport; however, it might be the only sport where at least 90% of the participants come out with something broken. The sport is simple, an eight-pound round of double Gloucester cheese is sent rolling from the top of a marginally steep hill and the contestant who reaches the finish line before anyone else wins the round of cheese. The rolling cheese has a one second head start over the participants; however the round can reach a speed of up to 70 miles per hour. The results can be extraordinary, with people rolling down a hill in painful fashion and injuring themselves gravely in the process. The reward for the winner is the 8-pound round of cheese (A replica is used on the hill).
Bull Riding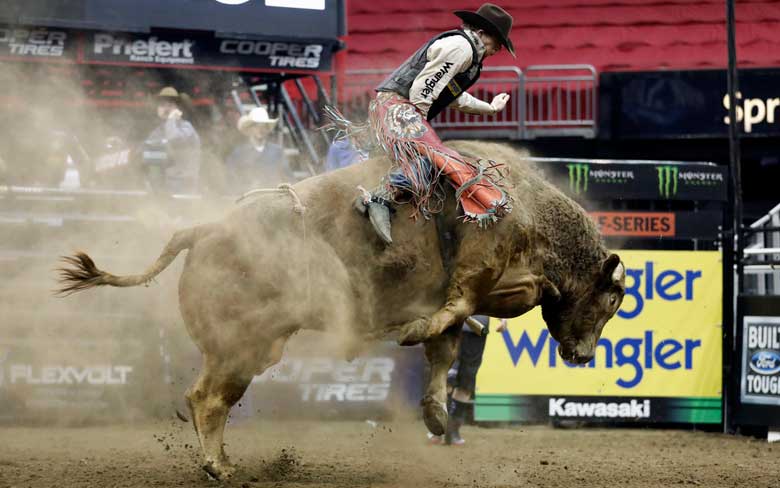 Bull Riding: Watch video
A sport that needs little introduction, bull riding is one of the most thrilling and dangerous sports a person can partake in. The rules are simple enough in theory. While on top of the bull, the rider needs to hold onto the bull rope with one hand and attempt to stay there for 8 seconds. Judges score the rider and the bull based on how they perform. Injuries can be sustained if you fall off the raging bull and if its not your day, the bull might come back for seconds and make those injuries worse or even fatal. Bull riding truly is a life or death sport with some even calling it the most dangerous eight seconds of any sport.
Volcano Boarding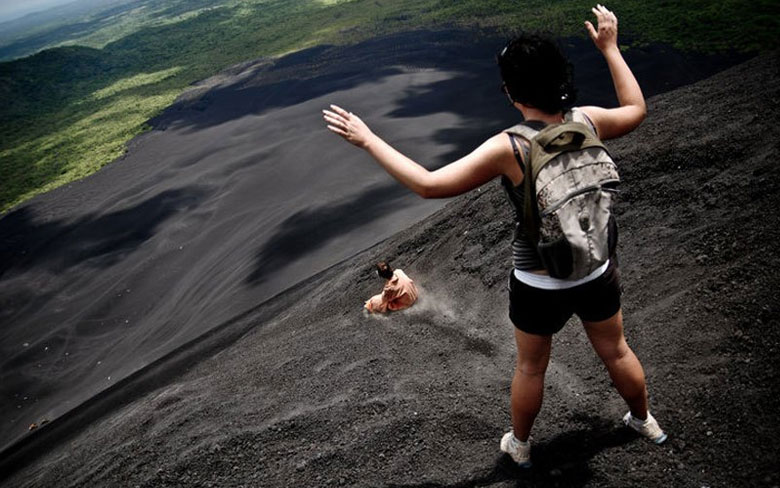 Volcano Boarding: Watch video
Volcano boarding involves the boarder hiking up a volcano and sliding down on a metal board. Two popular boarding sites are the Cerro Negro and Mt. Yasur. Cerro Negro is another volcanic site where volcano boarding is quite popular. It can be considered an active volcano per se, akthough the last recorded eruption occurred way back in 1999. Mt. Yasur is also an active volcano where eruptions are much more frequent. The sport is dangerous due to many reasons, one being the active volcano underneath you. Other potential dangers include breathing poisonous gasses, getting hit by flying molten lava and getting cut by rough volcanic ash. A quite rare sport due to the lack of accessible volcanos and willing participants, volcano boarding is still a thrilling experience one can have and is possibly one of the most dangerous sports around.
Steep Creeking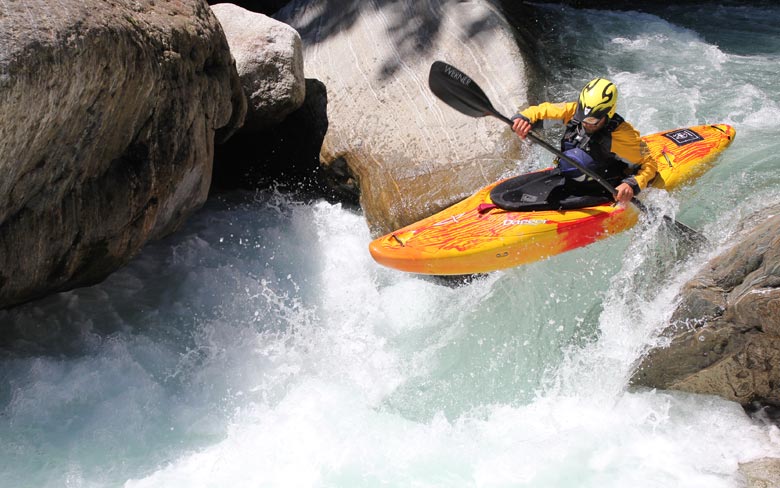 Steep Creeking: Watch video
Creeking is a much more extreme version of kayaking. Due to the danger the sport carries, Creeking is only possible in very specific conditions when there is just the right amount of water in the streams. Too little or too much water can prove to be fatal.  Creeking includes literal downward spirals off of waterfalls and going through really fast waters. It requires great skill for the paddlers to maneuver themselves through the swift waters. Creeking includes many hazards like vertigo, portages, chicken heads and falling from high waterfalls. The dangers are undeniable but so is the thrill.
Free Climbing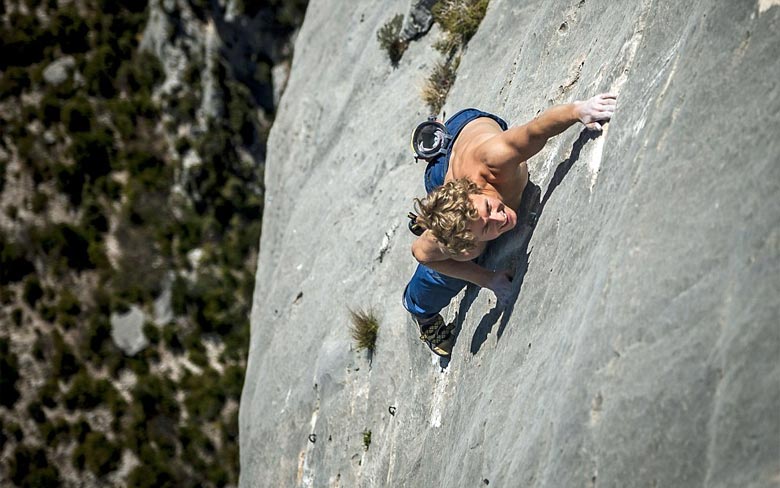 Free Climbing: Watch video
Free climbing is a form of rock climbing that is performed without any gear that could be used to assist in the process of climbing. The only equipment you can use to help you avoid any injuries. Free climbing is intense, to say the least. "Free climbing is quite possibly the most aesthetic expression of climbing as it requires a great deal of strength, skill and ingenuity to be successful on the most difficult of routes." The thrill of climbing on your own and having your fate in your own hands is exhilarating. There are no real rules of rock climbing other than watching your step and trying not to plummet to your death. The hardest part of the climb falls upon the lead climber who has to set a route for other climbers to follow, so they have to improvise and find their way while they climb.
Bull Running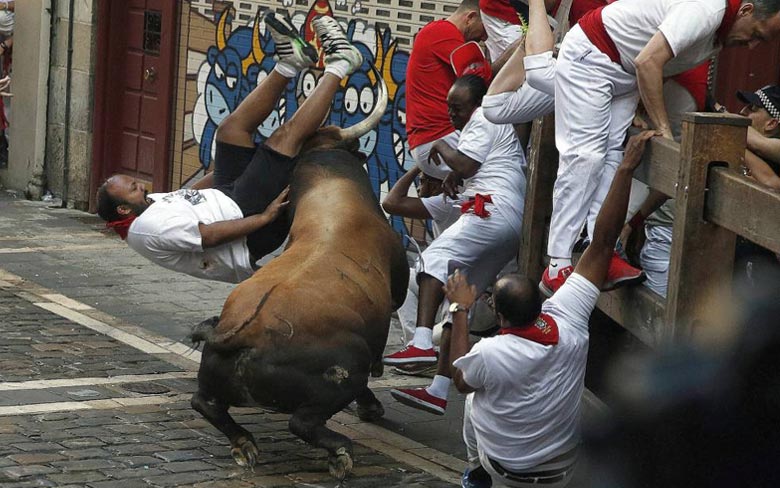 Bull Running: Watch video
One of the more culturally recognizable entries on this list includes bull running. A herd of bulls is released in a sealed street and are let loose. A group of brave participants must run ahead of the bulls and try not to be run over by them. The sport originated in Spain but is popular in many other countries including Mexico, France and Portugal. The rules of the game are fairly simple; the participant must at least be 18, they must not do anything to incite the bulls and must not be under the influence of any substance. Bull running is an extremely popular event and is broadcast in Spain. Only the bravest would dare participate.
Cycling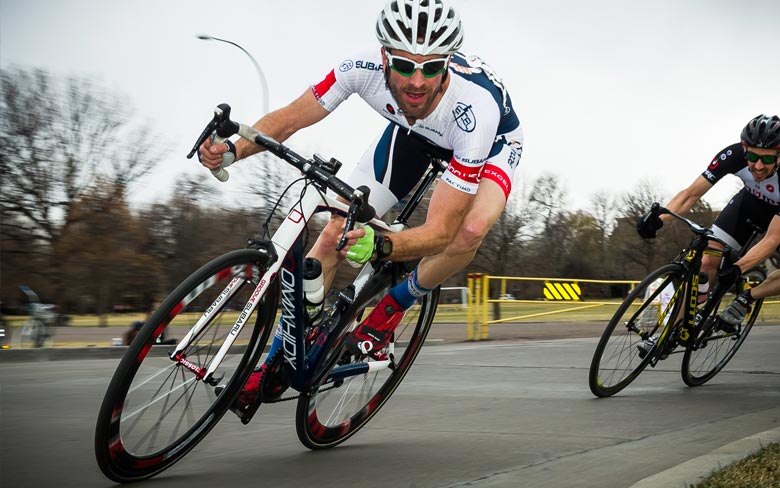 Cycling: Watch video
At first glance, cycling might not seem like the most dangerous sport, however, there are over 400,000 cycling related injuries every year worldwide. Competitions like the tour de France and other forms of cycling such as mountain biking can be very dangerous if proper caution is not taken. There are hundreds of participants in the tour de France and a great amount of skill is required when the cyclists are out on the road. One fall can lead to serious injuries not only from the immediate fall, but also from the incoming cyclists behind. Mountain biking is much more extreme because it involves biking through uneven surfaces on the mountains. The risks involved can lead to severe injuries or even death. Mountain biking might even be considered deadlier than other forms of cycling but the risks all of them carry are dangerous.
Street Luge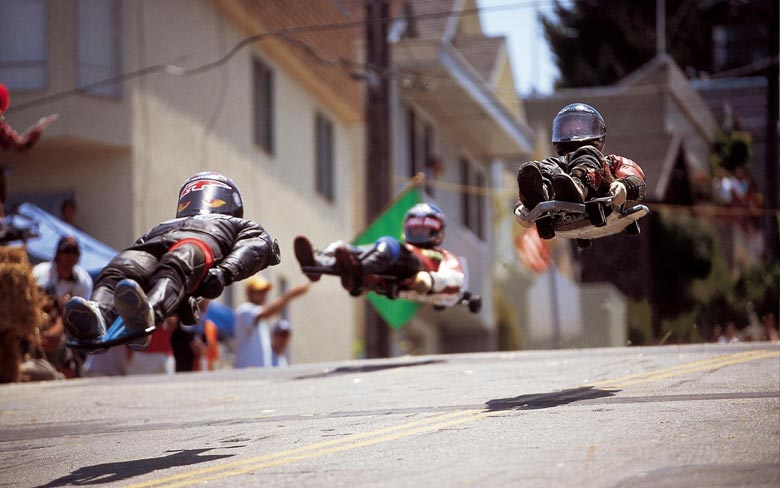 Street Luge: Watch video
Street luge is similar to skate boarding but the board used is longer than a skateboard and the rider is required to be in a supine position as they are boarding down a steep road. This sport is dangerous on many levels. First of all, the rider can only use their feet as brakes for their boards. Secondly, the riders can go to speeds up to 90 miles per hour! That's considerably faster than a car travelling on a motorway. The riders can sometimes find themselves on public roads with actual cars around them which makes this much harder than it already is. Bravery isn't the only thing you need to come out of this in one piece. A considerable amount of skill on the luge is required to maneuver around any obstacles that may appear such as cars, bystanders or even animals. Broken legs and torn ligaments are a common risk for street lugers.
Lacrosse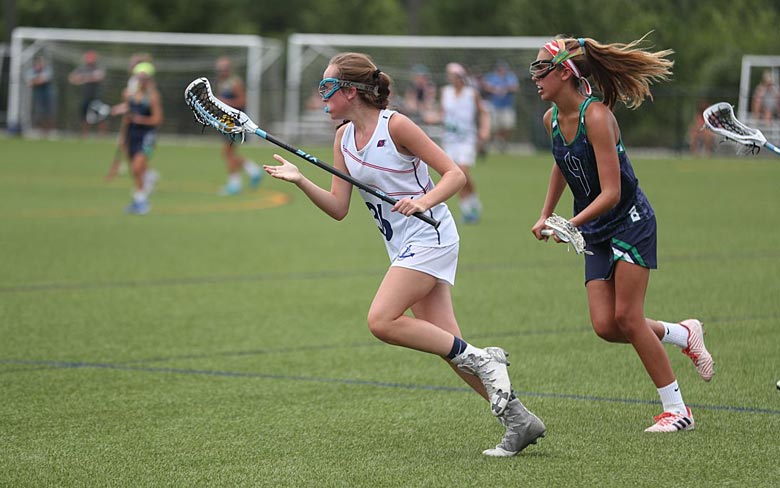 Lacrosse: Watch video
Lacrosse is a team sport which is quite similar to football or basketball, the only difference coming in the form of a lacrosse stick. The lacrosse stick has a net on the end of it making it easier for the players to carry, pass and throw the ball towards the goal of a teammate. Lacrosse is not a very popular sport due to the risk it involves. Punctured lungs and broken bones are a common sight in lacrosse because unlike many other contact sports, the rules are much more relaxed. Lacrosse players are required to put on all the safety gear they are permitted to but it still doesn't completely prevent injuries.
Irish Hurling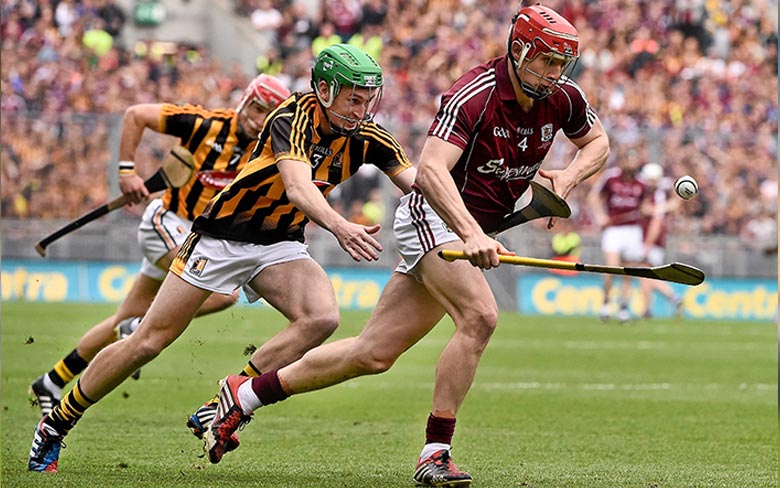 Irish Hurling: Watch video
Irish hurling is very similar to lacrosse with only a few differences. The sticks are axe shaped with no nets to support the ball and minimal padding. Irish hurling is considered to be one of the fastest outfield sports. If you thought lacrosse was dangerous, Irish hurling can inflict much harsher injuries on the players due to the lack of protection. The players are allowed to catch the ball in their hands but can only move four steps with the ball in their hands. After that, they have to balance it on their sticks in order to move further. The players can use their arms or sticks to hinder the progress of their opponents.
Base Jumping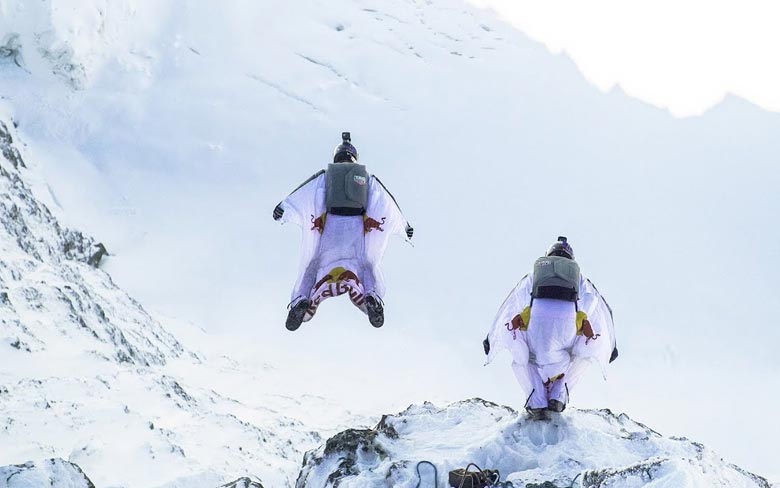 Base Jumping: Watch video
The 'BASE' in BASE jumping is an acronym for building, antenna, span and earth (cliffs or mountains). These are the common places BASE jumpers usually use to jump from. BASE jumping involves people jumping from these locations with nothing but a parachute. The first ever BASE jumper was Carl Boenish who pioneered the sport into existence. Since then, many thrill seekers have followed his footsteps and put their lives on the line to experience the thrill of the sport. Fatalities are quite a common feature of the sport with there being over 250 recorded deaths from BASE jumping. Technical precision and luck are key factors with BASE jumping as the slightest gust of wind or opening your parachute a second too late can prove to be fatal. This sport is not for the faint hearted.
Buzkashi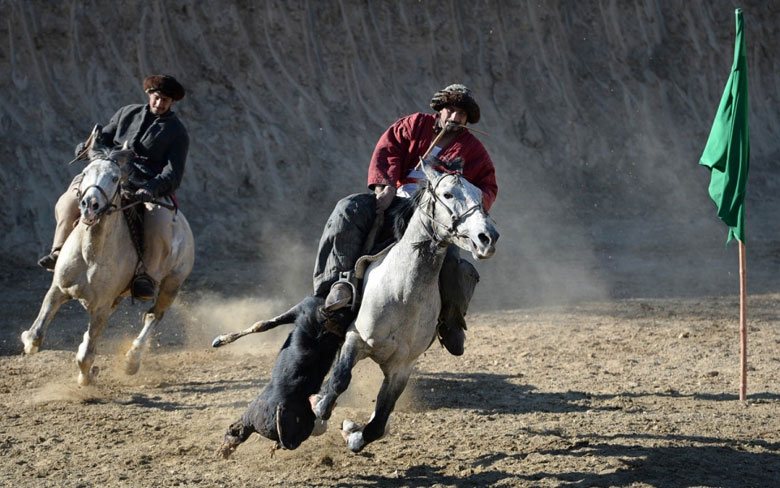 Buzkashi: Watch video
Originating in Afghanistan some 800 years ago, Buzkashi is a simple sport that requires you to drag a goat carcass from one point to the goal. The players are however supposed to do this while mounted on a horse. There are also a few more people who wish to achieve the same goal and would go to distant lengths to win. The players are allowed to mount the other players off their horses using whips or their fists. A single game can often last days with the players not willing to give in till they have won. As dangerous as the sport is for the players, it can be just as dangerous for nearby spectators who have to be on their guard for flailing players being tossed around and the horses.
American Football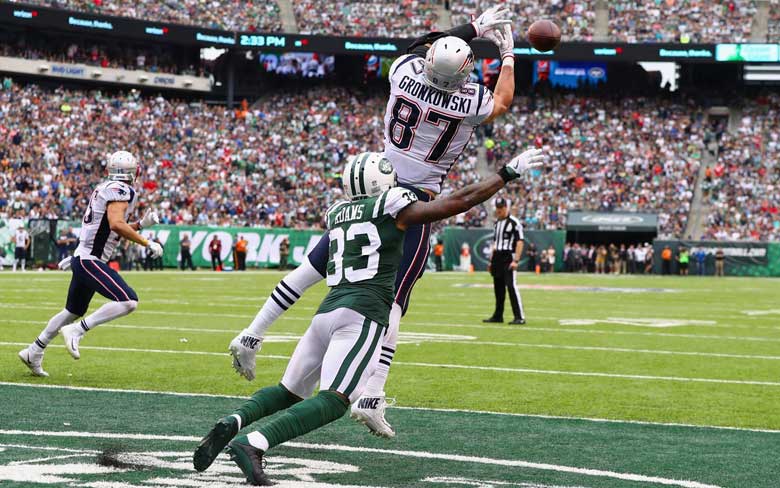 American Football: Watch video
American football is a sport that needs no introduction. It is a gentler version of rugby but don't let that fool you. American football is a very physical sport that requires all kinds of protection to aid the players but even that can't prevent the countless injuries that are a common sight on the field. Since 1931, there have been a recorded 1027 deaths in American football. The nature of the game requires the players to be willing to tackle and be tackled as hard as they can. Players can practically use any part of their bodies to do this but using their heads is a popular thing. This undoubtedly adds the risk of concussions and brain damage. Sprains, broken bones and fractured ribs are common injuries one may suffer on the field of play. The sport has been the cause of so many deaths and is even scientifically proven to shorten players' lives. It is no surprise that many people believe it should be abolished entirely. The damage football players suffer need not be debated at this point. Efforts to make this sport safer for the players have been futile thus far, because the damage that occurs usually cannot be seen with the naked eye. It's the speed and power with which players ram their helmeted heads into other players that's the problem. If the game stays the same, there is no doubt that the players will continue to be a victim of the sport they love.
Rugby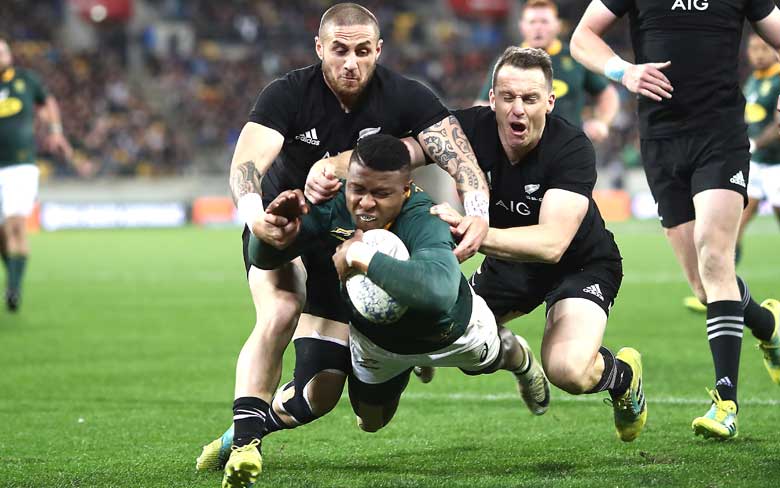 Rugby: Watch video
"Part of the thrill of rugby is the 'big hits' and that is what excites and makes the game such a spectacle." Rubgy could be considered the father of American football because it was there first and the game cares much less for the players' well being. Rugby and American football are near identical in the way they are played and the rules of the game, however the blatant difference is in the lack of gear that is used in rugby. It is dangerous because it carries all the risks American football carries with virtually no kind of protective gear for the players. The sport is very popular and contested throughout the world, but it carries many dangers for the players. There is the obvious threat of being tackled by a player much bigger than you that could potentially break bones, however there are many long term problems associated with the sport. Spinal and neck injuries are quite common in rugby that can lead to paralysis amongst the players. Today, there are over a hundred players in Britain who have been paralyzed because of rugby.
Boxing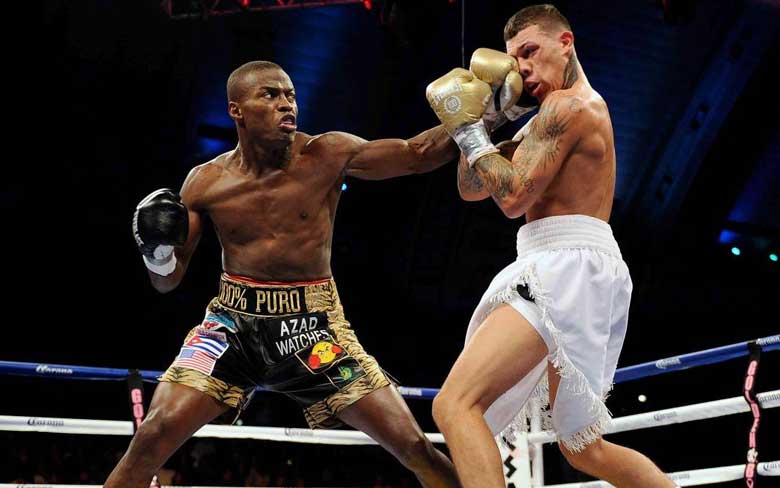 Boxing: Watch video
It is quite obvious why boxing would be a dangerous sport. It consists of hitting your opponent in the face and trying not to get hit in the face by your opponent. Even though over the years, many measures have been taken to ensure that injuries stay minimal, people still get hurt all the time. Players wear mouth-guards, hand bandages, cup protectors and force absorbent head gear but all these precautions still aren't enough. The common injuries that come with boxing are injured retinas, fractured skulls, brain damage and broken teeth among others. It is safe to say that you need to think long and hard before you consider choosing boxing as a professional career.
Big Wave Surfing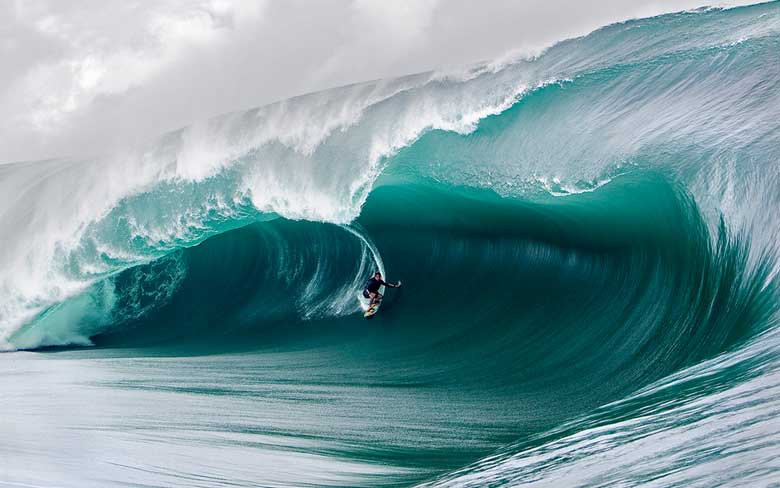 Big Wave Surfing: Watch video
Big wave surfing is an extension of surfing that includes surfing on waves that can go as high as 20 feet. There isn't any gear surfers need in order to surf bigger waves, although the size of the surf board they use really matters. A larger board would make balancing on the waves easier and it would also be easier to catch the waves, however it would be harder to maneuver around the waves. It really depends on the surfer and what they are more comfortable with. Waves that rise as high as 20 feet are extremely dangerous if the surfer is caught in it. The sheer force with which the water can come down is deadly to say the least. Any mistake can prove to be fatal. The pressure of the water is loud enough to rapture ones eardrums. There have been many high profile deaths over the past years.
Mixed Martial Arts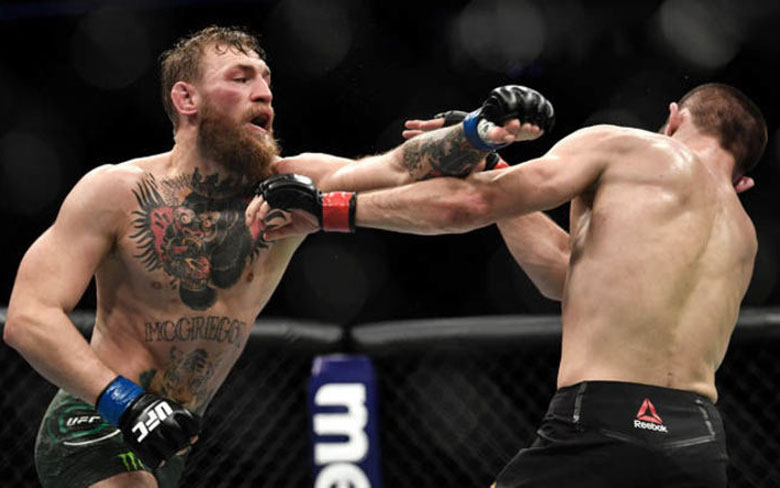 Mixed Martial Arts: Watch video
Mixed martial arts is a full combat sport that allows striking, grappling and using all kinds of techniques from other combat sports. Fighters are often seen use techniques from boxing, martial arts, kickboxing and jiu-jitsu to get the better of their opponents. It really is no surprise that the sport is extremely dangerous. Beside the physical consequences a fighter may suffer inside the octagon or in training, the sport has been known for leaving fighters traumatized and changed forever as people. A major part of the sport is the build up a main event fight has to receive and during that, the contestants go all out at each other, throwing abuses and constantly demeaning the other fighter. The psychological effects can be pretty clear. A popular example is the fight between Conor Mcgregor and Jose Aldo. Jose was a well respected fighter in the business with a commanding skill set, but having to deal with Conor for 5 months proved to be too much. Jose was knocked out after 12 seconds when the fight happened. Other than psychological trauma and unlike boxing where only the head needs protection, any part of your body could be badly injured.
Cliff Jumping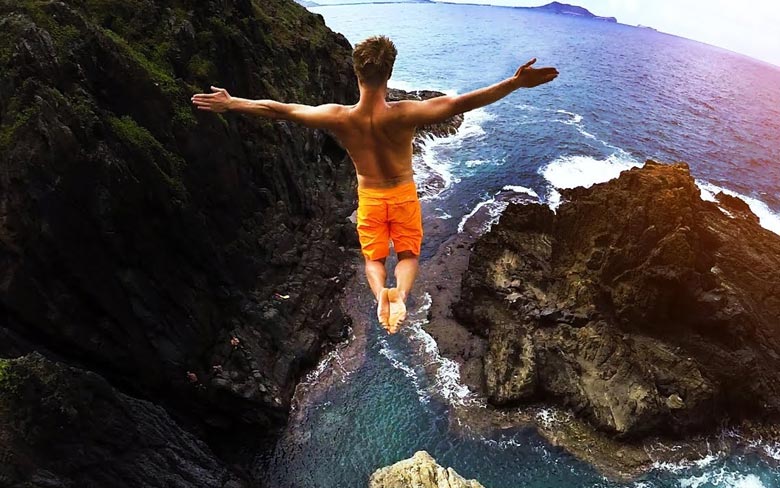 Cliff Jumping: Watch video
Cliff jumping is a sport where a person jumps off a cliff. That's pretty much it. With thrill seekers looking for higher and higher points to jump from, its no surprise why this sport is extremely dangerous. There is no protective gear required for the sport which makes it even more dangerous. A common misconception amongst amateurs is that jumping in water would not be as harmful as it would break their fall when it reality that could not be farther from the truth. Jumping in water from heights up to 20 feet can feel like diving head on into a brick wall! "Aside from death, cliff jumping can cause serious injuries such as concussions, fractures, dislocated joints, broken bones, injured discs, and spinal cord damage including paralysis. Because of these risks, the U.S. National Park Service (NPS) "Does not advocate or promote the activity of cliff jumping or diving regardless of the height from the water surface." However, due to the popularity of filming and uploading daredevil feats to social media sites like YouTube and Facebook, there has been a recent uptick in the trend (The dangers of cliff jumping/diving)." Even professionals who have been practicing for years sustain injuries from time to time.
Wingsuit Flying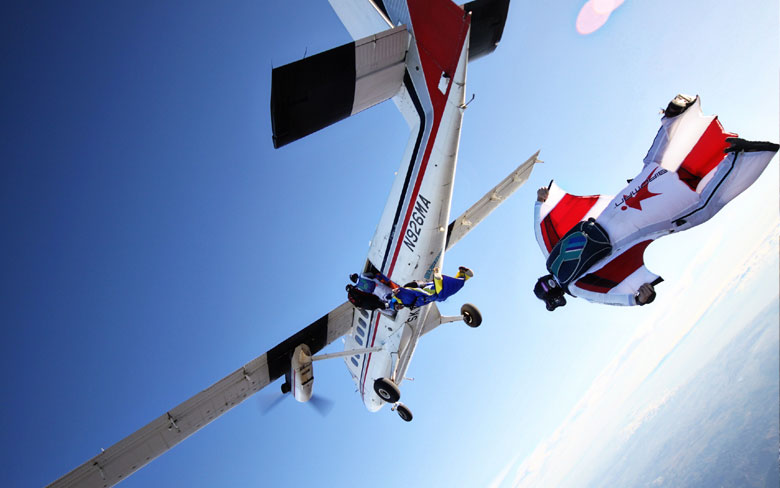 Wingsuit Flying: Watch video
Since as far as man can remember, it has been a dream for us to soar through the skies like a bird. Wing suit flying is just that. Participants can drop off from large heights with or without the aid of a parachute but the real thrill comes when there isn't a parachute. Although it would be recommended that you use a parachute if you are not a professional. Even some BASE jumpers use wing suits to soar the skies. Wing suit flying is dangerous due to the risk of faulty gear or a lack of concentration but among the other entries in this list, it isn't as dangerous as it is excitement inducing. With the proper precaution, it could be a wonderful experience for anyone brave enough to try and fly.
Downhill Longboarding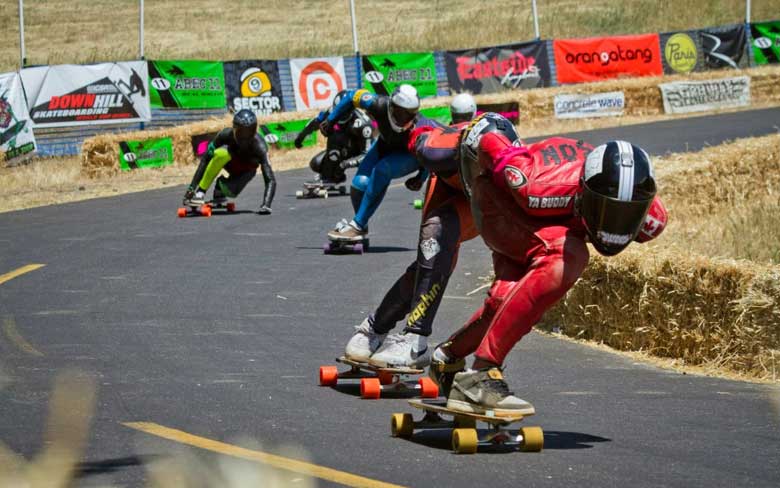 Downhill Longboarding: Watch video
Downhill longboarding is an extension of skateboarding in the sense that it uses a similar board which is slightly longer than your conventional skateboard. Reaching speeds up to 60 miles per hour, it is dangerous because it involves all the risks of skateboarding and it is much faster than any other boarding sport. Unlike surfboarding or snowboarding, with longboarding you do not have the comfort of knowing you will land in the snow or water. It's the hard ground underneath than can break bones and cause tears and scrapes. Longboarding becomes more dangerous as boarders tread towards busy roads and do not have enough safety gear on, however if you have all the protection and avoid busy areas, longboarding can prove to be one of the safer extreme sports.
High Altitude Climbing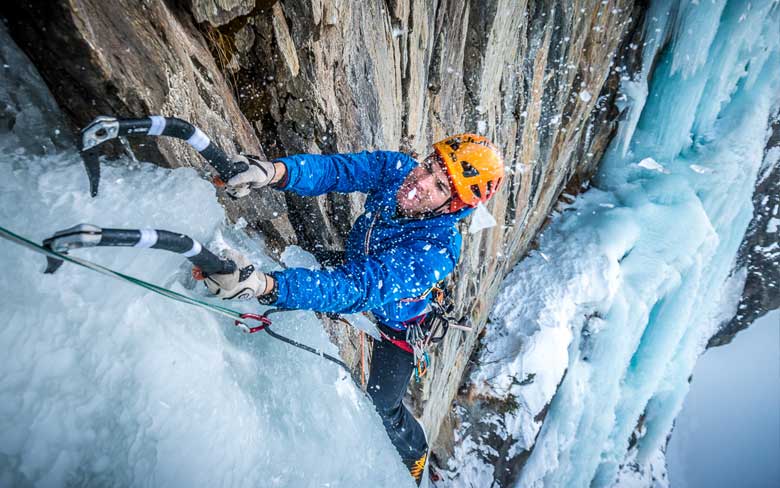 High Altitude Climbing: Watch video
Climbing up mountains can be a daunting task. High altitude climbers are the brave people who climb up some of the highest mountain ranges in the world. High altitude climbing takes weeks and is usually done in groups. There is a lot of gear that is needed for a climb and without any of the basic necessities, the climb up and down could turn out to be considerably harder. The effects of high altitudes are intense. People can experience difficulty in breathing and can suffer from sickness. Other effects can prove to be fatal. There is a certain death zone that exists in high mountains where oxygen levels are insufficient. Mountain climbing on high altitude is a daunting task that requires a lot of patience and will power. The feeling of having completed a climb can be unmatched but getting there is near impossible. However, fatality rates have been declining which makes this sport a popular attraction for thrill seekers.
Volvo Ocean Race
Volvo Ocean Race: Watch video
Also known as the 'Everest of racing', the Volvo Ocean Race is a yacht race that is held around the world once every three years. The race involves 7 teams that have to race across the cruel seas in order to claim victory. The race usually lasts about 9 months which is an apt test of a teams' endurance and motivation. The ocean provides all the obstacles for the teams and they can prove to be too much for some. The course changes every 3 years but rest assured, the competitive nature of the sport does not.
Pole Vaulting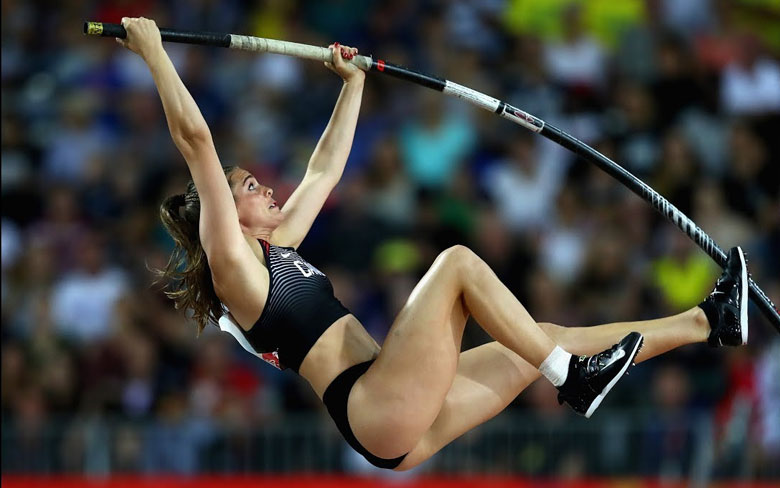 Pole Vaulting: Watch video
Pole vaulting is an incredibly dangerous sport once you consider the fact that a person has to run full speed towards an obstacle and try to jump over it using a pole. "A study conducted in 2001 32 of the most catastrophic injuries caused by pole vaulting between 1982 and 1998; more than half of the accidents resulted in death, and 6 in permanent disabilities (Seamons)." All kinds of injuries can happen on the pole. Falling off can be quite like falling from the roof of a 20 ft house. "The pole vault is a singular and uniquely dangerous sport. The people who do it anyway aren't in it for the money. They're in it to fly, and because they're a little crazy (Osgood)."
Cheerleading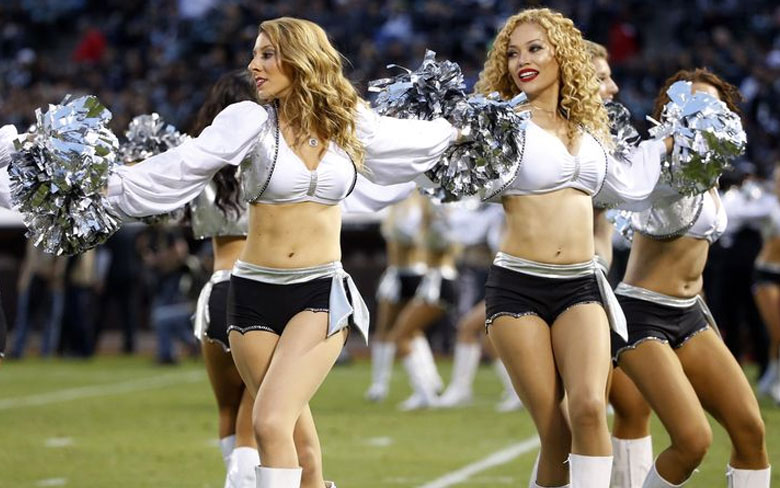 Cheerleading: Watch video
Cheerleaders provide support glamour and support for certain sporting teams, however, cheerleading in itself is a recognized sport and a very competitive one at that. There are hundreds of thousands of cheerleaders worldwide and the only way to get an edge over your competitors in this sport is by doing something spectacular. However, the training and execution of such dangerous performances can be life threatening. People who don't believe that cheerleading is an actual sport should listen to what the people who actually indulge in the sport have to say. "Squad members say people who don't think cheerleading is a sport should just try it. "They should be open-minded about it," one cheerleader said. "We had the water polo boys stunt with us last year and they like, quit, after like an hour," she said. "They said it was really intense (Ghadishah)." Statistically, cheerleading is one of the most popular sports in the world and is also responsible for the most injuries per person involved.
Baja 1000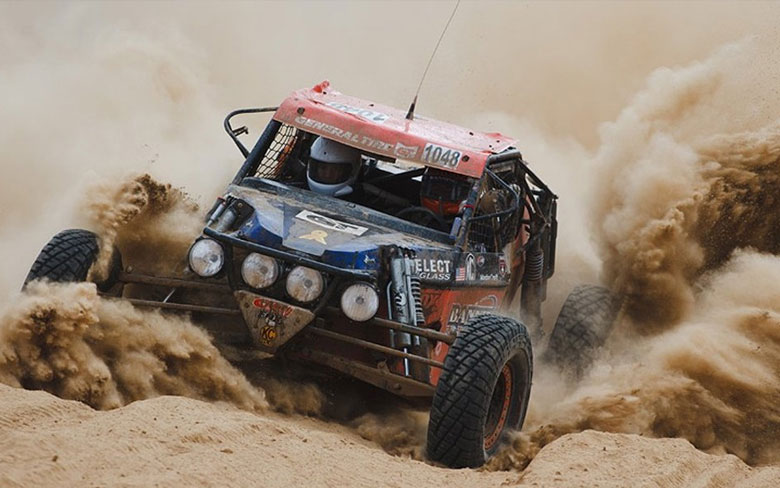 Baja 1000: Watch video
The Baja 1000 is a 1100 mile off road race between a wide variety of competitive vehicles. These vehicles range from motorcycles to trophy trucks. There aren't many vehicles that can survive 20 hours off the road which is why this is probably the most extreme off road racing sport. If you thought that the harsh conditions of the road weren't enough, there are a number of saboteurs that can rig the track to not only derail the drivers but even cause accidents. The track offers constant threats and the length of the course and the imminent presence of traps makes this race one of the most dangerous in racing sports.
Dakar Rally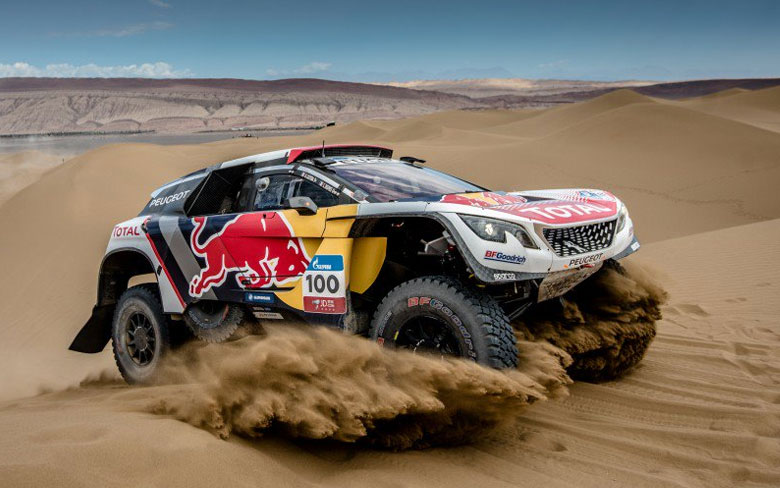 Dakar Rally: Watch video
The Dakar rally is an off the road race that stretches over 800 miles. The routes vary with each competitive race, but the thrill remains the same. Amateurs and professionals are allowed to enter. There is no actual track and the drivers have to work their way across the unpredictable tracks in order to win. As there is no track, there is a high chance of casualties for not only the participants but also bystanders and livestock. Since the race started, 26 contestants have been killed. There are many factors that contribute to a win. Weather conditions, driver skills, support team skills and terrain conditions all contribute to whether a contestant wins or not. The dangers of the sport are undeniable and only the sturdiest drivers and vehicles pull through.
Ice Hockey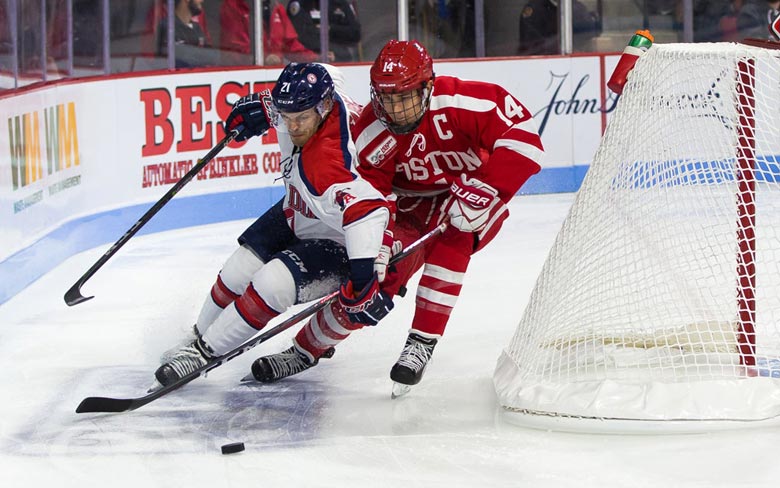 Ice Hockey: Watch video
Ice hockey is a contact sport which involves throwing a rubber puck into the opponents net using a hockey stick. The game already is dangerous because it is played on an ice field and even though the players use extensive padding and protection, there are still injuries that can be sustained. However, one pivotal element of the game, which fans look forward to, are the brawls that occur between the players. These brawls can turn into full fledge fights which are entirely legal. These fights can be gruesome and a common sight after a hockey match is the bloodied arena and human teeth that remain. "Some of the common injuries that occur while playing ice hockey are neck injury, lower back problems, tendonitis, foot injuries, black eyes, head injuries, broken teeth, cuts, frostbite, spinal cord injury and broken bones. One of the most common injuries you find in this sport is concussions. A large chunk of the injuries accumulated from ice hockey are head related injuries.
Cave Diving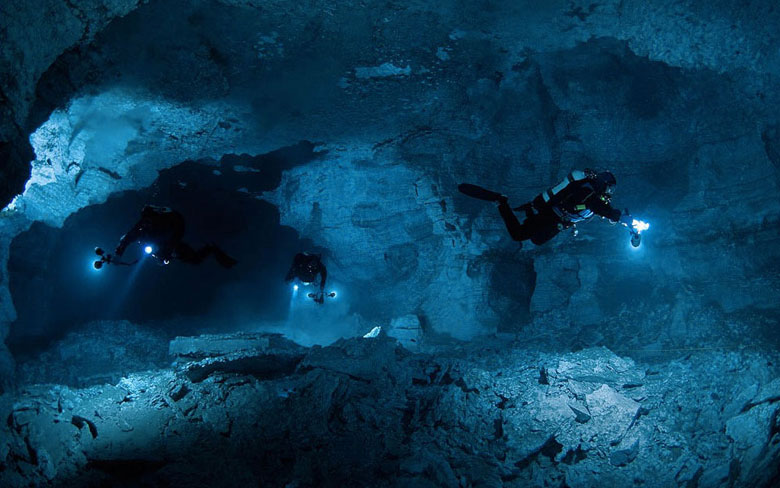 Cave Diving: Watch video
Scuba diving is a fun sport that allows you to lurk around the ocean floors and discover the wonders that lie under the ocean. Cave diving, however, is the most dangerous kind of underwater diving there is. Divers have to explore caves underwater and this can have a lot of dangers that lurk behind. The uncertainty is a factor that contributes to the fear that comes with cave diving. Gas management is a major issue that divers have to face, which is why it is crucial for the divers to make sure they find a way to navigate their way in and out of the caves in time before it's too late. Cave diving is a terrifying sport and only the bravest of divers would be willing to uncover the deepest parts of the undiscovered ocean.
Helicopter Skiing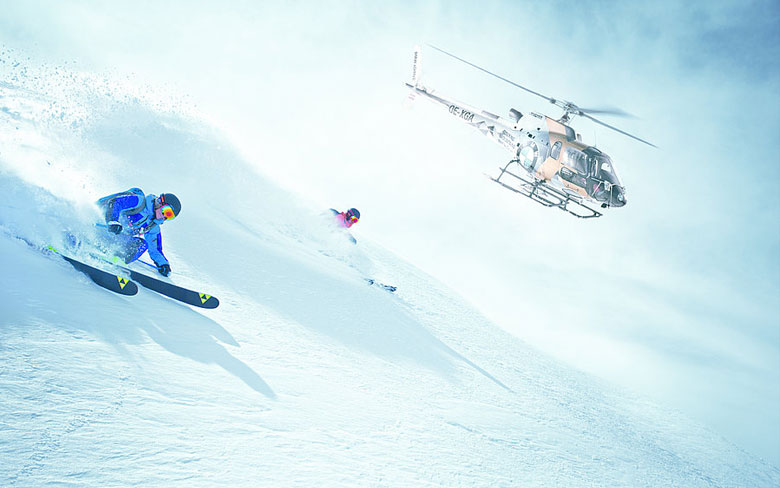 Helicopter Skiing: Watch video
Heli-skiing is basically skiing but instead of a chair lift, you're lifted to the top of ski resort with a helicopter. You don't actually have to jump off a moving helicopter and begin skiing, however if you're feeling a little wild, why not go for it. Skiing carries the obvious dangers of working your way through the unpredictable snowy caps, which is why there is a guide present with the skier.
Horse Riding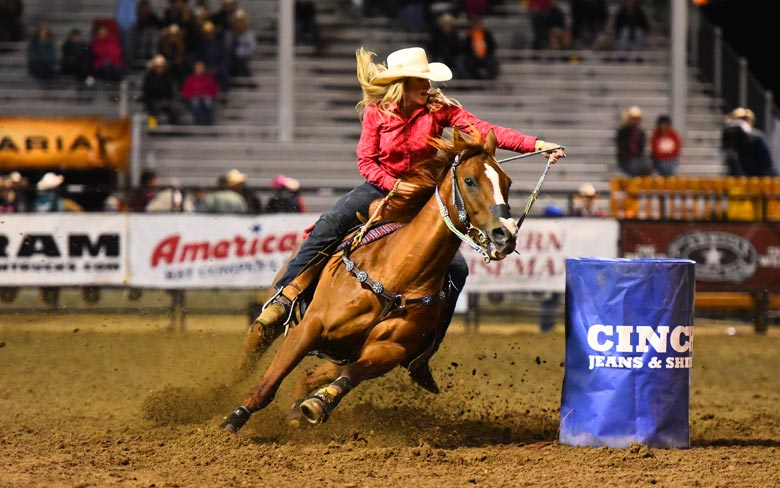 Horse Riding: Watch video
Horse riding is another sport that may not look like a dangerous sport at first but it is the cause of many long lasting injuries. Horse riding competitions involve riders working their horses through obstacles. Judges award points based on how many obstacles were cleared by the riders and the prose and style with which they were done so. Each year brings numerous horse riding related injuries that include damage to the spinal chord and even long term paralysis. The dangers of horse riding might not be recognized, however, it is difficult to argue that the sport isn't dangerous. Riders can also be injured whilst they are on the ground near their own or other horses. Children may be particularly vulnerable. Some seemingly straightforward activities such as leading a horse out to its paddock can result in fatal kicks (Risk of injury and risk management )." The sport is not only dangerous for the riders but also the horses that can suffer from broken legs due to the major force exerted on them.
Wrestling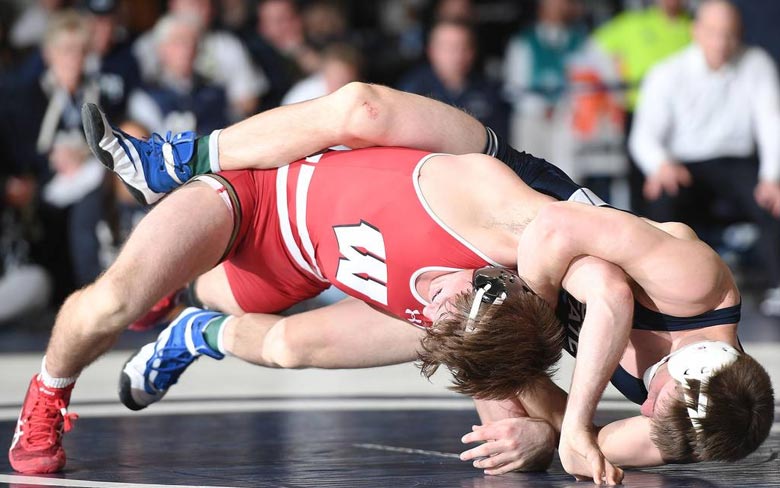 Wrestling: Watch video
The objective of wrestling is to pin down your opponent on the ground. If none of the participants can pin the other down, a winner is selected based on the points they are awarded throughout the match. Wrestling can be a dangerous sport as is the case with most contact sports. It is a competitive sport which has other variations in other cultures (Kabbadi in Pakistan) Injuries are very common and contestants can even have their bones broken. However, with all things considered, wrestling is not as dangerous as many other sports.
Jousting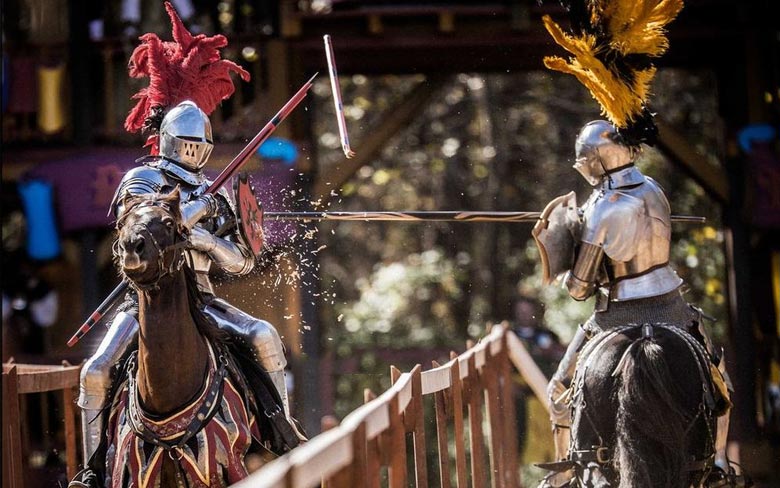 Jousting: Watch video
Jousting is a sport that was most popular back in the 16th century. Jousting involves two horsemen charging at each other wielding lances with blunt tips. The objective of the game is to try to defeat one the other person by striking them with their lance. The game is obviously dangerous for the two horseman however, bystanders and viewers are in danger to be hit with broken pieces of lances. There are numerous deaths recorded due to jousting and the horsemen can suffer from many external and internal injuries.
Soccer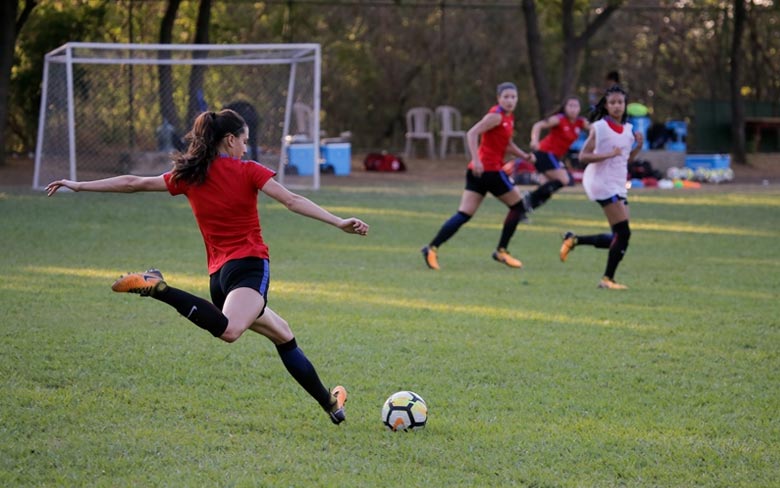 Soccer: Watch video
Soccer is a sport that is contested between 22 men on a soccer field. The objective is to put the ball in the oppositions net. There aren't too many deaths that occur due to playing soccer, but there are any injuries that come with. Head injuries can develop over time and can lead to much more serious issues like dementia. On the pitch, any kind of injury can occur that is expected to come from a contact sport. The more force that is exerted on the body, the body can become more prone to developing injuries.
Figure Skating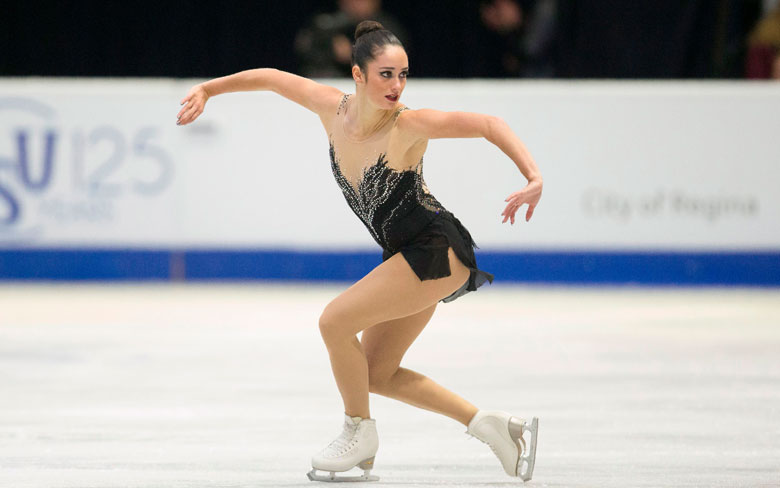 Figure Skating: Watch video
Figure skating is a sport in which individuals, groups and duos perform with figure skates on ice. Figure skating is all about poise and finesse. The skater must be balanced and accurate in all their movements. Striving to reach such levels are matched with falling on the cold ice many times. Some of the major injury risks involve ankle sprains and fractures, head injuries, ACL tears and hand and wrist injuries. The risks involved high but so are the rewards of achieving such elegance.
Freestyle Snowboarding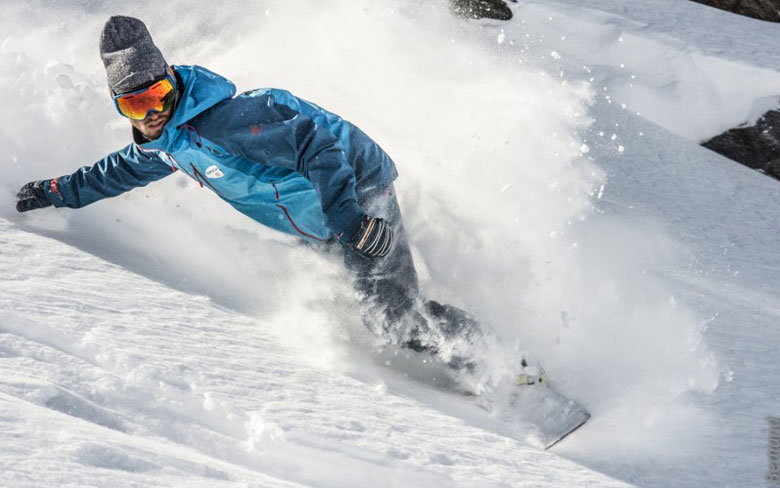 Freestyle Snowboarding: Watch video
Freestyle snowboarding is any riding that includes performing tricks and stunts. Freestylers have to maneuver through obstacles and jump through hurdles. They are awarded points based on their efforts.  There are many injuries that can occur such as dislocation of limbs, fractures and strains in the cuffs.
The thrill of partaking in any of these sports can be really exciting but they are extremely dangerous at the same time. That is the consequence many of these sports carry, which is why it is up to the participant that they be avoided or participated in with the greatest of care.
Lawn Bowls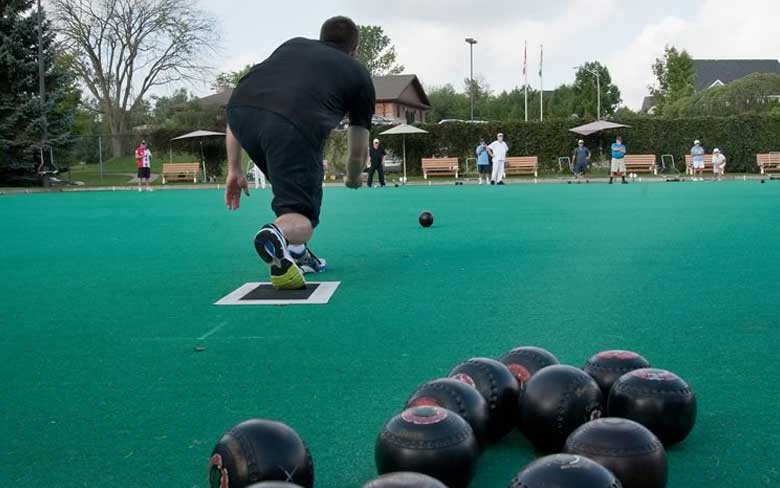 Lawn Bowls: Watch video
Despite it being so popular, it is also quite dangerous. Lawn Bowls has caused a lot of deaths worldwide. The players are bound to play the game until their last heartbeat. The Lawn Bowls players do not take any victory breaks, because that is the rule of the sport.
Those who survive often end up with torn knees, bone fractures, bruises, and broken hips. The excessive amount of stress caused by this sport can lead to heart attacks and strokes. Without a doubt, lawn bowls is a very dangerous sport, and it can also result in nail-biting habits.
Luge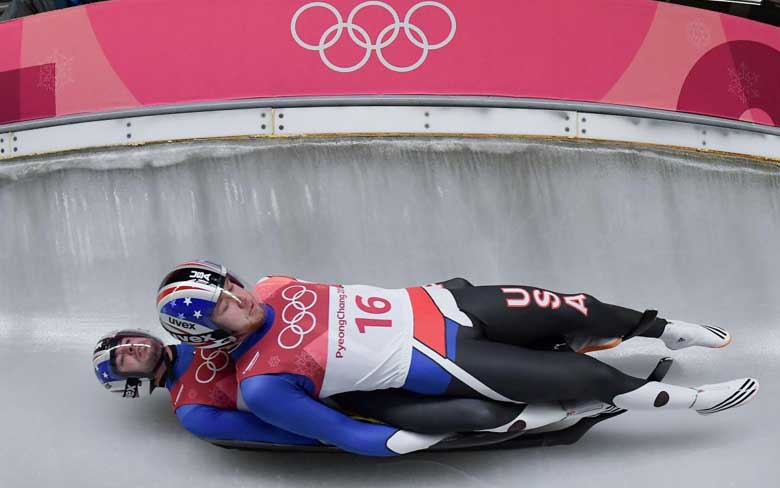 Luge: Watch video
There are plenty of Olympic Games that charm not just the spectators, but the players as well. A sport that is part of the Olympic Games is Luge. It is titled as one of the most dangerous sports because it involves racing down an icy track that is high-banked about 90mph or 140km/h.
The player has to overcome the height and prove himself as a brave and strong person. At the last lap of the race, the player has to bend his body at a certain angle and increase his speed.
Even a slight mistake during the act can lead to a person's death. Luge has caused a lot of brain injuries and deaths over the past couple of years.
White Water Rafting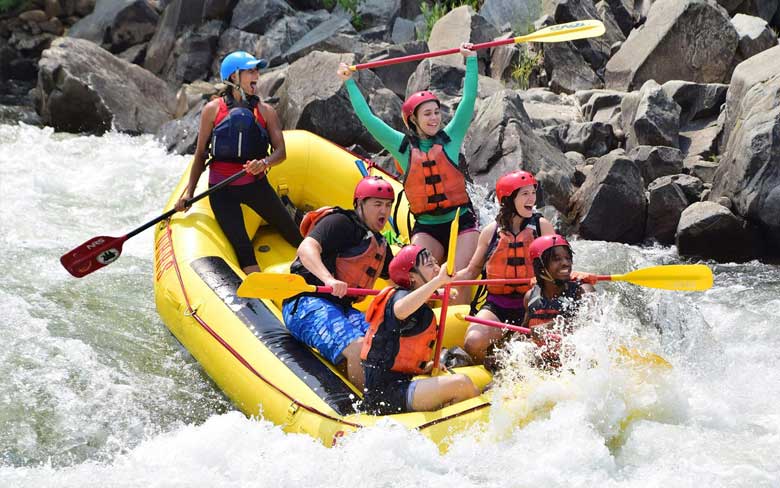 White Water Rafting: Watch video
White Water Rafting is known to be a very dangerous sport because it involves the rafter to suffer from a lot of raft water disasters.
The risks of white water rafting hypothermia which is a sudden blood pressure increase, equipment failure, bad water conditions, drowning, sunburns, and breathing problems, etc. There is no enjoyment involved in white water rafting, there is only danger.
24 Hours Of Le Mans, Le Mans, France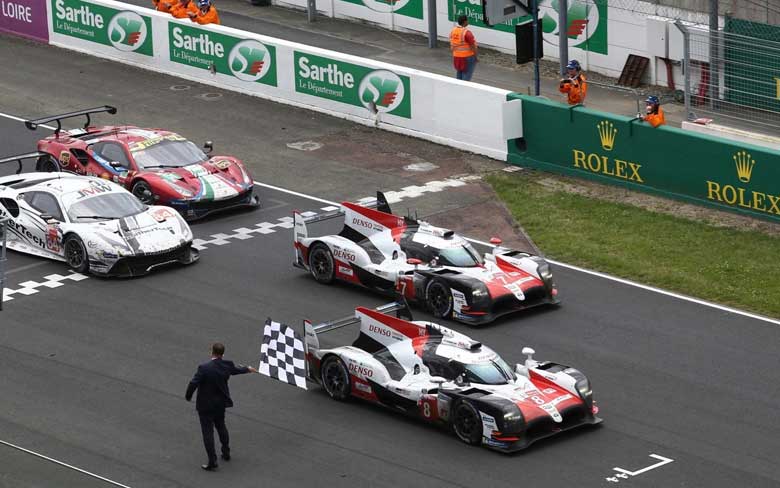 24 Hours Of Le Mans: Watch video
There are plenty of car racing sports, but Le Mans is the most dangerous of all. Le Mans has caused over hundreds of deaths. The strategy of racing used in Le Mans is not similar to other racing sports.
It requires high speed and number of miles that are needed for the driver to drive in twenty-four hours. A very misfortunate incident happened in  1955 when a Mercedes-Benz driver crashed the car and ended up killing himself and a group of other visitors.
High speed is the key in racing sports, and that leads to danger and life-risks. So, this sport is not just dangerous for the players, but also for the spectators.
Macau Grand Prix, Macau, China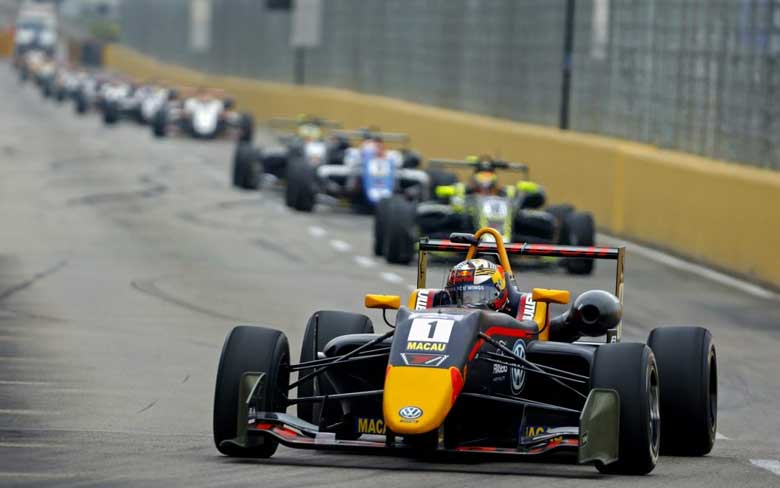 Macau Grand Prix: Watch video
This sport involves two different races. There is a motorcycle race that happens in the morning, and the car race happens in the evening. The race tracks are very tight and contain a lot of thin turns, which is what makes this sport a dangerous one. Even during practices, a lot of riders get loose their lives.
Iditarod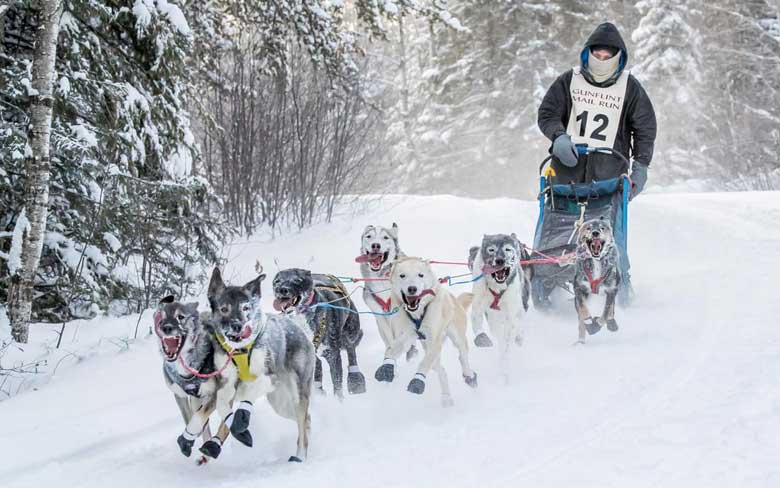 Iditarod: Watch video
Iditarod is also titled as the "Last Great Race." The Alaskan land is always mounted with snow, and the tracks are also out of shape most of the time. The racers are bound to face the coldest of temperatures.
The developers of this sport do not pity the hundreds of dogs that die during these racing activities. The riders suffer from bruises, broken legs and ribs, concussions, and snow bites. It is a rare chance for a rider to finish his race without any injuries.
Isle of Man Tourist Trophy, Isle of Man, U.K.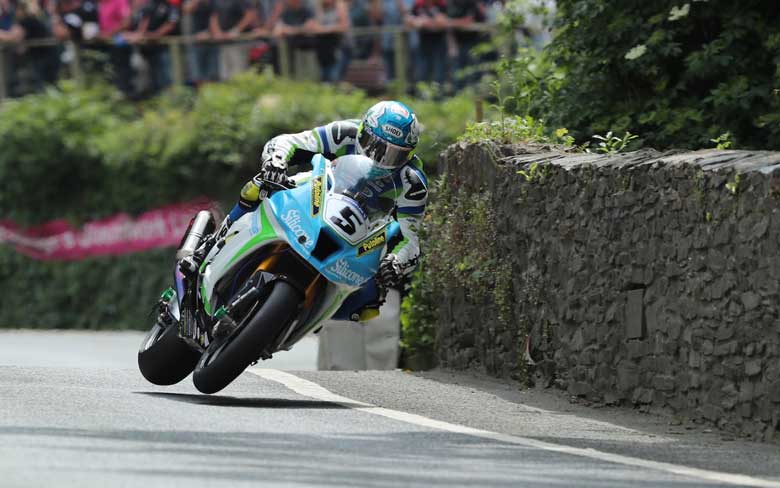 Isle of Man Tourist Trophy: Watch video
The Isle of Man Tourist Trophy involves motorcycle racing along narrow paths, tracks, and streets. The original race track for isle of man tourist trophy was designed for bicycle racing, but when motorcycled entered into the game, they took over.
It is very dangerous to race with these modern machines, and a lot of life-risks are involved. High-speed racing in narrow paths can lead to sudden accidents and even deaths of riders. Death is the main reason why this sport is considered to be a very dangerous sport, why wouldn't it be though?
Downhill Biking
Downhill Biking: Watch video
Downhill biking comes with a lot of adventurous runs and a lot of excitement. Even the thought of running down a 12-inch long hill at 40 miles per hour and overcoming all the incoming obstacles can thrill any bike rider out.
Despite it being hell dangerous, it is also very popular. Downhill biking can lead to concussions, organ damage, severe injuries, broken bones, internal bleeding, and lots of other major injuries.
While going on a downhill sporting venture, it is always important to wear the right gear because if not, death will come your way. You can enjoy this sport, but only if you follow the rules and are a pro at it.
Gymnastics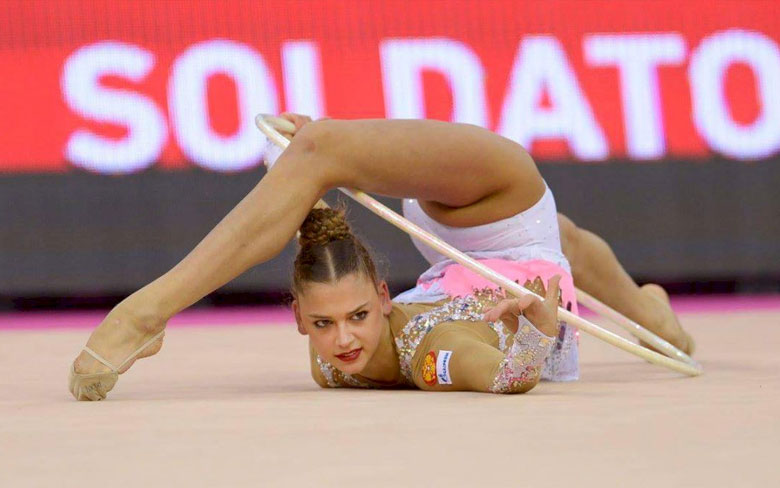 Gymnastics: Watch video
Gymnastics is a very elegance and balance-maintaining sport in the Olympic Games. Unfortunately, gymnastics is considered to be a very dangerous sport because it involves a lot of dangerous stunts that can take one's life within seconds.
Even the slightest inconvenience can cause broken bones, major injuries, ankle sprains, head and neck injuries, wrist injuries and many more. Being a gymnast involves great passion and devotion, but all that fun also has a price.
Horseback Riding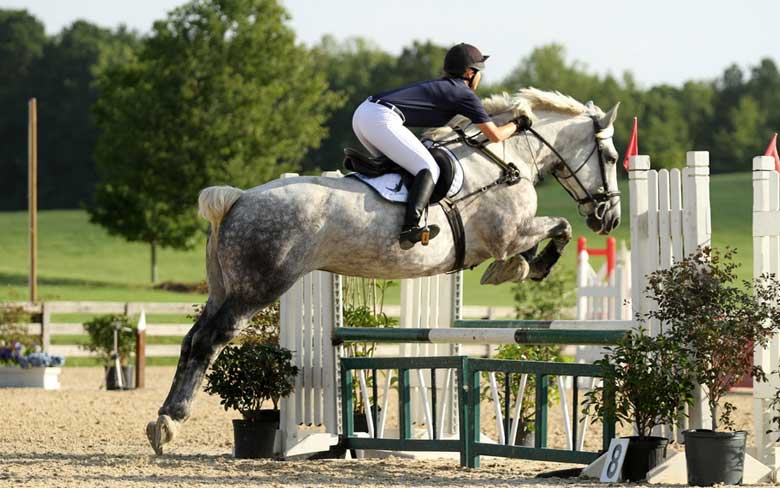 Horseback Riding: Watch video
Horseback riding, sounds fun, right? Well, it isn't. In fact, it involves a lot of risks. Regardless of all the pleasure and merriment horseback riding offers, if you can't balance your horse, you might as well just leave the ring.
You have no idea how much horse weights, and if you lose control while riding, bad things will come your way. If you don't have experience with horse riding, do not do it because it can cost you your life.
To ride safely on horse, it is important to build trust with the animal; otherwise it will throw you off and might even jump on you. A rider can also be paralyzed when a horse kicks him.