Nowadays, people depend on energy drinks to get through daily tasks. Most of us cherish these chilled, fruity flavored, carbonated energy drinks in a variety of eye-catching containers.
There is also a category of people who are highly conscious about their health and reject these energy drinks. They prefer fresh juices over them, which are hygienic and don't have artificial stimulants toxic for their body.
If we consume these energy drinks daily, they can be unhealthy are for our health. These energy drinks enrich in caffeine, additives, taurine, and guarana in addition to sugars.
Factors Affecting the quality of Energy Drinks
The following components are a part of our daily diet, but they can be hazardous if consumed unnecessarily or continuously.
Caffeine
According to the FDA, there are about 250 milligrams of caffeine in an 8-ounce energy drink. Besides, multiple brands have 16-ounce and 24-ounce energy drink cans with varying amounts of caffeine.
Sugar
The American Heart Association proposed that men should not intake more than 36 grams of sugar in a day.  For women, it suggests 25 grams consumption limit of in a day. It means one energy drink is enough for a day or even half, relying on which brand you choose.
Additives
Additives are most probably salt compounds, mainly containing sodium. Their increased levels are harmful to people who have blood pressure issues. Even their continuous intake can cause disbalance in the salt level of a person leading to other contagious health issues.
Taurine
Taurine is an essential amino acid with antioxidant properties. It occurs naturally in the human body and regulates energy levels, heartbeat, and muscle contraction. Taurine, if intake in large amounts is safe as it causes no harm to one's body.
Guarana
Guarana plays an active role in enhancing the stimulation effect of caffeine. It is obtained from Amazon plant's seeds. The amount of caffeine in it is approximately four times as compared to that of found in coffee beans.
Chemicals
Each brand also contains a mysterious chemical ingredient like inositol, L-phenylalanine, and citicoline, which gives it a unique taste. Studies have suggested that these chemicals can have a long-lasting effect on human health if consumed in large quantities.
Researches have shown that these drinks can cause temporary ailments like headache, increase in blood pressure extending to insomnia, anxiety, and heartburn and ultimately heart attack.
Researches have shown that these drinks can cause temporary ailments like headache, increase in blood pressure extending to insomnia, anxiety, and heartburn and ultimately heart attack.
Most Dangerous Energy Drinks
Let's have a look at the most dangerous energy drinks sold and consumed around the globe.
Red Bull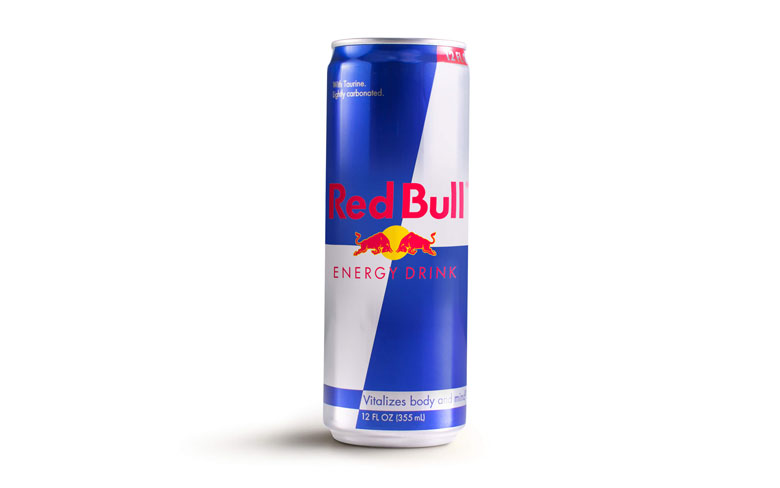 In the world, the highest market share of any energy drink is Red Bull. It is owned by an Austrian company, Red Bull GmbH, created in 1987. Its company slogan is "Red Bull gives you wings," occasionally "No Red Bull, no wings."
As of 2018, 6.790 billion cans sold in a year. Red Bull, generally comes in 8.4-ounce cans, which contain 98 mg sodium, 117 calories, 8 mg potassium, 2 grams of sugar, 28 grams of carbohydrate, and 77 mg of caffeine.
Though Red Bull is a famous beverage, studies show it can negatively affect one's health. It can increase blood pressure and heart rate, may cause tooth decay, and increase the risk of type 2 diabetes.
Monster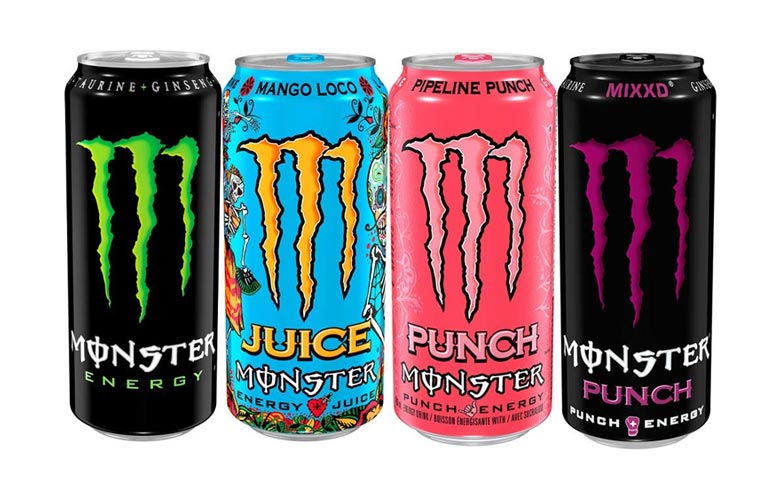 In April of 2002, Hansen Natural Company introduced Monster energy drinks. The monster brand has 34 different bottles in North America, Extra Strength, Java Monster, Import Muscle Monster, and Rehab.
As the drink is Monster energy, so the slogan is "Unleash the Beast." It means you can do anything if you drink it. Monster energy contains 160 mg of caffeine in 16-ounce can.
Dub Edition, for example, is a European-style resealable can. The drink advertises as "high-performance fuel." Half of the can contains 110 calories. Primary ingredients in this drink are L.- Carnitine, ginseng, taurine, and B vitamins.
Just like Red Bull, Monster can cause headaches, restlessness, insomnia, chest pain, dizziness, and respiratory distress.
Rockstar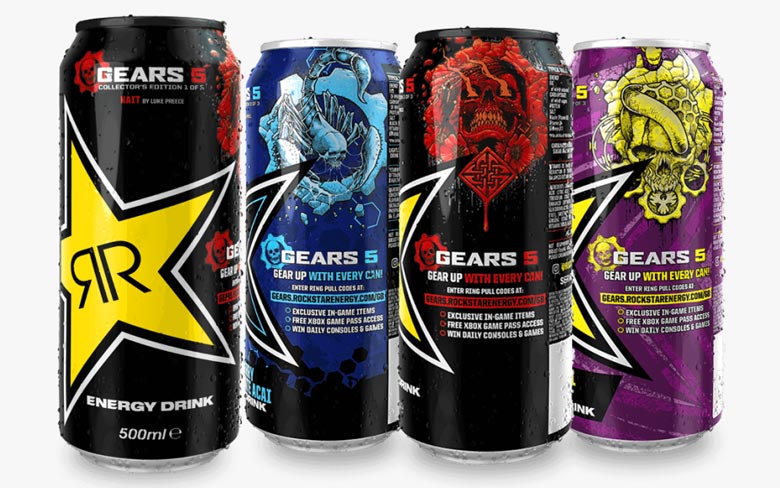 Russell Weiner was the former owner of the Rockstar energy drink company. He created it in 2001 and sold it to PepsiCo in March 2020 for about $3.85 billion. Nowadays, Rockstar is sold in 30 countries around the globe.
Rockstar energy drink contains caffeine, taurine, guarana, ginseng, and milk thistle. A 16-ounce Pina Colada Rockstar has 160 milligrams of caffeine, 62 grams of sugar,30 milligrams of sodium, and 32 grams of carbohydrates.
In a research conference of the American Heart Association, studies provided evidence that an individual may encounter cardiac problems or abnormal heart rhythms after drinking these beverages continuously. High consumptions lead to kidney failure and stroke.
Full Throttle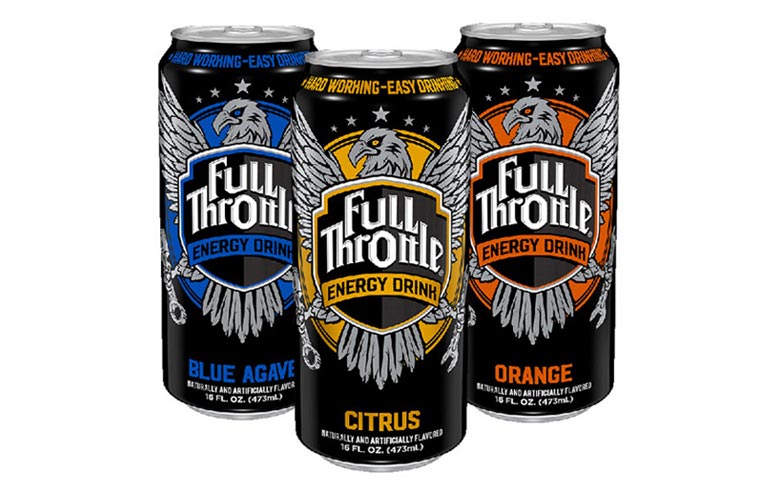 Full Throttle energy drink brand produced by Monster Energy. Its drink's tagline is "hard-working, easy drinking."
A can of 16-ounce Full Throttle Blue Agave contains 197 mg of caffeine, 70 mg sodium, 29 grams of sugars, 220 calories, and 28 grams of carbohydrates. Other ingredients of Full Throttle include citric acid, D-Ribose, sodium benzoate, vitamin B3, B5, and B6.
Full Throttle, if consumed in large quantities, can cause severe effects on the nervous and endocrine system. It also imparts in high blood sugar and cholesterol, leading to diseases like diabetes.
NOS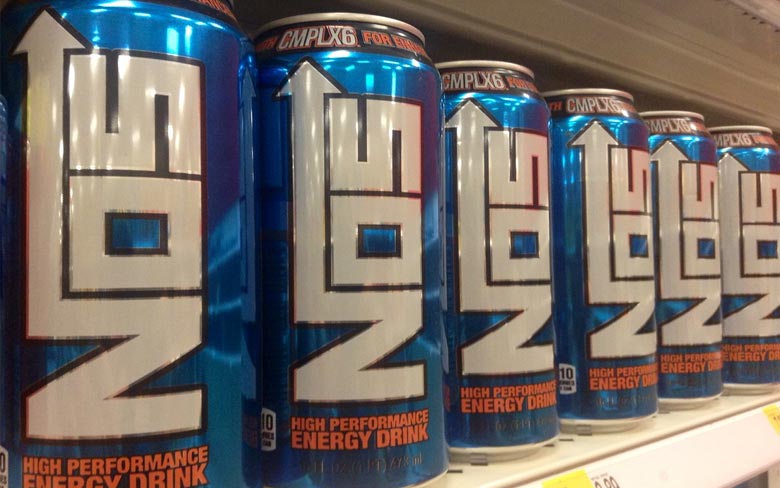 Monster Beverage Corporation is also responsible for the production of NOS energy drink. NOS has an eye-catching slogan, "You only live NOS. No nonsense energy for the gym."
NOS is available in 16-ounce and 24-ounce cans. Its primary chemical ingredients are L-Carnitine, D-Ribose, Caffeine, Pectin, Ascorbic Acid, Sodium Hexametaphosphate, and Gum Arabic.
Charged Citrus NOS energy drink constitutes 160 mg caffeine, 100 calories, 27 grams sugar,115 mg of sodium, and 28 grams of carbohydrates per 16-ounce can.
Long termor constant intake of NOS leads to an increase in heart rate and blood pressure, irregular heartbeat, dehydration, anxiety, heart failure, and insomnia.
Mountain Dew Amp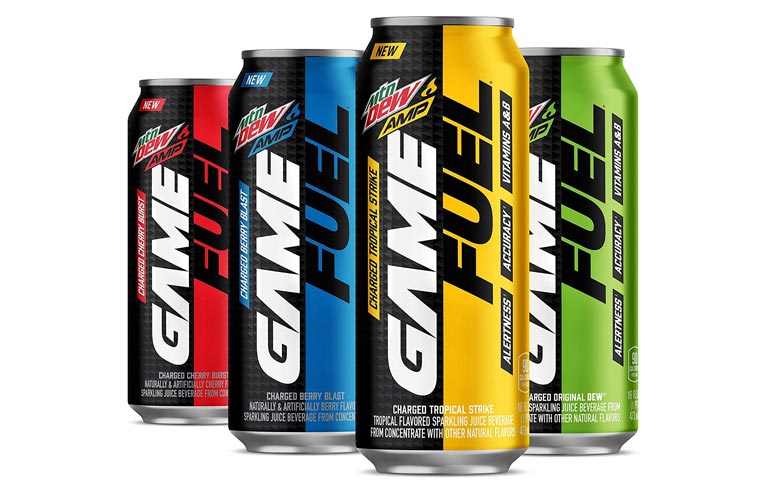 Mountain Dew Amp is the usual Mountain Dew but boosted up with intense energy. It was the flavor extension of Mountain Dew brand, and its label read "Amp Energy Drink from Mountain Dew" in 2001.
Amp Energy Cherry Blast contains guarana, taurine, ginseng, B-vitamins, and maltodextrin. 16-ounces of Amp cherry blast contains 160 milligrams of caffeine, 31 grams of both carbohydrate and sugar, 0.152 grams of sodium, and 295 grams of taurine.
Regular use of Mountain Dew Amp causes high health risks such as obesity, elevated insulin level, panic attacks, depression, nausea, and sleeplessness.
5-Hour Energy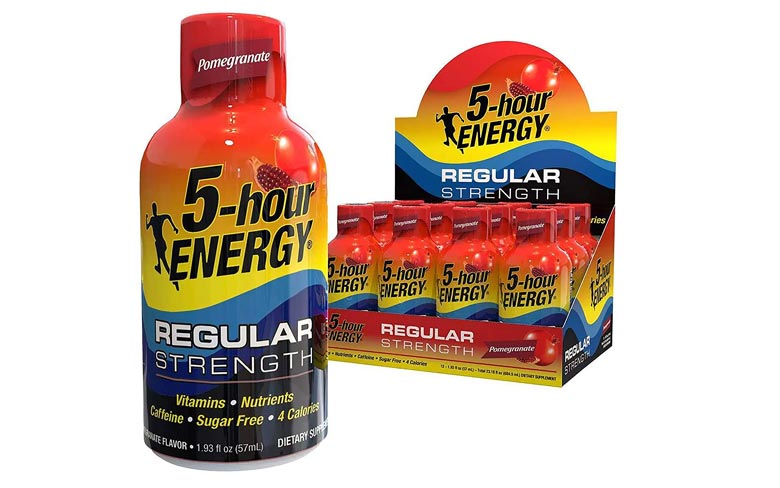 Living Essentials LLC manufactures a 5-hour Energy drink, an American-made "energy shot." CEO Manoj Bhargava founded the company and launched it in 2004. The 5-hour energy drink has the company slogan: Fueling the good times.
The distinguishable chemical ingredients of 5-hour energy drink are N-acetyl L-tyrosine, Niacin, Taurine, glucuronic acid, Vitamin B6, malic acid, Folic acid, Vitamin B12. It contains 215 milligrams of caffeine, sugar-free with only four calories.
5-Hour energy causes severe effects such as vomiting, nervousness, trouble sleeping, higher blood pressure, nausea, rapid heartbeats due to too much caffeine. It is advisable to avoid more than two shots of 5-Hour energy drink.
Bang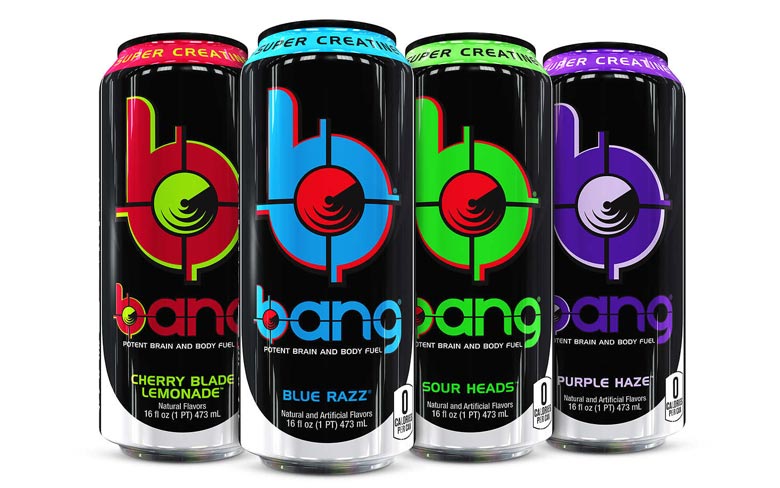 Bang is an energy drink brand, established in 1993. It contains stimulant compounds which provide mental and physical stimulation. Jack Owoc is the founder and CEO of Bang Energy. Its tagline is "Fuel your destiny."
The distinguishable chemical ingredients of Bang energy drink include citric acid, sodium benzoate, L-Leucine, vitamin C, potassium phosphate, and magnesium chloride. It has more than 15 flavor choices, including Black Cherry Vanilla, Blue Razz, and Rainbow Unicorn.
A 16-ounces of Cotton Candy Bang energy drink container holds 357 mg of caffeine. They have no added sugar, with zero calories and carbohydrates.
If one consumes Bang in large quantities, it leads to nervousness, migraine headaches, irritability, insomnia, restlessness, muscle tremors, upset stomach, and frequent urination, or inability to control urination.
Spike Shooter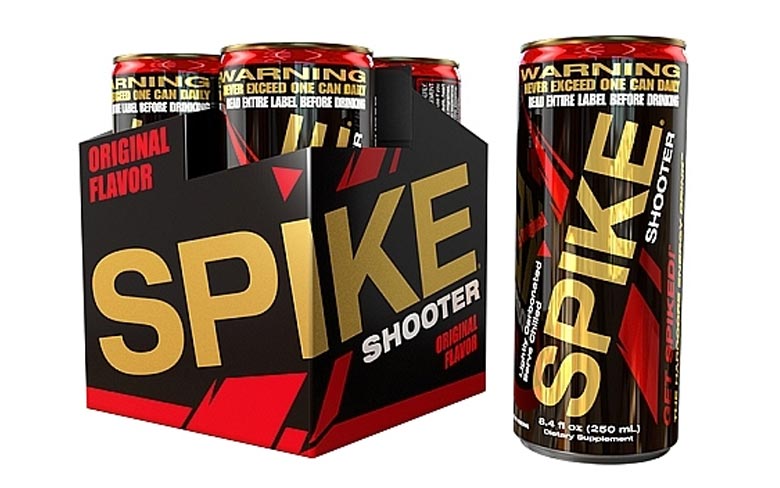 Spike Shooter energy drink sold by SPIKE LLC of Colorado Springs. It is a concentrated energy supplement produced by Biotest. Spike Shooter contains bulk quantities of caffeine and additional stimulants, which can be harmful to one's health.
Its chemical ingredients are caffeine anhydrous, Carmel color, sodium citrate, sodium benzoate, sucralose with no sugar and zero carbohydrates and calories. The caffeine content in Spike Shooters is 300 mg per 8.4-ounce can.
The label suggests beginning with only half serving to calculate the body's tolerance. It is prohibited to drink more than one can once a day.
Conclusion
To conclude, one should not be habitual to intake energy drinks as the excess of everything is bad. Everyone should keep a balance and read the labels before consuming an energy drink.
Instead of using energy drinks, fruits and fresh juices can keep oneself with an active metabolism.