Khabib Abdulmanapovich Nurmagomedov is of the biggest names in the history of mixed martial arts (MMA). Commonly known as "The Eagle," he was born on 20th September 1988 in Sildi, a village in Russia.
Khabib has been a professional wrestler since 2008. Due to his incredible record of 28 wins and no losses, his fame is always on the rise.
The Russian wrestler was born in a family with a rich wrestling background. His father, Abdulmanap Nurmagomedov, was an army veteran and a well-known wrestler. His cousin, Abubakar Nurmagomedov, is also active in the UFC (Ultimate Fighting Championship).
When Khabib won the UFC Lightweight Championship title in 2018, he became the first-ever UFC champion of Russian descent.
He is very well-known for his historic win against Conor McGregor in 2018. The contest was the most-watched event in the history of MMA, with a record-breaking 2.4 million pay-per-view buys. This victory brought in a massive worth for Khabib.
In 2019, Khabib topped the list of most successful sportspeople and celebrities under 40 years in Forbes Russia magazine.
His remarkable skills in the wrestling ring have helped him raise a massive worth. Continue reading to find out more about Khabib and his net worth.
Early Life
Khabib began his training at a very young age, learning from his experienced father.
After his family moved to Makhachkala in 2001, Khabib began training in wrestling and then judo. He trained in combat sambo when he was 17 years old. Before he stepped into the world of professional wrestling, he got into many street fights.
In September 2008, Khabib made his MMA debut with a win. He continued his winning streak, and before he took his first steps in the UFC, he had a 16-0 record. This remarkable unbeatable record put a lot of spotlight on Khabib and paved his way to the UFC.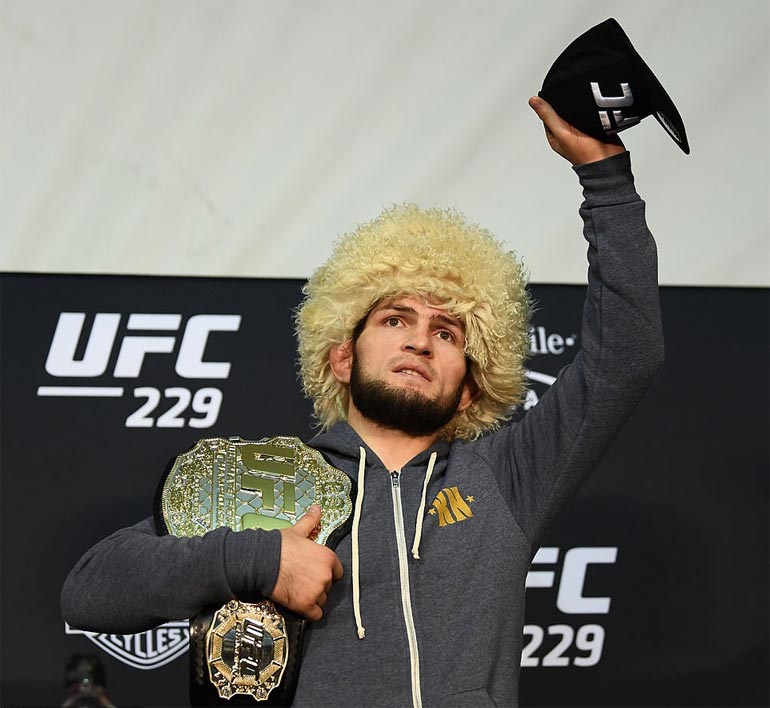 UFC Debut
On 20th January 2012, he made his UFC debut against Kamal Shalorus, an Iranian professional wrestler. Khabib's win by submission in the third round showed how he was going to rule the wrestling world.
He kept defeating his opponents and eventually reached an incredible record of 25-0 in his MMA career. Though he had achieved so much already, even better days were coming soon.
Winning the Lightweight Championship
In April 2018, Khabib beat Al Iaquinta to win the lightweight championship. Khabib completely dominated the American wrestler throughout the match. Later, via a unanimous decision, Khabib was crowned as the UFC Lightweight Champion.
The contest further made the Russian wrestler more popular throughout the whole world. Just a few months later, his fame would reach new heights.
Khabib versus McGregor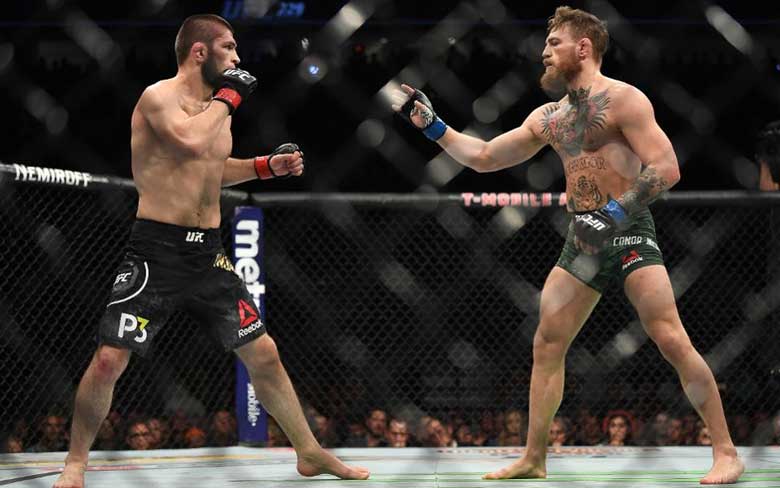 In October 2018, millions of fans had their eyes on these two names: Khabib Nurmagomedov and Conor McGregor. McGregor is a world-famous professional wrestler from Ireland.
The two fighters met at UFC 229 on 6th October 2018. Khabib's plan for the contest was to tire out McGregor in the early rounds, which worked perfectly. McGregor's punches started to lose strength, ending in Khabib's win by submission in the fourth round.
With the win, Khabib was able to retain his lightweight championship title.
The historic match brought a huge income for the Russian wrestler. He received a base salary of $2 million for the fight.
Khabib versus Poirier
On 7th September 2019, Khabib fought against Dustin Poirier, an American wrestler. In the third round, he beat Poirier with a rear-naked choke submission. With this triumph, Khabib defended his UFC Lightweight Champion title for the second time.
The fight was extremely profitable for Khabib. He received approximately $6 million. Besides having a perfect winning record, he has received numerous prestigious awards in his incredible career.
Achievements
He has won two Performance of the Night awards, for his matches against Edson Barboza and Dustin Poirier. In addition to this, Khabib holds the record for most takedowns in a single UFC fight (21) against Abel Trujillo.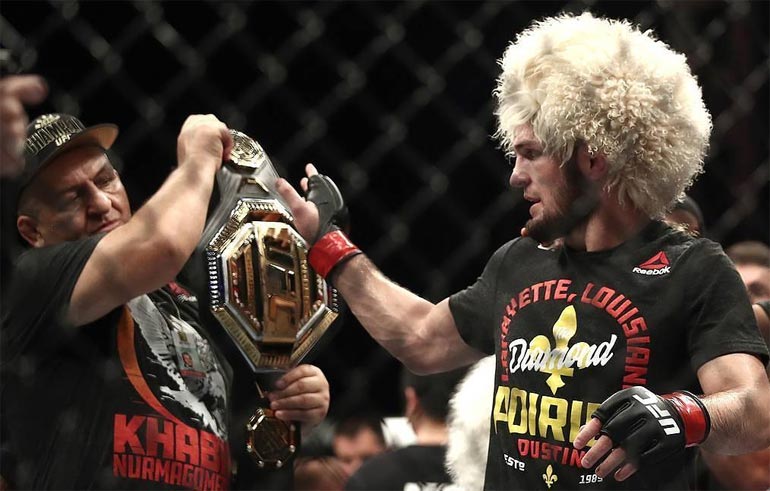 He won the Pankration Atrium Cup in 2008. In 2009, he won the gold medal for both World and Russian Combat Sambo Championships. The next year, he won his second consecutive gold medal in the World Combat Sambo Championships.
At the 2016 World MMA Awards, Khabib has crowned the International Fighter of the Year. He was also called the 2016 Comeback Fighter of the Year by sherdog.com.
He also won two awards in the North American Grappling Association World Championship held in 2012.
These extraordinary achievements greatly contribute to his massive net worth. Continue reading the article to find out more about his other sources of income.
Net Worth & Other Sources of Income
Khabib Nurmagomedov has a net worth of about $40 million in 2023. He has earned the majority of his income from various contracts with prestigious brands.
He has joined hands with Gorilla energy drinks, Reebok, and Toyota. He has also promoted different companies on his social media platforms, such as the Dethrone Royalty Brand.
He makes a lot of money for special appearances as well. When he attended the rematch between wrestlers Anthony Joshua and Andy Ruiz Jr., he was paid more than $1 million.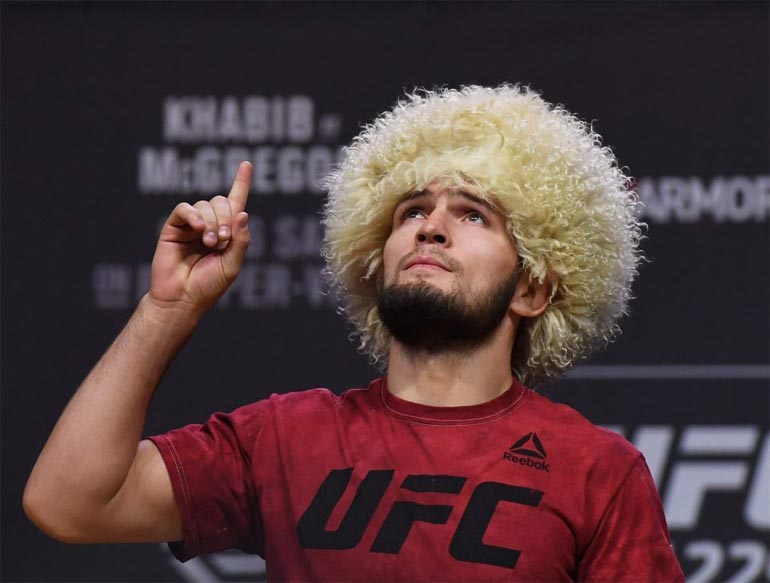 Current Situation
In 2013, Khabib married his long-time girlfriend, Patimat. Their daughter, Fatima Nurmagomedov, was born in 2015, and their son, Magomed Nurmagomedov, was born in 2017.
Till now, Khabib has played 28 matches. Out of these, he has won eight by knockout, ten by submission, and ten by decision.
This remarkable winning streak is one of the sole reasons he is known all over the world. He was scheduled for a fight against Tony Ferguson in April 2020, which was not held due to the COVID-19 pandemic.
Khabib uses his massive net worth for the benefit of the community. After his matches, he swaps shirts with his opponent and sells those shirts to raise charity funds.
Final Words
Khabib Nurmagomedov is one of the greatest wrestlers in the history of the UFC. Due to his tremendous skill and endurance, his net worth is expected to be on the rise.