Dennis Keith Rodman is considered one of the best players ever to set foot on the basketball court. He was born on 13th May 1961 in New Jersey, a US state. The athlete played as a power forward/ small forward in his career.
More commonly known as "The Worm," Dennis was a force to be reckoned with in the NBA (National Basketball Association). He was a spectacular defensive player and a rebounder.
Throughout his NBA career from 1986 till 2000, he stayed a prominent figure among the fans. He played for five teams, including the prestigious Detroit Pistons, Los Angeles Lakers, and Chicago Bulls.
He is not only a professional basketball player but also an actor, a wrestler, and a political diplomat. With countless remarkable achievements and awards to his name, Dennis earned a massive salary in his career: $27 million.
However, he was accustomed to a life of luxury, so he used up the money and got into several financial troubles.
One of his incredible achievements is that he stayed the NBA Rebound Champion for seven consecutive years (1992-1998). Moreover, he has won five NBA championships.
To know more about The Worm and his net worth, keep reading.
Early Life
The world-famous star had a rough childhood, as he grew up without a father. His father, Philander Rodman Jr., had about 28 children of his own. Dennis is the oldest of the 47 children of his parents.
At a very young age, Philander abandoned Dennis and his mother, Shirley.
Dennis lived with his mother in Dallas. Shirley worked various jobs to keep the family afloat.
Dennis studied at South Oak Cliff High School. Due to a growth spurt, he decided to play basketball. He played for different schools, but one of his major performances was with Southeast Oklahoma State University.
At the Portsmouth Invitational Tournament, he was given the MVP (Most Valuable Player) award. With the award, he caught the eye of a renowned NBA team, Detroit Pistons.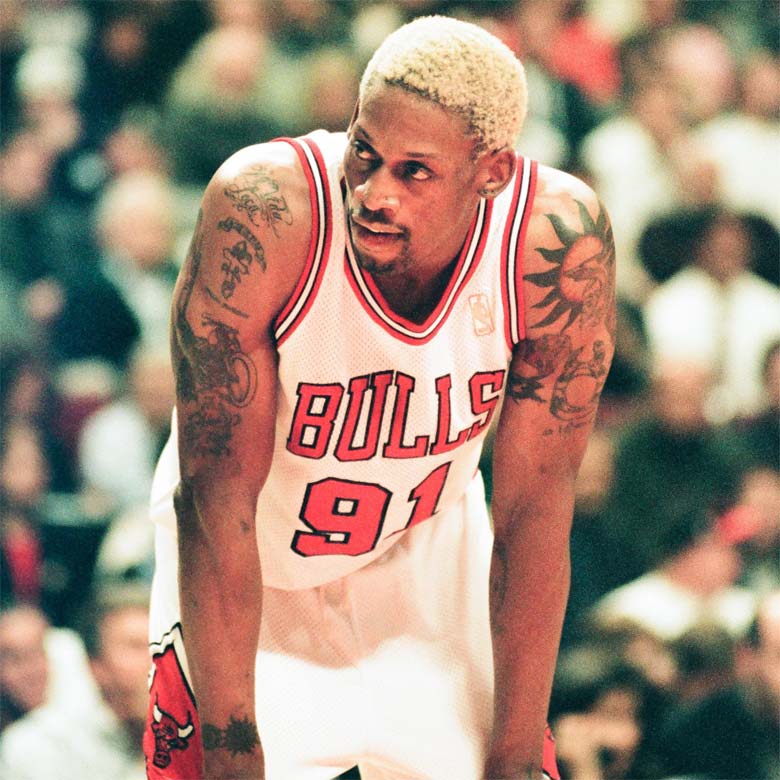 Early NBA Career with the Pistons
The Worm was picked up by the Detroit Pistons in 1986. He played with sheer talent and hard work. In 1988, he helped the team reach the NBA finals. Unfortunately, the LA Lakers beat them. That season, he started 32 out of a total of 82 games.
In the 1988-89 season, the Pistons won 59 games. For his impressive defensive and rebounding skills, Dennis won the NBA Defensive Player of the Year Award. The Pistons won the championship title that season.
The next season, the Pistons beat Portland Trail Blazers in the finals and claimed the second NBA championship. Unfortunately, Dennis suffered from an ankle injury and missed out on several matches.
During the 1991 season, Dennis started in 77 out of 82 games. He won his second Defensive Player of the Year Award due to a 12.5 rebound average. The next season, his rebound average was a whopping 18.7.
After the Pistons had a change of coaches, Dennis demanded a trade. He moved to the San Antonio Spurs in October 1993.
He did not stay with the Spurs for a long period and was traded to the Chicago Bulls before in 1995.
Gain in Popularity with the Bulls
With the Bulls, Dennis had the opportunity to play alongside the biggest name in the sport's history: Michael B. Jordan. He won the championship title with the Bulls in the 1995-1996 season.
In the 1996-1997 season, Dennis received his sixth consecutive rebounding award. For his misbehavior on the court, Dennis was suspended for several games. However, he still played his part in the final matches and helped the Bulls win the championship again.
During the 1997-1998 season, Rodman won his seventh consecutive rebounding title. The Bulls were led to the finals by the hard work of Jordan and Dennis.
That year, his performance was appreciated by all critics. His talents were a key factor in the Bulls' championship win that year.
Dennis left the Bulls at the start of 1999 and joined the LA Lakers. He played only 23 games with the Lakers before his release.
After joining the Dallas Mavericks for the 1999-2000 season, Dennis left the world of NBA and focused more on wrestling and acting.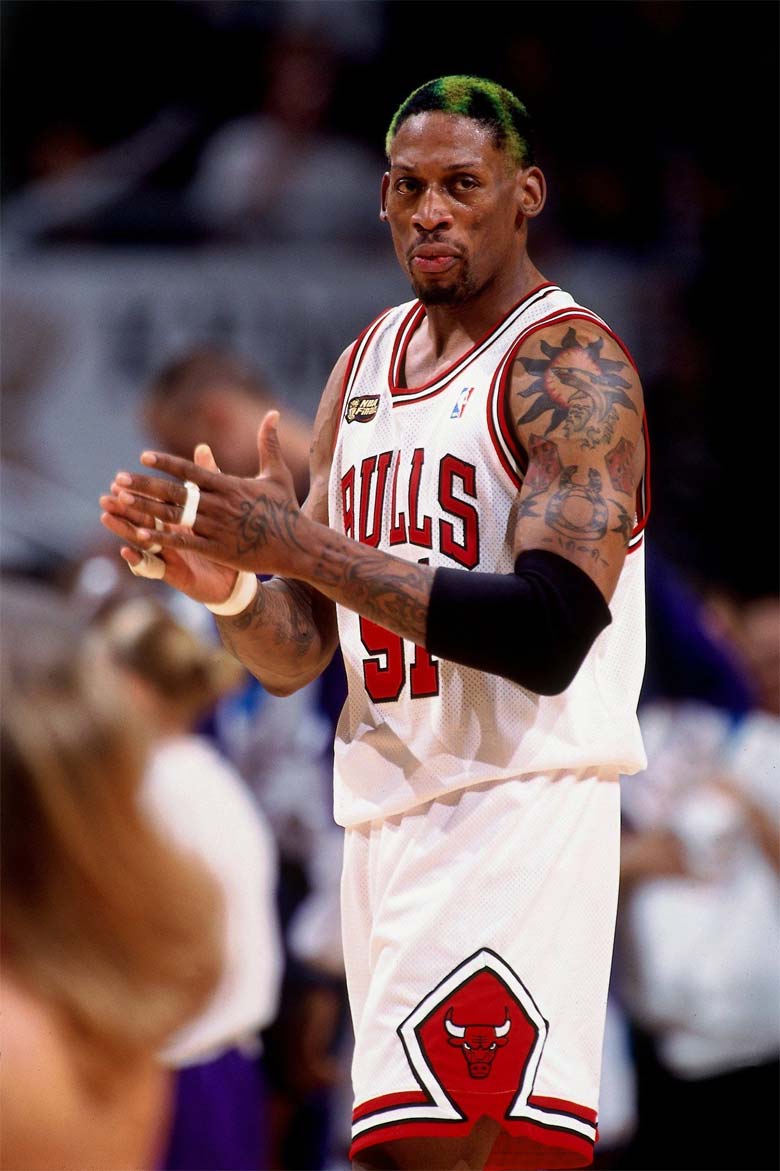 Wrestling Career
Dennis always had a liking for wrestling. He played alongside Hulk Hogan in 1997 but lost the match. After he lost to Curt Henning in 2000, Dennis retired from wrestling.
Acting Career
The renowned star had his own TV show, which aired for 13 episodes: The Rodman World Tour.
Furthermore, he played the lead character in two movies: Double Team and Simon Sez. He has earned massive amounts from these ventures.
He has also starred in several reality TV shows and received a huge sum from his Celebrity Mole win in 2004.
During his extraordinary career, he earned vast sums of money as well as countless awards.
Achievements & Awards
The popular athlete played 911 games in his career.
He has a long list of achievements and awards:
5 NBA Championship Titles in 1989, 1990, 1996, 1997, and 1998
7 NBA Rebounding Champion from 1992 to 1998
2 NBA All-Star in 1990 and 1992
1 NBA All-Defensive 2nd Team in 1994
With such significant achievements to his name, his earnings were deemed to be high.
Net Worth & Other Sources of Income
In his professional career, the athlete earned a massive total of $43 million. Currently, his net worth is approximately $500 thousand. This is quite low compared to his teammates, mainly due to his poor financial management.
He has earned from sources besides basketball as well.
He has starred in different reality shows and movies. In addition to this, he became the first-ever male to pose naked for PETA (People for the Ethical Treatment of Animals).
He is somewhat of an American diplomat to North Korea. He joined hands with a North Korean company known as Pot Coin.
Furthermore, he has released two autobiographies.
Current Situation
Dennis has two daughters and a son. One of his daughters, Alexis Caitlyn, was born to his first wife in 1988. Dennis Junior and Trinity were born to Michelle Moyer, his third wife.
Dennis keeps an active profile on social media and speaks up about important issues.
Final Words
Dennis is one of the greatest names in the history of the NBA, one of the sole reasons for his high net worth.