Bread is a staple that people eat almost every day. It is one of the oldest prepared foods out there. Many studies and researches have given us evidence that bread is as oldest as the time back to the stone age, i.e., almost 30000 years ago.
Early men used to extract starch from specific plants like ferns and cattails and then flattening out on a rock to make a flatbread. Bread is said to be a discovery of ancient Egyptians. During the olden times, the color of the bread would describe a person's status in terms of wealth and social hierarchy.
Wheat is the most common grain used for preparing bread. Bread is also made from the flour of non-wheat grains like maize, millet, and rice. Bread is the most popular staple food in the middle eastern countries, and Turkey is the largest consumer of bread per capita as of 2000, with a staggering 440 lb per person.
Types of Bread
There are many types of bread with different tastes, textures, and aromas.
White Bread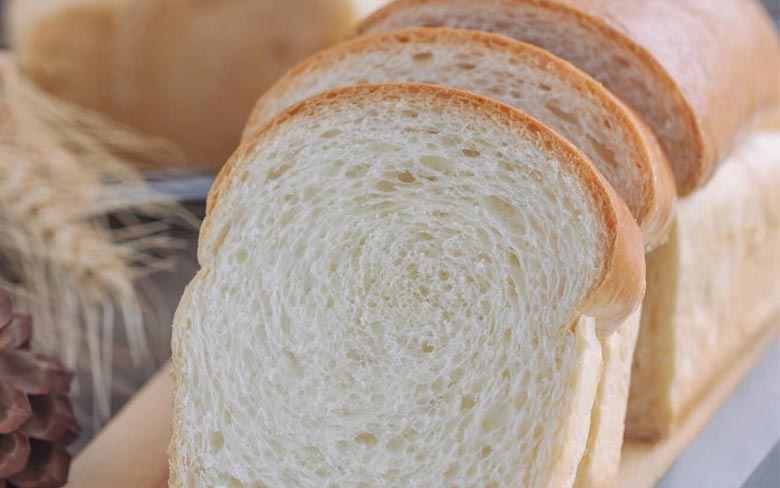 White bread is the most common and widely known type of bread. It is made from wheat flour. The bran and germs are removed from the wheat during the process of grinding, producing light-colored flour.
White bread is commonly used for making a sandwich; that's why many consumers refer to white bread as sandwich bread or sandwich loaf. It has a simple yet satisfying taste and is very light and delicious.
Whole Wheat Bread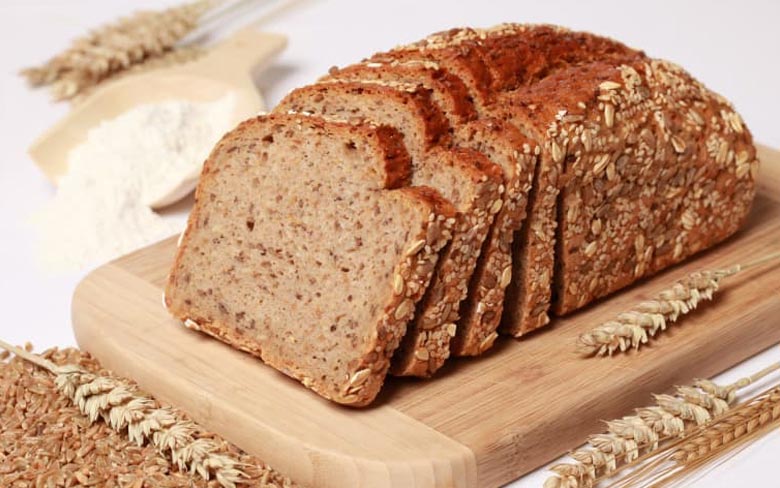 Unlike white bread, whole wheat bread uses all parts of the wheat grain, which means that the bran and germ are not separated. Whole wheat bread is healthier than most of the bread as it has more fiber and nutritional value as compared to other types of bread.
The majority of bread sold under the name "wheat bread" has very little whole grain content, because most white bread uses wheat flour, and thus could be called "wheat bread." whole wheat bread is brown, which is the most notable and identifiable characteristic.
Even though it's not as appealing as the white bread, many people prefer whole wheat bread over the standard white bread.
Multigrain Bread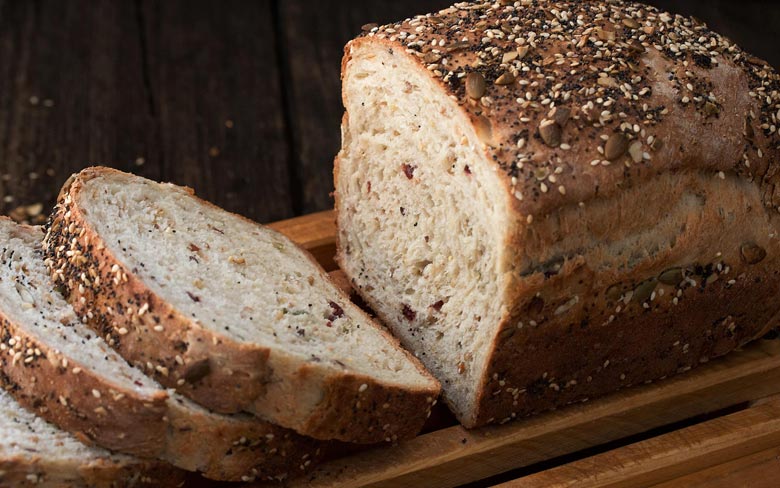 Multigrain bread is produced from the flour of two or more grains hence giving it the name "Multigrain Bread." The grains used are oats, barley, millet, whole wheat flour, and flax.
Whole wheat bread is a combo of vitamins, proteins and dietary fibers which make the nutritional value of multigrain bread four times greater than that of white bread. As for the taste, multigrain bread has a delicious and authentic flavor. It is a perfect and healthy option for breakfast and goes exceptionally well with dressings.
Baguette Bread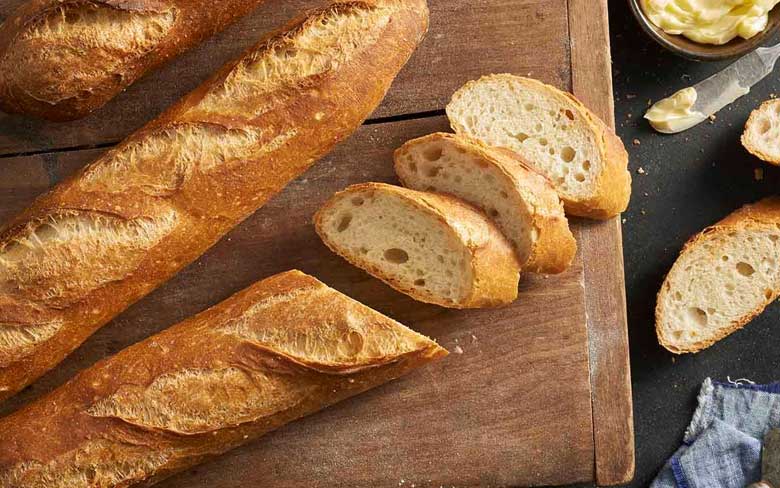 Baguette bread which is also known as french bread or french stick is a bread which is originated from France. The word baguette itself means "stick," which defines the shape of the bread. The length, texture and the crust are the most striking features in the baguette bread.
The diameter of the bread is about 5-6 cm, and the usual length is about 65 cm. The slits in the bread are for the expansion of gas while baking. It is one of the most cherished breads among the bread lovers and is a food symbol for the country of France.
Baguette has a unique flavor and texture; it is crisp on the outside, and the inside is chewy and is mostly enjoyed with butter or margarine; it also goes great with gravy.
Pita Bread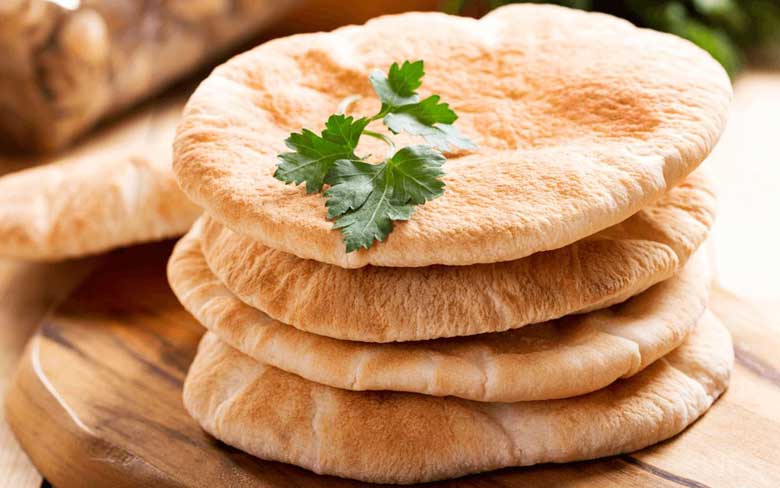 Pita or pitta bread is a round flatbread which is made from wheat flour it originated in the middle east and midwest parts of the world, it has a sweet and distinct flavor and is soft and fluffy.
Pita bread is widely known because of its air pocket which makes the bread quite distinct, the pocket of bread can be filled with meats and other foods, sometimes it is also baked without the air pockets and is called pocket-less pita. Pita bread is cooked at very high temperatures which helps reduce the bread's moisture causing the bread to puff up and form a pocket.
Brioche Bread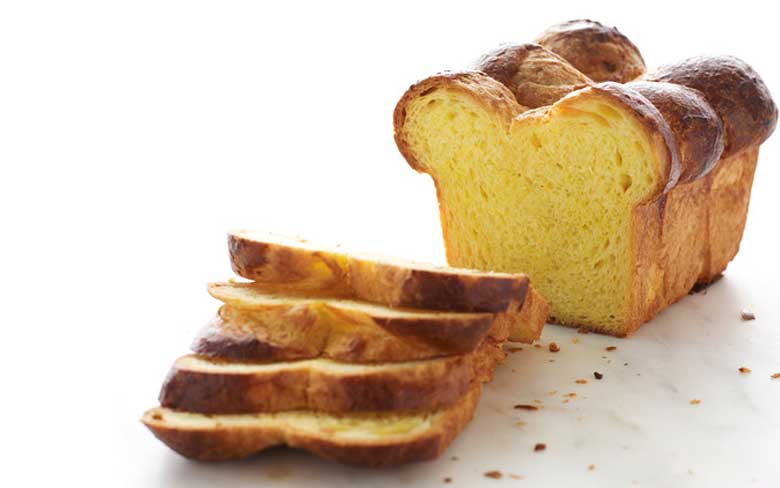 Brioche bread is also a bread of French origin, and it is comparable to a pastry. The procedure of making brioche is the same as bread but is considered more like a pastry because of the increased addition of eggs, buttermilk, water, sometimes cream, and occasionally some sugar.
Brioche bread is light puffy and sweet with a flaky golden crust. It is a perfect dessert on its own and is commonly eaten as a snack with fruits. Brioche is mostly enjoyed with chocolate or marmalade filling.
Focaccia Bread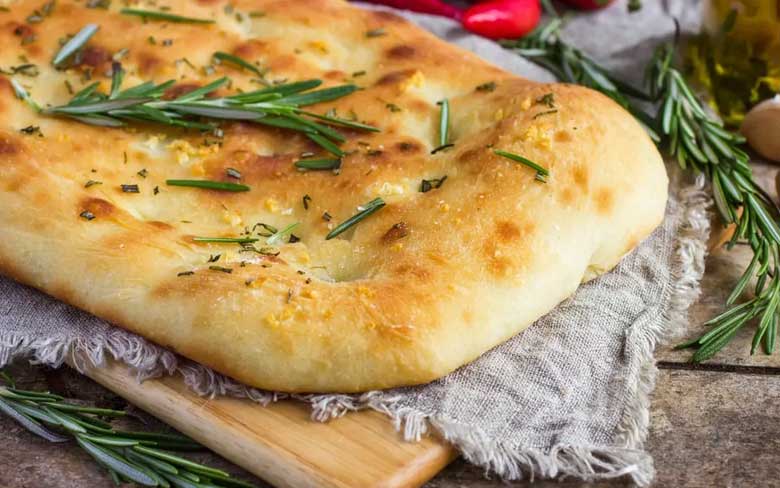 Focaccia Bread is an Italian flatbread that is baked in an oven and is like pizza dough. It is brushed with rosemary and olive oil before baking to give it the aroma and crunchy crust that it is known for, some people like to add some herbs like oregano and thyme to the recipe which is also a great addition as it amplifies the taste of the bread.
Focaccia is mostly served as an appetizer or snack and can be eaten by dipping it in soups, dressings, and salsa. Focaccia has a warm and yeasty flavor.
Rye Bread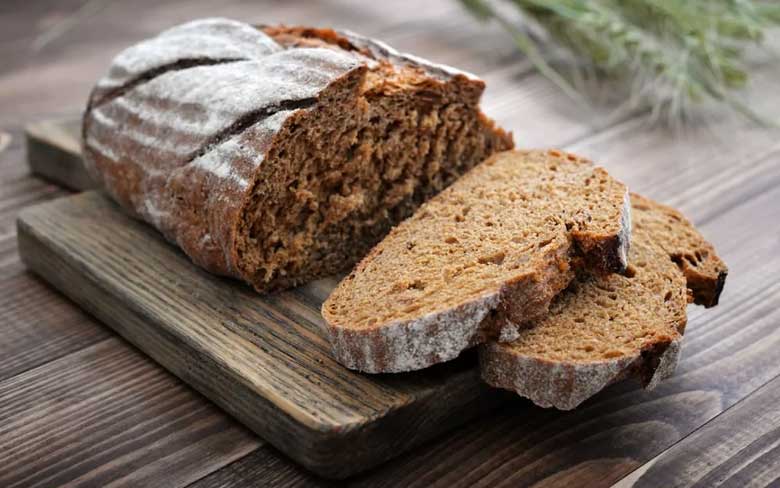 Rye bread is a sturdy flavored European bread; the color of Rye bread depends upon the proportions of the flours used. It is made by mixing both rye grain flour and wheat flour. It is dense and is high in fiber and often has a dark color.
It is a bit sour, dense, and earthy in terms of flavor; Rye is extremely tasty with toppings such as smoked salmon and ricotta cheese. It is also fancied with jams and jellies. Rye bread is very healthy as it has a low glycemic index which helps balance blood sugar levels.
Sourdough Bread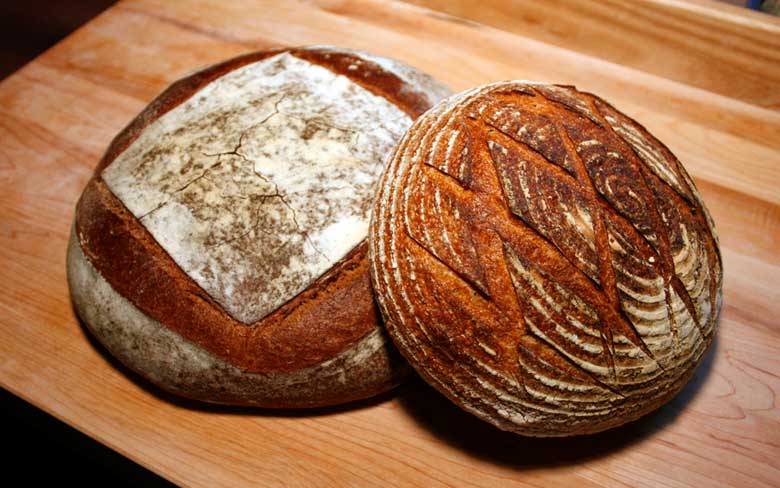 Sourdough bread is unique and different compared to the other types of bread as it does not require yeast to rise. Instead, it uses a starter that acts as a natural leavening agent. Sourdough bread lasts longer than standard bread because of the lactic acids present in the bread due to the process of fermentation.
Sourdough bread has a vinegar-like smell, and the lactic acid-forming bacteria also produce acetic acid giving the bread its vinegar-like smell. Sourdough bread can be used as stuffing, and it goes great with roasted meat.
Ciabatta Bread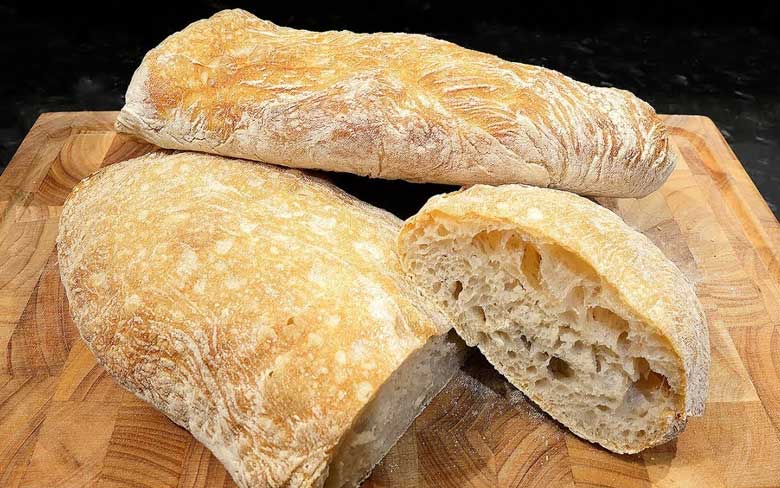 Ciabatta bread is an Italian white bread which is made from flour and wheat. The word ciabatta translates to "slipper," which explains the shape of the bread. Ciabatta bread can last for 2-3 days only.
The taste of ciabatta is much like the white bread, but the crust and texture are crisp, soft, and chewy.
It is a great side dish; its spongy texture makes it great to eat with a soup or a dip, ciabatta can also be filled with veggies or meat and enjoyed as a sandwich.
Bagels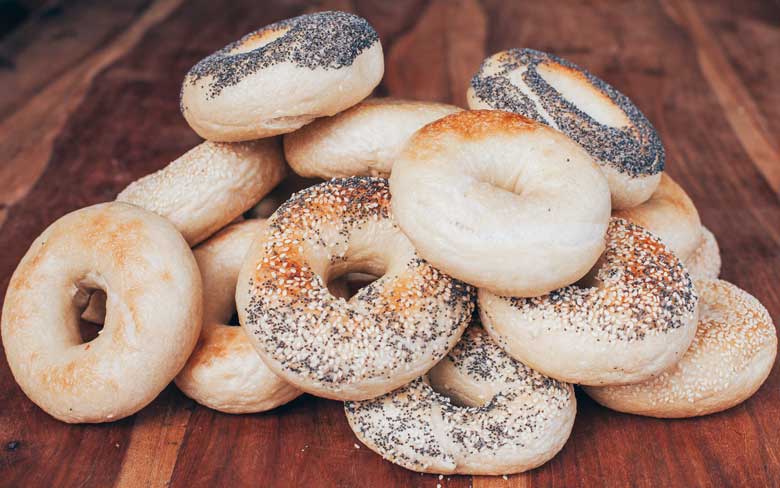 Bagel or beigel is a round bread with a hole in the center; the hole is a signature for bagels. The unique thing about bagels is its process of boiling before baking. Boiling the bagels helps them maintain their round shape and chewy center.
Bagels have many types like blueberry, chocolate, cinnamon, raisin, and egg, and each type is a delight on its own. The traditional way of eating a bagel is to eat it with cream cheese and some kind of savory meat like salmon and lamb.
English Muffins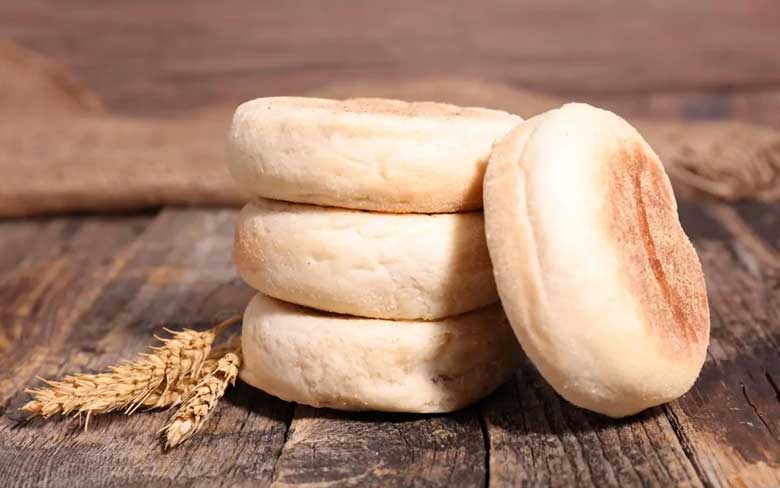 English muffins or breakfast muffins are small, round, and fluffy. They were originated in the United Kingdom.it is mostly eaten as a breakfast food.
English muffins can be buttered and toasted and are usually served with jam or honey; they can also be eaten with eggs, sausages, and cheese. English muffins are healthier than other types of muffins
Arepa Bread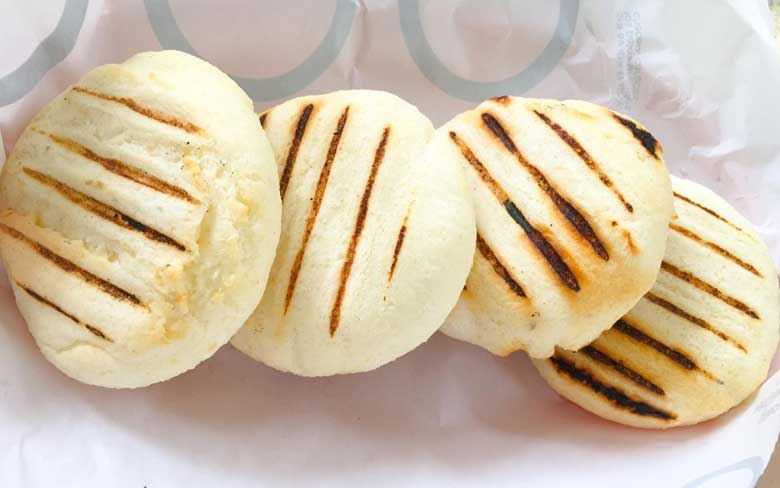 Arepa Bread is a bread of Colombian origin. It is daily eaten in countries like Venezuela. Arepa bread is made of maize flour or cornmeal and has to be baked or grilled before eating. The bread is slightly sweet, and it is eaten with chicken, avocado filling, cheese, and guacamole. It can also be split into two to make a sandwich. Arepa bread is also gluten-free
Chapati Bread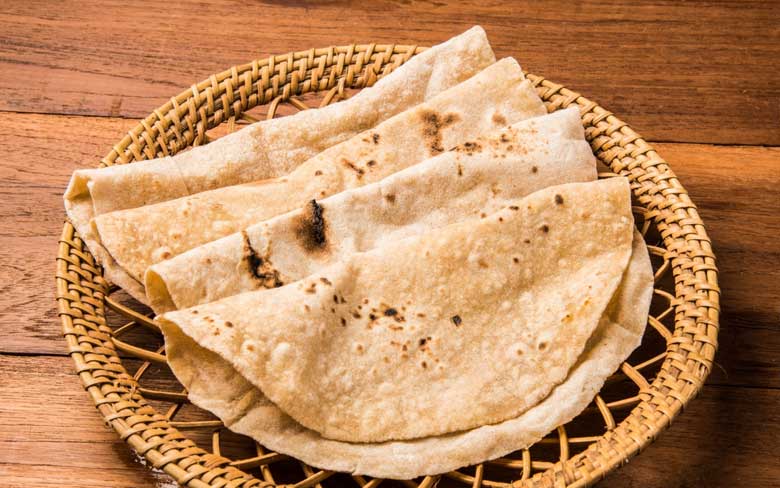 Chapati is a popular middle eastern staple that is eaten almost every day in countries like Pakistan, India, Sri-Lanka, and Bangladesh. It is a thin whole wheat flatbread and is grilled without oil; it is mostly eaten with curry or lentils. Some people like to add clarified butter to add more flavor to their chapati.
Damper Bread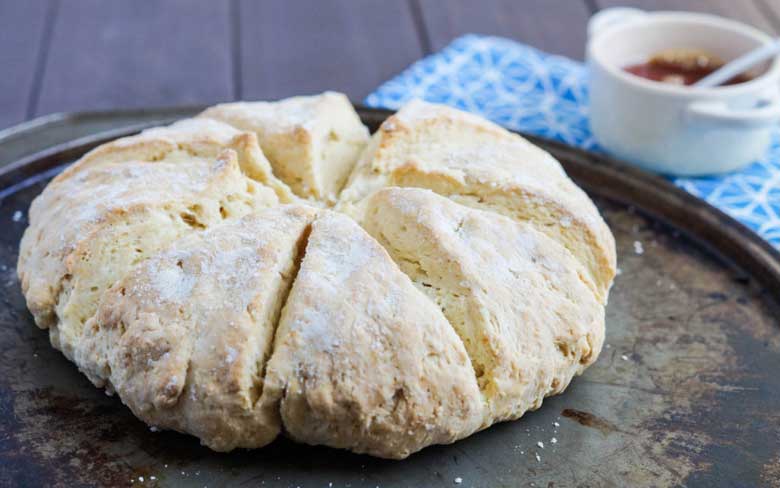 Damper bread is an iconic Australian bread which is usually baked over open coals or a campfire. It consists of flour, water, salt and sometimes sugar and milk. Damper Bread has an original flavor. It is a bit bland but maximizes the flavor of the add ons like stew and meat. Sometimes baking soda is used for leavening.
Injera Bread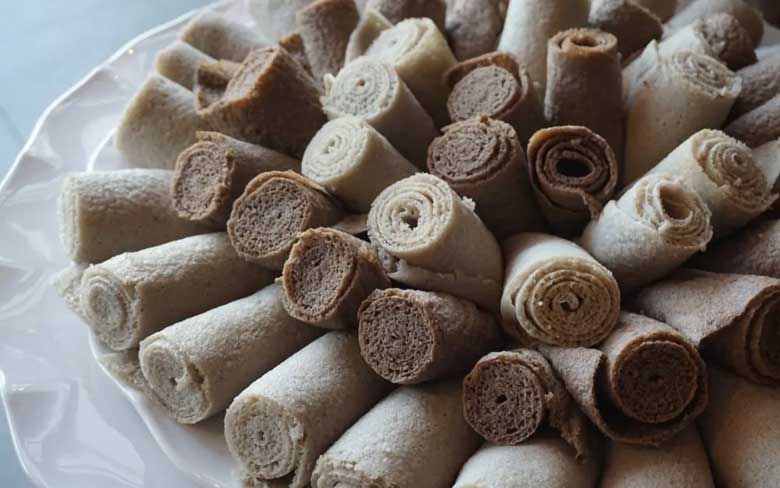 Injera bread is basically a sourdough bread, but the texture is spongier, and the bread itself is slightly sour. It is also known as "Ethiopian flatbread" as it originated from Ethiopia, and is the national dish of Ethiopia. It is a compulsory dish in Ethiopian cultures, and a meal is not complete without injera bread.
Injera bread is made out of a grain called "teff." sometimes, corn, rice, wheat, and millet are used to make injera, but the authentic injera bread is made from teff. It is very thin and has a delightful sour taste. Injera bread is mostly eaten with stews, curries, and meat.
Knäckebröd Bread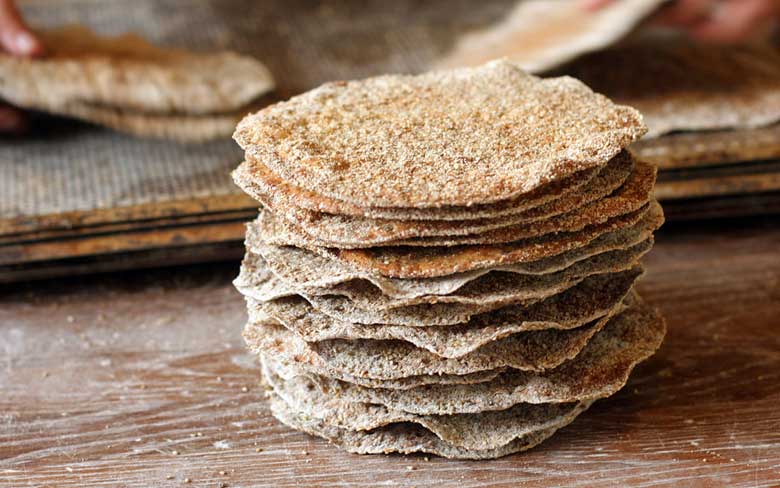 Knäckebröd Bread or crispbread is a crispy cracker-like flatbread made from rye flour. It is famous in Nordic countries. Knäckebröd is very light and nutritious. Knäckebröd can be eaten with cheese and herbs like oregano, thyme, and cilantro. It is a stiff bread with a dry texture.
Lavash Bread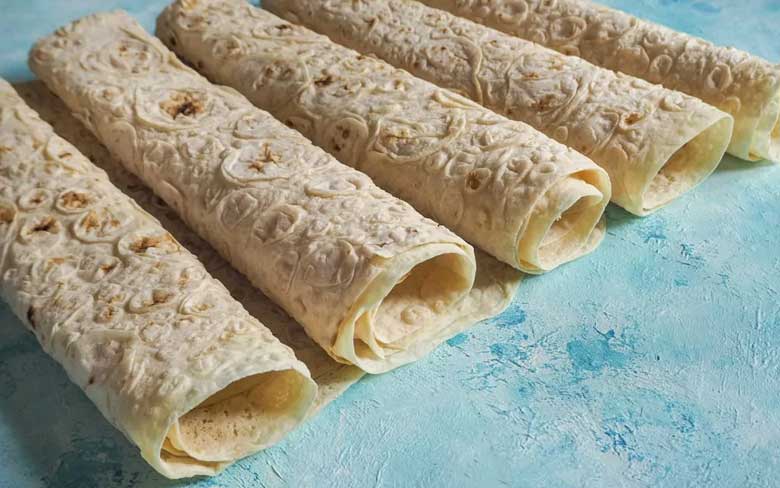 Another middle eastern delight, lavash bread, is a thin and soft flatbread. It does not require the process of leavening and is made only with flour, salt, and water. Lavash bread is cooked in a clay oven or a tandoor and is best served hot.
In the middle eastern countries, lavash is eaten with kebabs and sometimes wrap sandwiches filled with meat and different sauces. Lavash bread is covered with sesame or poppy seeds before baking to give it extra flavor and aroma.
Obi Non Bread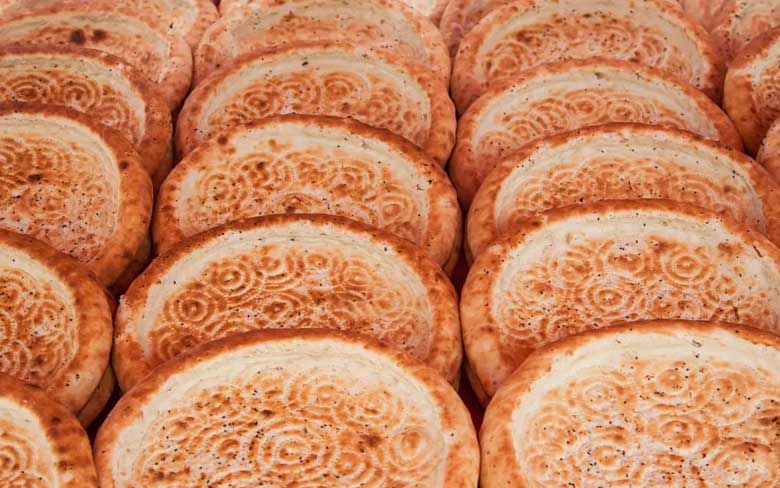 Obi Non Bread, commonly known as lepyoshka, is a very popular bread in Uzbekistan and Afghanistan. It is similar to nan bread and uses a leavening agent along with flour, salt, yeast, water, and milk.
It is baked in a clay oven; it is thick and gritty in texture and has a mild sweet taste. Obi non-bread is round and is decorated from the top, which gives it a beautiful and aesthetic look. Nigella seeds are sprinkled on the bread to enhance the taste.
Grissini Bread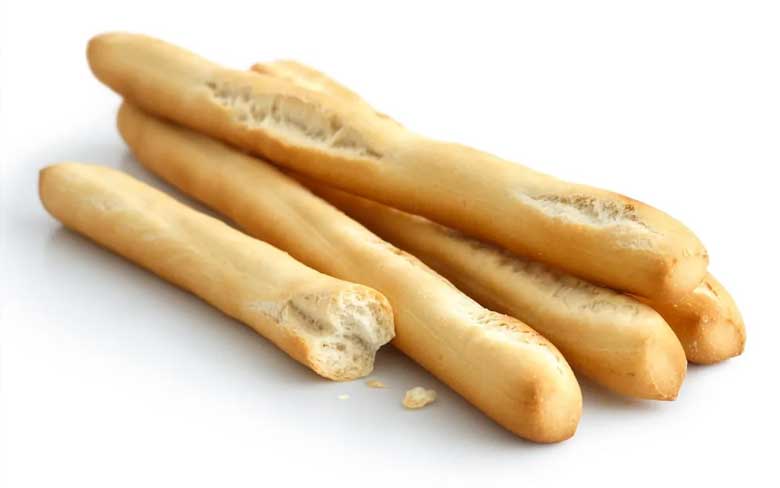 Breadsticks or Grissini bread are thin, crisp and long pieces of bread with a striking resemblance to pencil sticks. Breadsticks are originated from Italy. Grissini or breadsticks are a jack of all trades or truth be told a "jack of all flavors."
They can be eaten in any way; the best method of eating a Grissini is to top it with cinnamon and sugar. It is served as an appetizer and is very light and easy to digest.
Tortilla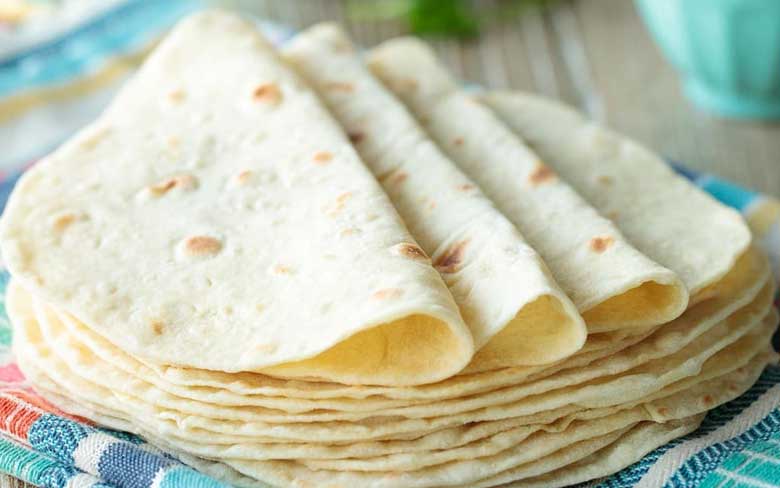 Probably the most famous type of bread on this list, tortillas are thin flatbreads made from cornmeal or wheat. Tortillas are very versatile and are used in several Mexican dishes like burritos, wraps, quesadillas, fajitas, and the most famous of them all Tacos. Tortillas can be enjoyed with almost every type of meat, including chicken, lamb, pork and beef.
Soda Bread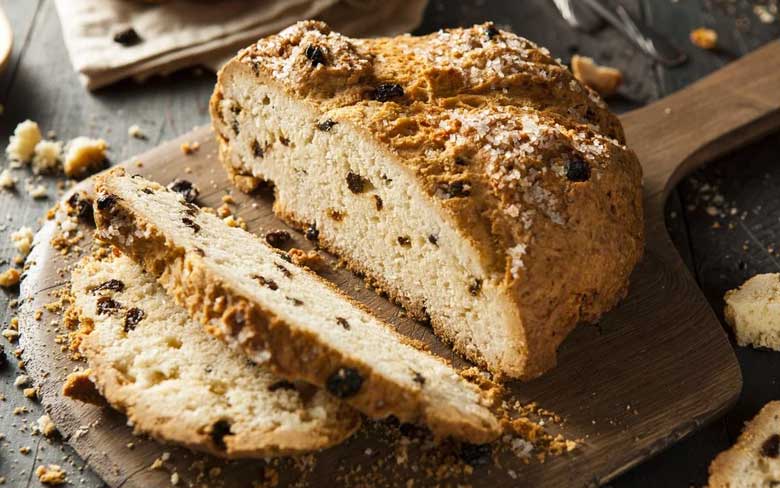 A traditional Irish bread that uses sodium bicarbonate as a leavening agent instead of yeast It is made by mixing flour, baking soda, salt, and buttermilk. The best thing about soda bread is that it can be prepared very quickly as it does not require a long time to rise. Soda bread is usually mixed with nuts and raisins for a new taste.
Matzo Bread
Matzo or matzah is a large and thin cracker-like flatbread. It is a part of Jewish culture and Jewish cuisine. It is made of five different grains which are also mentioned in the Torah and the bible- barley, wheat, oats, rye and spelled. There are two types of matzo bread, soft matzo, and hard matzo. It is used as a kosher in Jewish culture.
Qistibi Bread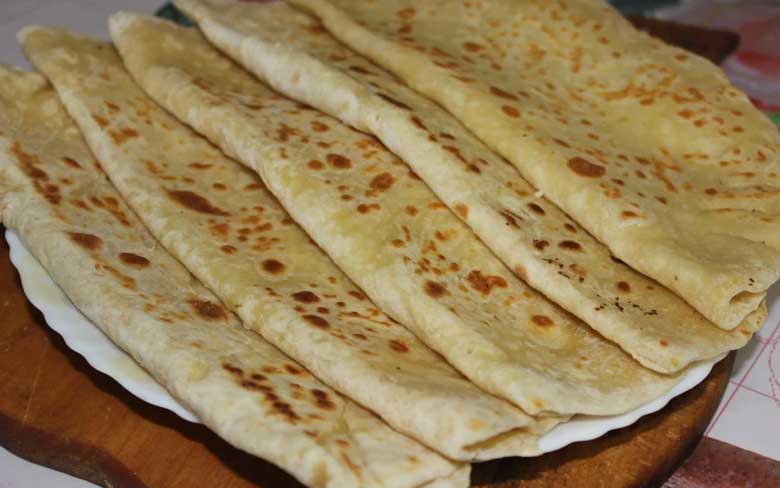 Qistibi is another unleavened flatbread and is a popular dish in Russia. Qistibi is a baked flatbread with several fillings inside; the most popular way of eating Gistibi is with mashed potato filling.
It can also be filled with meat. The filling is mostly spread on the inside of the bread, but you can also spread it on one side and then cover it with the other side.
Vanocka Bread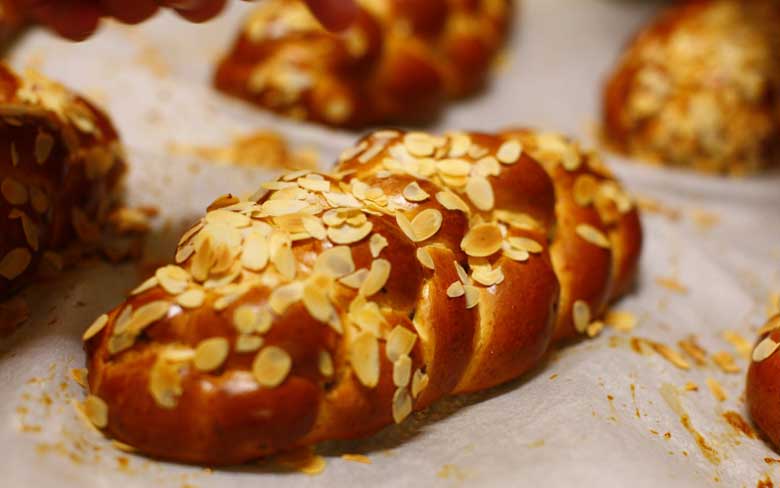 Vanocka is a special braided bread from the Czech Republic and Slovakia. It is considered as a festive dish because it is usually baked at the time of Christmas. It is made from white flour, milk, sugar, and eggs; sometimes, different nuts are mixed into the dough to add more character to the bread.
Vanocka bread has a very rich and buttery taste and is certainly a treat. It is served with different fruits and raisins. This bread has a very complex recipe and is only prepared for special occasions.
Yufka Bread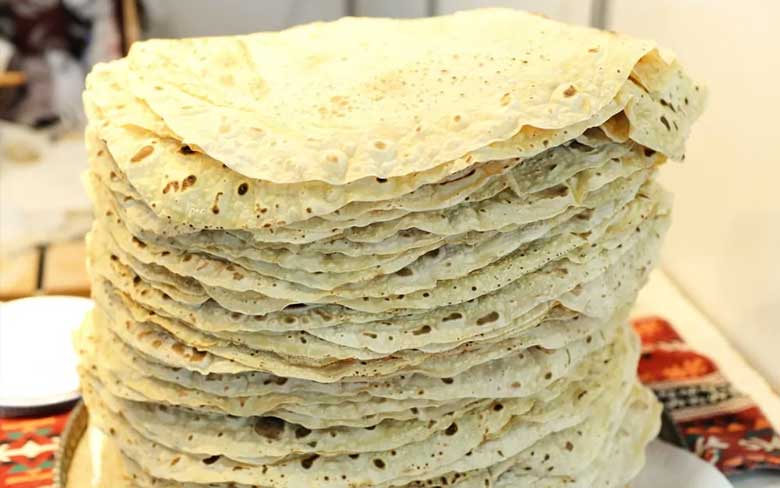 A Turkish whole wheat flatbread, which is paper-thin and round, Yufka bread is like lavash bread and is used in both luscious and savory dishes. Yufka can be eaten with vegetables, meat and cheese and also with nuts and fruits. It is very dry and is moistened with warm water before serving; Warm water can also be replaced by vegetable oil.
Zopf Bread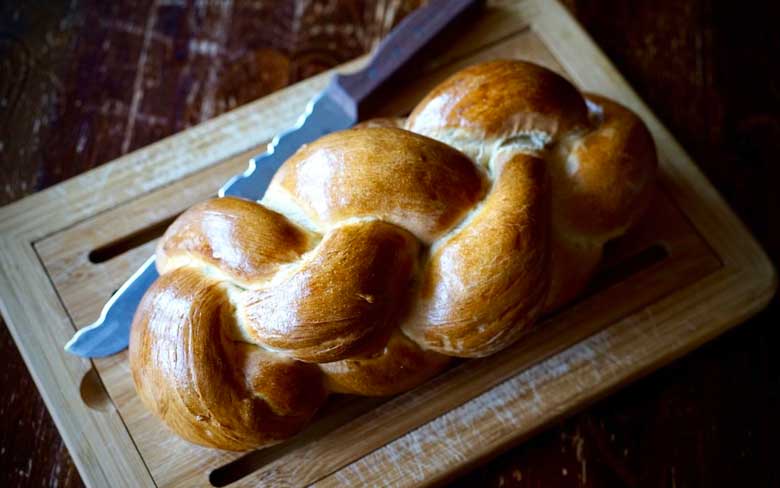 Zopf bread is a simpler version of the vanocka bread, and it is also made from white flour, milk, sugar, eggs, and butter. Zopf is a common breakfast bread in countries like Switzerland and Germany. It has a beautiful golden crust and is soft and chewy; it is eaten with jams, jelly, and butter.
Naan Bread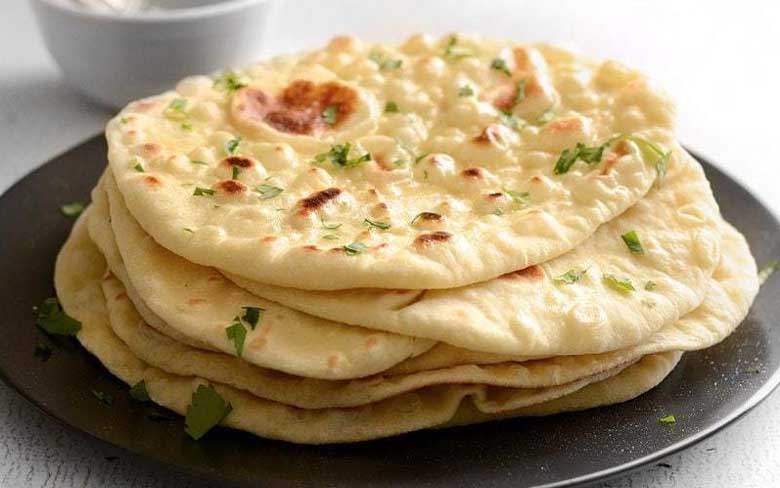 Naan bread is different from the rest of the types of bread as it uses yogurt, all the ingredients, including flour, milk, water, yogurt, and cooking fat, are mixed and then kneaded into a dough.
The dough is left to rise. After the process of rising is complete, the dough is shaped and is baked in a clay oven or tandoor at a very high temperature. Naan bread is soft and delicious, and it can be eaten with different curries and meats. Naan bread can also be filled with various fillings like minced meat and veggies.
It is common in many parts of Asia, like Iran, Pakistan, and India.
Paratha Bread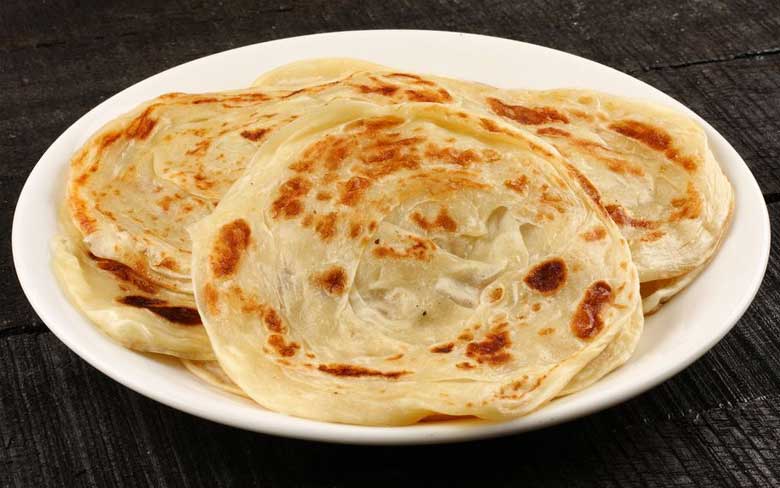 Paratha bread is a popular breakfast food in middle eastern countries. It is a layered flatbread that is usually fried in oil or concentrated butter. Whole wheat flour is used to make parathas, the process of making a paratha is somewhat similar to that of a roti. It can be eaten with different veggies like potatoes and spinach.
There are two types of paratha bread- plain paratha and stuffed paratha. Plain paratha is a simple layered dough fried in oil, and stuffed paratha is a layered dough filled with different fillings such as chicken, cheese or mashed potatoes.
Roti Bread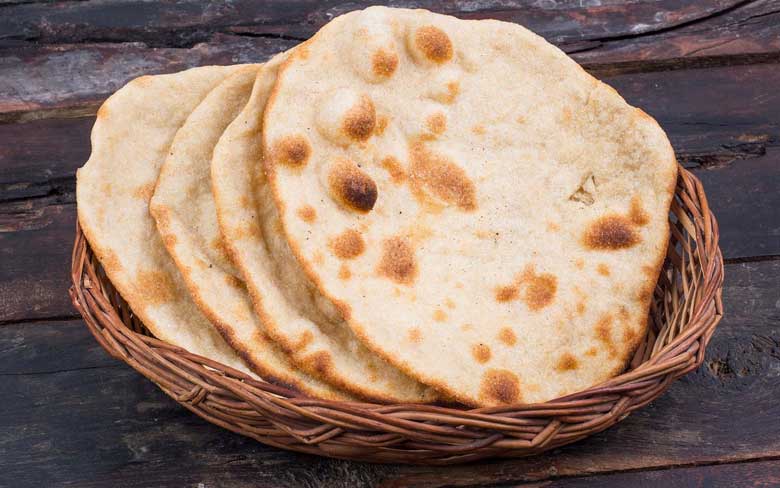 Roti bread is also a whole wheat flatbread just like the chapati and paratha bread, and the only major difference is that it is grilled on a pan without any oil and is a bit thicker than the chapati bread. Roti is also quite popular in middle eastern countries. It is usually eaten with different dips and spices.
Kifli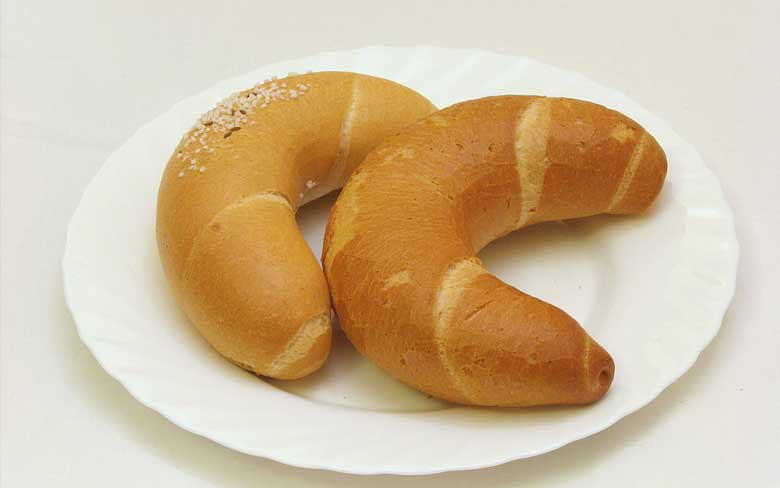 Kifli bread, which is also known as kifpel bread, is a traditional Hungarian bread. It has a unique shape because the dough is rolled and given a crescent shape before baking. Kifli is made of wheat flour and water.
It is given an egg wash before baking to add a shine to the bread; it can also be sprinkled with caraway seeds. Kifli can be eaten plain or as a sandwich, and it can also be topped with honey jam and whipped cream.
Bing Bread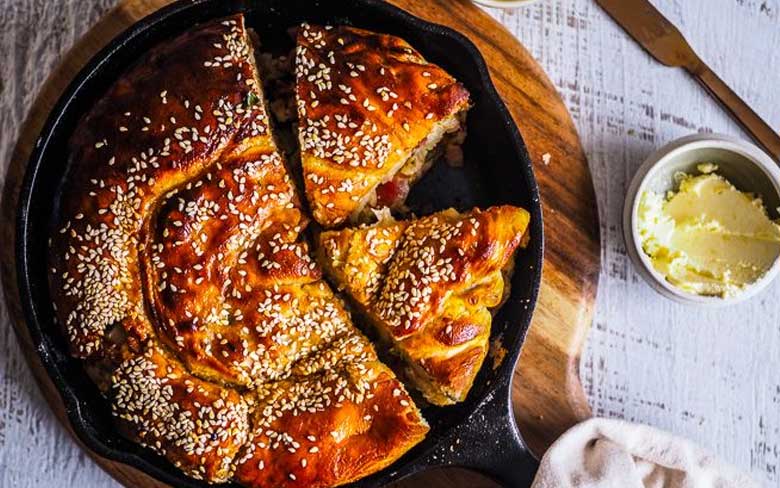 Bing bread is the Chinese version of the Mexican tortilla, only much thicker and much denser. It is commonly cooked on a griddle and is served with sweet bean sauce. Bing can also be stuffed with meat and scallions. It also uses wheat flour.
Zwieback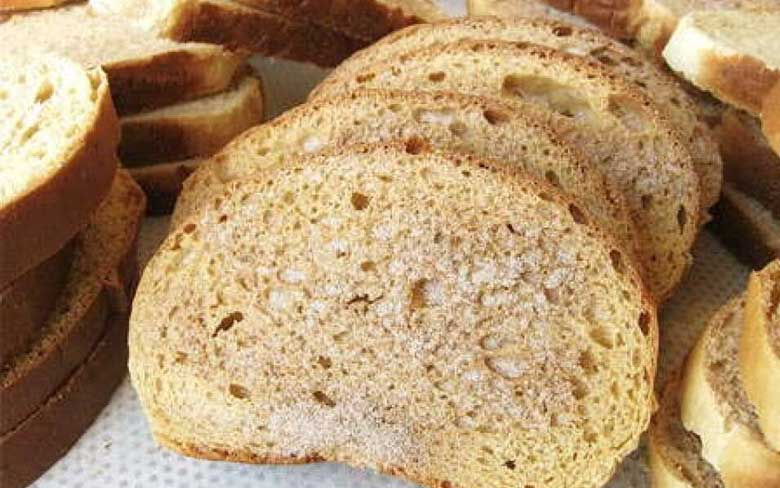 Zwieback is another European bread that is baked more than one time to give it an iconic texture. It tastes sweet and delicious, and the texture is crisp like a rusk. Flour, eggs, and sugar are used to make zwieback bread. It is usually eaten with tea and is a great appetizer. Sometimes lavender and lemon zest is mixed in the dough to add a really nice smell.
Conclusion
Bread has become a part of life for almost every person on the planet. The Oxford English Dictionary defines bread as the staff of life. Bread is not only just food but its a representative of different cultures and different traditions.
Bread is eaten almost every day all over the world, and it comes in all shapes and sizes, different colors, different textures, different tastes and different names, but at the end of the day, it is just bread no matter which part of the world it is from.