Tattoos are a permanent addition to your body. Tattoo-art is the process of burning ink onto any one of your body parts. It's a long and painful process, but the aesthetic can be worth it. Tattoos require commitment and are not for those people who have not made up their minds for it.
The only way to remove your tattoo is surgery, which can be expensive and time taking and can cost more than the actual tattoo. To get a tattoo, you don't need money or physical durability, you need to have a proper mindset because tattoos aren't an accessory, they are an extension of your body.
You can patch on a tattoo on practically any rate, starting from a couple of bucks to even hundreds of dollars. It all depends on where and by who you get it done. Let's talk about the more expensive side of tattoo artistry.
Most Expensive Tattoo Artists
You can get tattoos from high-end shops in Los Angeles or back alleys in Mexico. This craft often does not require any certification, and practically anyone with an ink gun can become a tattoo artist.
But when you want to make life-changing alterations to your body, you should get it done from a reliable source. The average amount of a tattoo artist charges is a couple of hundred dollars, but there are some artists out there who charge a lot more for their services
Enlisted below are the most expensive tattoo artists in the world and their charges;
Mike Rubendall (Net Worth $5.1 Million)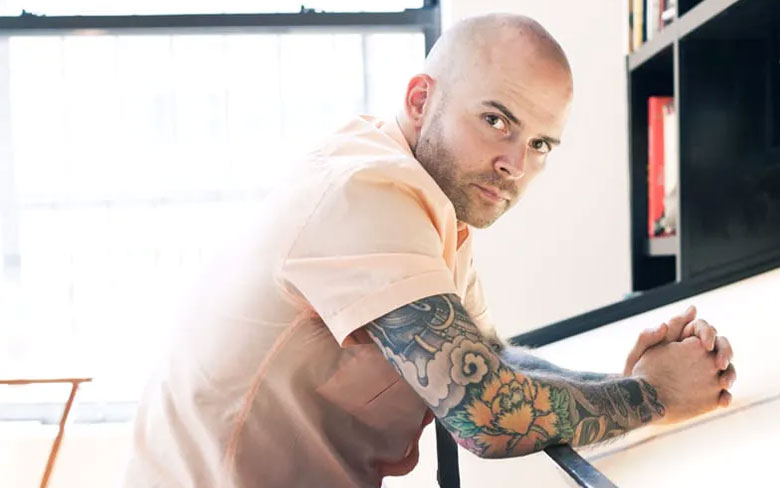 Mike Rubendall is a New York City-based artist, who was ranked in the top 5 by Inked magazine. He has also appeared in the hit TV series INK Masters, Prick and Tatoo wars.
Mike started his career working for Adorned. Still, he really gained success after opening up his own shop and reeling in customers who admired his skill. Mike's favorite types of tattoos are Japanese inspired and that of eastern origin; He also prefers horror-themed and neo-traditional tattoos.
Mike charges $130 per hour for his services.
Bob Tyrrell (Net Worth $19 Million)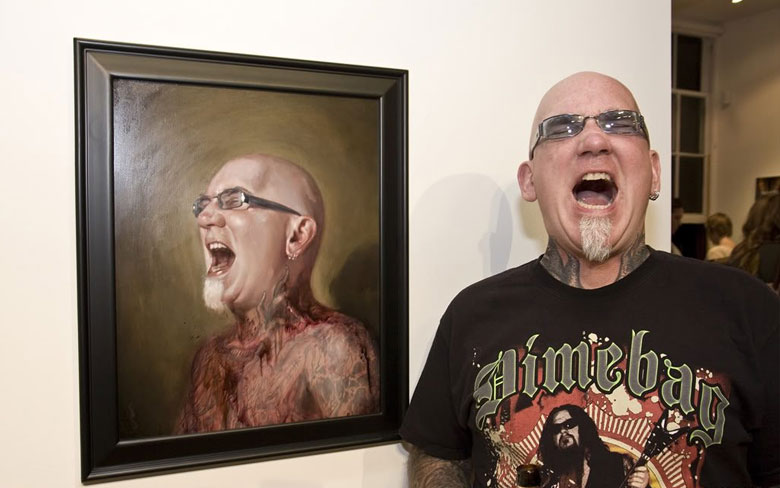 Bob Tyrrell has been in the inking business since the age of 34 and is still going strong. Bob has appeared on LA Ink and London ink, which are reality shows that follow different tattoos studios.
He also appeared on the jury for the Chaudesaigues award, a prestigious award that recognizes the art and career of tattoo artists all over Bob is best known for the artistic work he performed on the legendary musician, Kid rock.
Bob charges $150 per hour for his services.
Dave Tedder (Net Worth $99k+)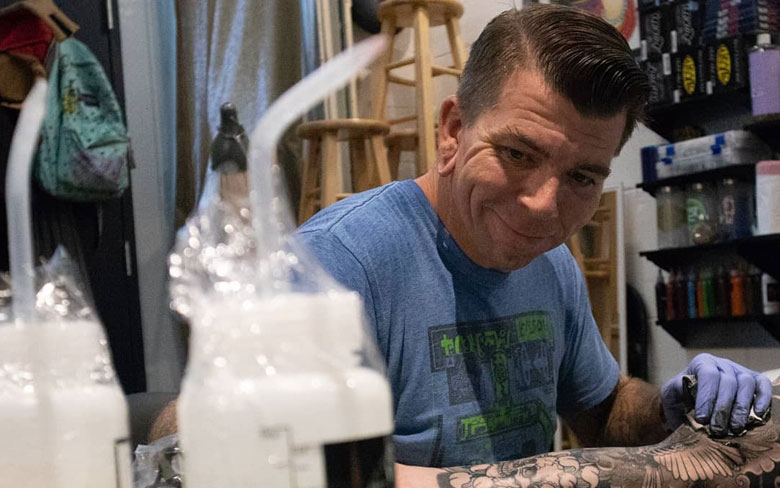 Dave began his career as a piercer in South Carolina, a state in which his profession was deemed illegal and was a taboo. He began his career in the tattoo business by seeking an apprenticeship to get a grasp of the market and improve his skills.
He then landed a job at a high-end tattoo parlor in Martyle beach. He, later on, he moved to Florida to further educate himself about tattooing and then making this craft his full-time career. Dave now works for the All or Nothing tattoo parlor and only takes jobs through appointments.
Dave charges $155 per hour for his services.
Brandon Bond (Net Worth $50,000 – $99,999)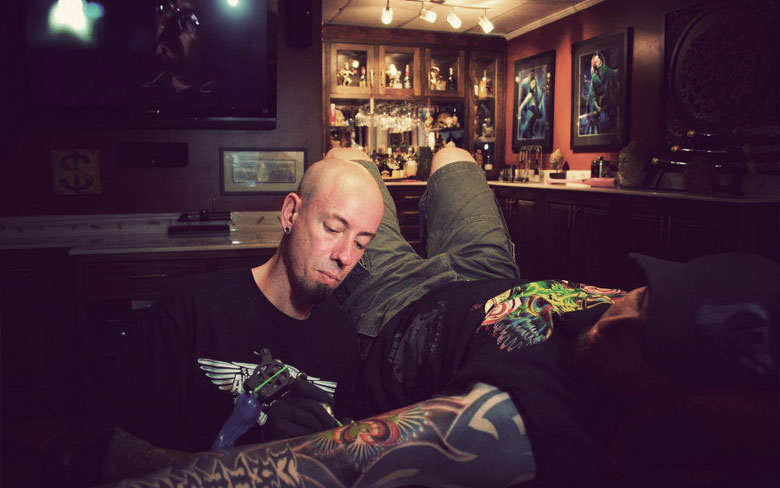 Brandon developed an interest in the tattooing business very early on, ever since he held a tattoo gun, a gift he had received from his friend. He tattooed all his friends and would drive to Florida every weekend to work at a tattoo parlor and would attend school in Texas in the weekdays.
Brandon Bond has created an empire of not only tattoo parlors but also other shops where you can find anything related to the tattooing craft, from books to movies to guides.
He owns the shops "All or nothing "and "Anti Art Elite, "both of which have gained much popularity throughout the country.
Brandon's minimum charge per hour is $200.
Stephanie Tamez (Net Worth $5 Million)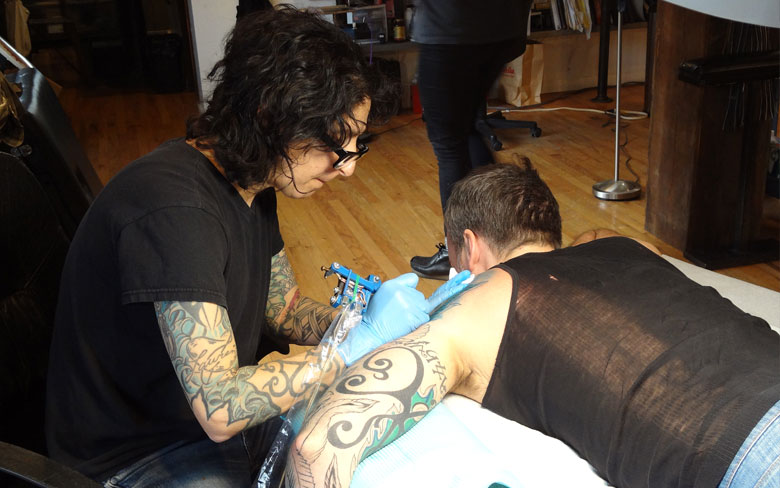 Stephanie started her career as a graphic designer before transitioning into the tattooing business. Stephanie is originally from Texan but learned to tattoo in a private studio based in San Francisco as well as with Bill and Junii at the Diamond Club.
Stephanie worked with the legendary tattoo parlor "Adorned" for nine years before moving to "Saved Tattoo."
Tamez charges her customers $210 per hour.
Kat Von D (Net Worth $10 Million)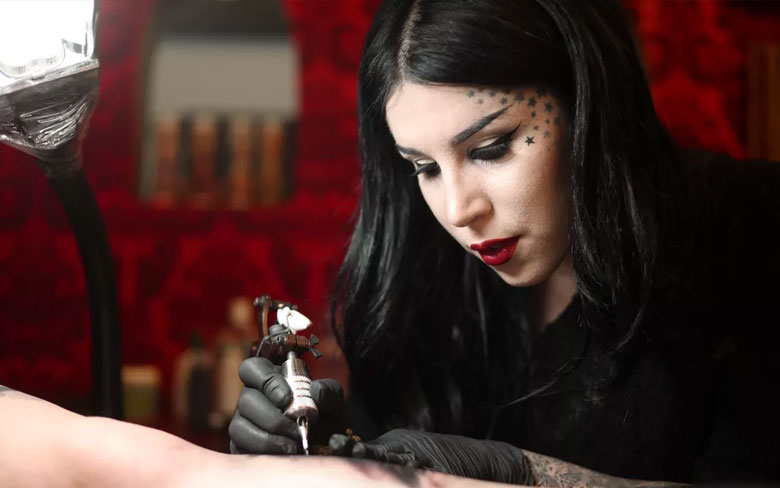 Kat D is best known for her work on the reality tv show LA INK; she also appeared on Miami Ink with Ami James. Her shop "High voltage" had become the main topic for conversation on her show LA Ink, and has grabbed attention from fans all over the world.
Kat has a staggering net worth of $10 million and charges $210 per hour; the price may vary depending on the size of the tattoo.
Paul Booth (Net Worth $7 Million)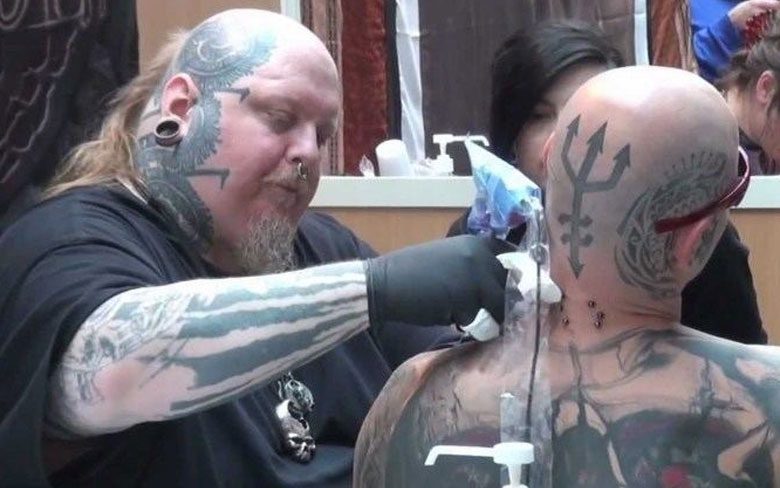 Paul has gained popularity for his rock and heavy metal-inspired style of design. He has amassed a cult-like following all around the world. He has worked with several celebrities, including Slipknot, Slayer and Soulfly, and also renowned WWE wrestler The Undertaker. Booth's artistic taste is of "gothic" nature, and horror inspired, and he works best on tattoos of this caliber.
Paul has also appeared on channels such and TLC, Discovery Network, and CNBC. Paul charges $310 per hour for his work, but It isn't easy to get an appointment with him, to book one you need to call in two years prior due to his high demand in the industry.
Anil Gupta (Net Worth $11 Million)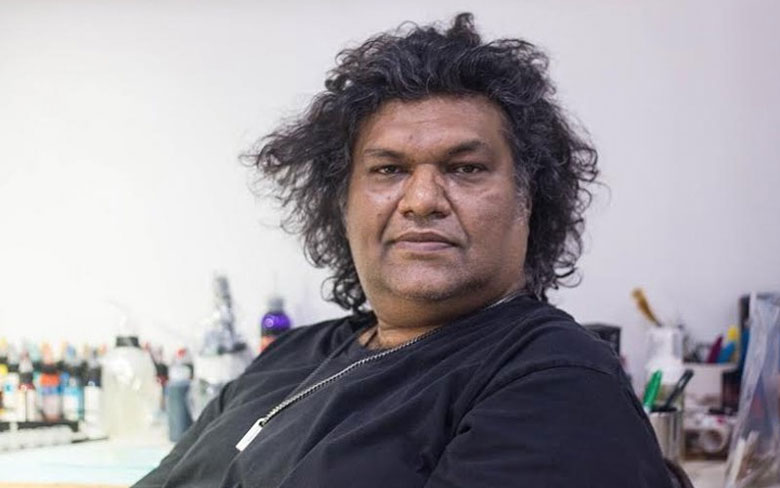 Anil is a legend in the craft and has been working since the late '80s at a time when Mumbai was still known as Bombay. He then packed his things and welcomed a new life in New York in the '90s to carry on his work, but this transition came with its problems.
He had to work underground because, at that time, tattooing was illegal. To get work done, customers would show up at his door and perform a secret knock and accepted payment in cash only.
He has overcome all these obstacles to become one of the most renowned artists of this day and age, having celebrities such as Christian Slater and Rossie O' Donnel as his permanent clients. To book an appointment with Gupta, you have to boo one six months in advance.
He charges a $455 fee every hour for his services.
Ami James (Net Worth $5.1 Million)
Ami is one of the most recognized artists of his generation and has been in the profession for 25 years now. He started at the age of 15 and was trained at a shop called Tattoos by Lou. He owns his parlor in London by the name of "Love Hate Social Club," which has gained a lot of fame with the locals.
He is also in the clothing business and is the owner of a company called "DeVille."Throughout his entrepreneurial endeavors, he has amassed a massive net worth of $5.1 million,
Ami charges $510 per hour for his work.
Scott Campbell (Net Worth $600 thousand)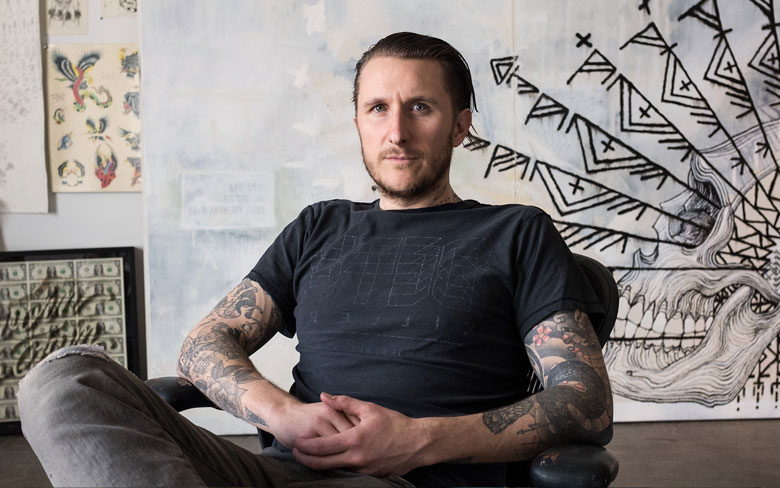 Scott Campbell is a legend in the tattooing business and is well known for his skills in his craft. Scott had grown up in a very conservative upbringing, which sparked something in him to search for something new. This search ultimately led to his passion in the tattooing business.
Campbell opened his own tattoo shop in New York City by the name "Saved Tattoo" in 2005, it was though here Scott had achieved his fame. Heath Ledger was his first celebrity client. He later, he had more celebrities on his client lists such as Robert Downey Jr. and Marc Jacobs.
Campbell charges $1,100 for his first hour and then $200 for the proceeding hours.
Final Thoughts
Tattoo artists have struggled to make their craft mainstream and dedicated their entire livelihood to its perfection. The artists who I've enlisted have one thing in common, their passion.
They have become global icons not because they pursued this art for the money; to the contrary, they continued this craft because they had a desire to.