There are many incredible animal species in our world that we have never heard about. Some appear to be from another planet, while others are highly uncommon, and we have never shown interest in any of them.
It turns out that lions, giraffes, dogs, cows, and cats aren't the only animals on the planet. Scientists are only recently discovering numerous species on Mother Earth, not simply in the ocean's depths.
In the last several years, a six-foot tree lizard and a new African antelope have been found. Our immediate or remote surroundings, on the other hand, are overflowing with life in a variety of forms, and it's fascinating to learn about them.
Coolest Animal Species
Tiger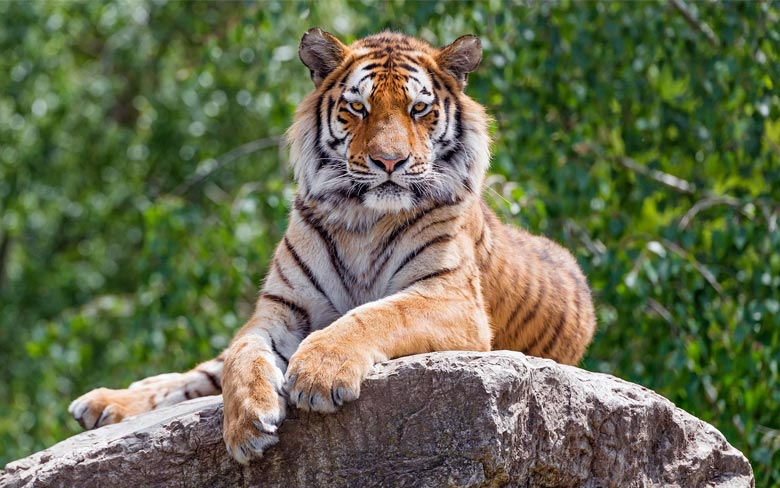 The tiger has always been a cool animal due to its magnificent attitude. It conveys grace and authority. Turkey, Asia, Russia, and many other regions of the world are home to the biggest of all cats. They are ferocious and strong creatures. And look at those patterns!
The tiger's roar may be heard from up to two kilometers distant. While you would not want to play with them, they have a lot in common with domestic cats. They play, sleep for much of the day, and enjoy affection. The tiger, unlike other animals, enjoys swimming and has been known to swim up to five kilometers at a time.
Okapi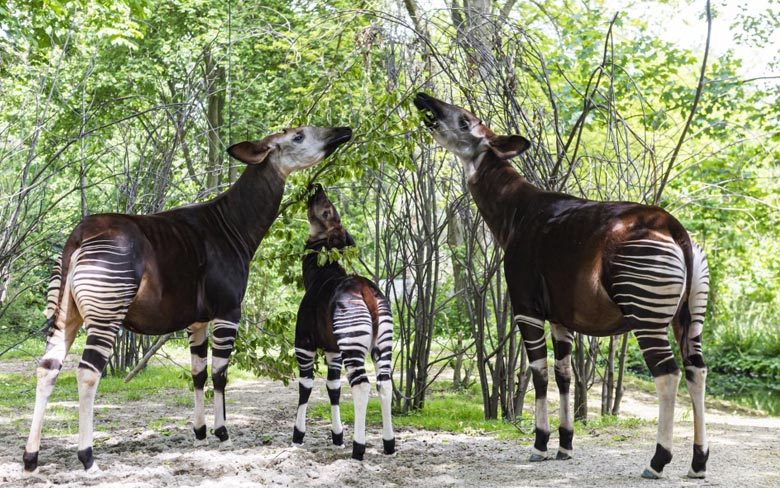 The okapi is one of the strangest-looking animals on the planet, with a mask-like appearance at times. The woodland giraffe, or zebra giraffe, is another name for it. Although it resembles a zebra, it is a giraffe relative. The okapi is a creature that originated in the Africa's Democratic Republic of Congo. It's a socially isolated creature that only interacts with other okapis when it's time to reproduce.
Slow Loris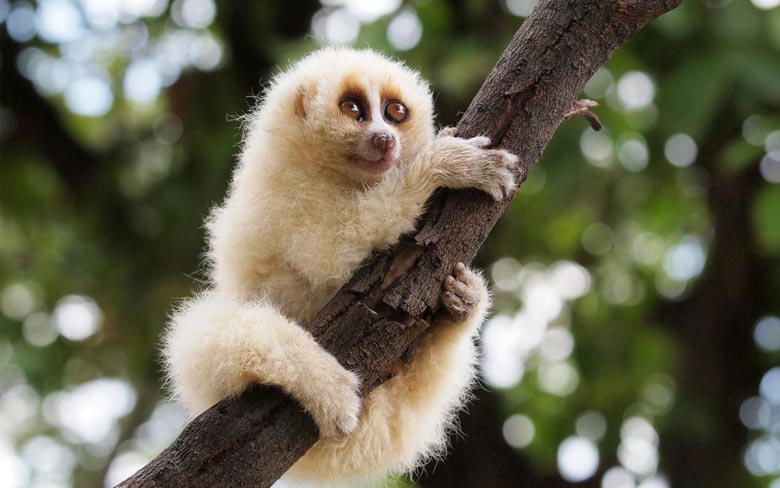 The slow loris is a beautiful animal that lives in Southeast Asian woods. The loris possesses deadly teeth, despite its attractiveness. When the animal grooms itself, the poisons from its teeth might travel to its fur.
The mother, loris, shield her kids from predators in this manner. Their sluggish and quiet movement is another defense strategy. Humans cause a lot of suffering for these adorable creatures. People hunt them down and remove their teeth, causing illness and death in many cases, as well as selling them as pets.
Humpback Whale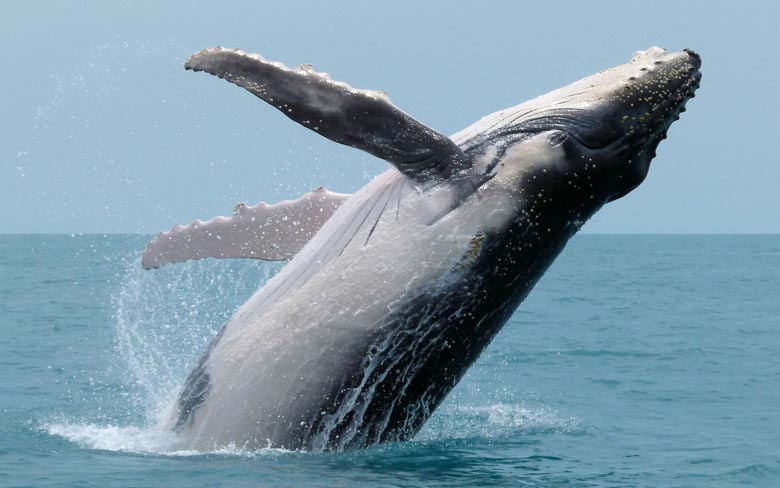 They are about 50 ft long and can live up to 80 years. Humpback whales are among the most prominent whale species, known for their spectacular underwater shows and unique sounds.
According to scientists, male humpback whales sing long, intricate "songs" that may last 20 minutes. Because the songs are region-specific where the whales reside, humpback whales sing in a range of "dialects."
Angora Rabbit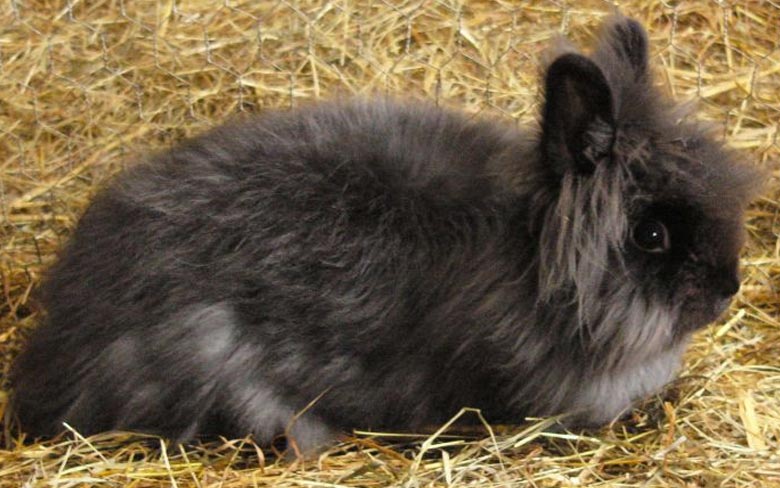 The angora rabbit is the hairiest type of rabbit and is known for being one of the most visually appealing animals on the planet. They are fluffy and adorable and come from Turkey, but they spread over Europe before being imported to the United States. The angora rabbit loses its fur at least 3 to 4 times per year.
A lot of domestic breeding for its wool has resulted in the Angora Rabbit. The end product resembles a cat that has come into contact with a plug. This rabbit comes in several different breeds.
Pacu Fish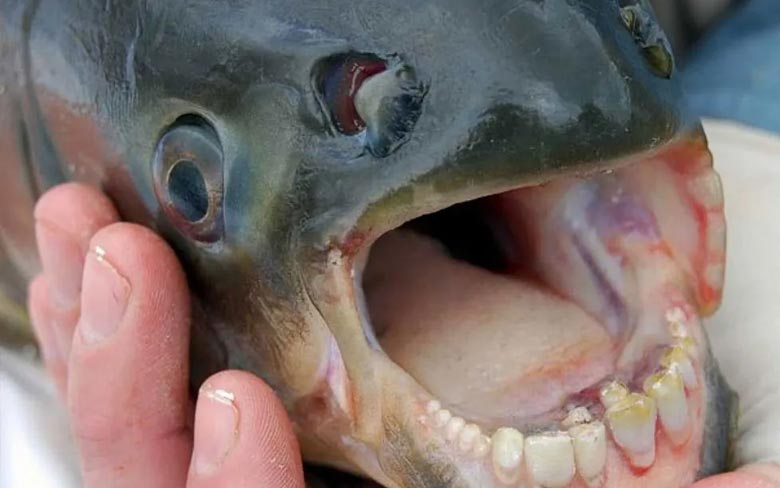 Picu fish has A tongue and a mouth full of teeth, just like humans. Now isn't it cool? It's a bigger marine species that live in South American seas and Amazon rivers as a member of the piranha family.
The pacu, on the other hand, does not consume meat. It enjoys nuts and seeds, even though these can harm other animals and people if the fish is disturbed.
Glaucus Atlanticus or "the Blue Dragon"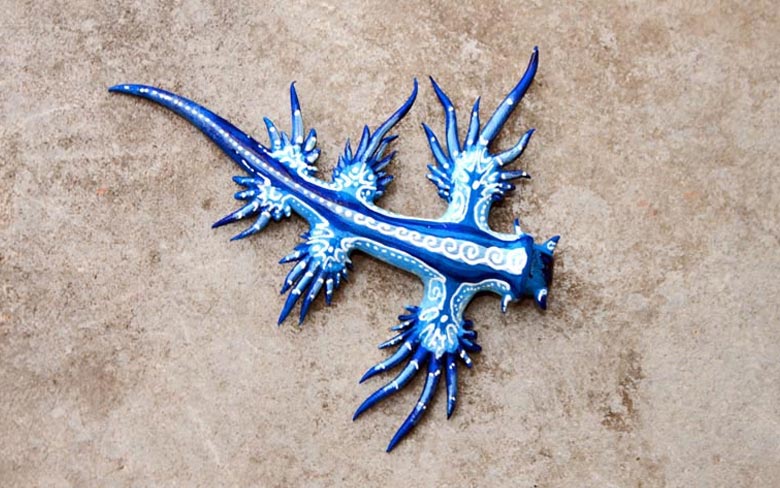 Glaucus atlanticus is its proper name. It floats in the water inverted, its blue side blending in unnoticed. It appears to be a tiny dragon if you look closely. As a result, he's known as the "Blue Dragon."
The Blue Dragon has a powerful sting that you should avoid at all costs. The blue dragon, sometimes known as a sea slug, is a recent discovery. However, unlike many other new species that only appear in specific habitats, this one appears everywhere.
Bearded Vulture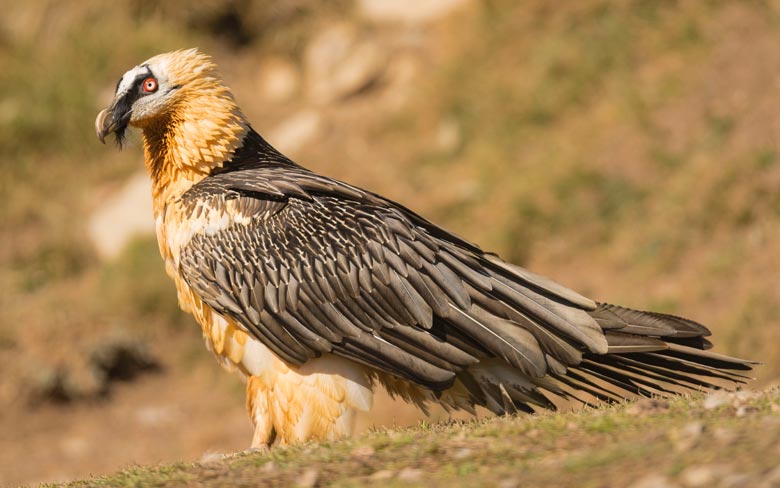 The bearded vulture can be found in hilly areas of southern Europe, although it is primarily found in Asia and Africa. T his vulture, unlike others, has a large head and isn't bald. The majority of their diet consists of the leftovers of dead animals.
The bearded vulture's food consists mainly of mammals (93 percent), birds (6%), and reptiles (1%), with medium-sized canids accounting for a significant portion of the diet.
Kakapo
The kakapo is the biggest parrot in the world. Due to the lack of mammalian predators in its New Zealand island habitat, it grew to be a big and peaceful bird. It has odd odors, barks like a dog, and is large and nocturnal, among other characteristics.
It is a severely endangered species (less than 200 left, and most of these individual kakapos have names). When Europeans introduced dogs and cats to New Zealand, they picked up on the kakapo's scent and quickly located them.
The Mimic Octopus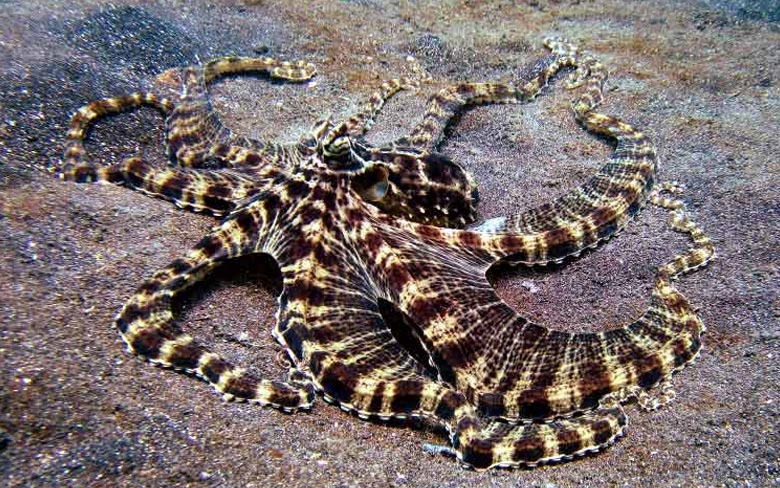 The Mimic Octopus is extremely good at copying a variety of aquatic creatures. In one case, it imitates a crab such that actual crabs mistake it for a partner. The crab that is attempting to mate with it is eventually eaten. It's a skilled impersonator, assuming the look and behavior of poisonous or foul-tasting animals to avoid predators.
It can imitate anemones, jellyfish, mantis shrimp, feather stars, brittle stars, gigantic crabs, seahorses, crocodile snake eels, stingrays, and nudibranchs things.
Fossa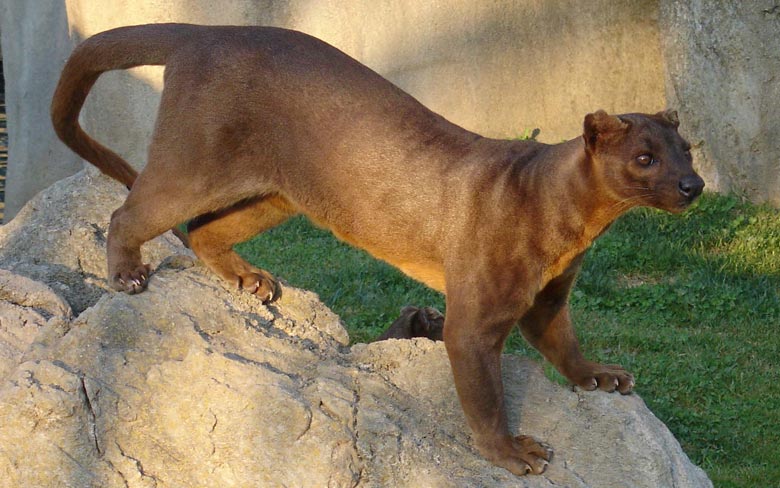 The fossa looks like a hairless cat and lives in Madagascar's woodland environments. These predators, on the other hand, are wilder than a cat. They can hunt anytime, and lizards account for more than half of their diet.
The animal may grow up to six feet in length, despite its cat-like look. Fossas have semi-retractable claws and are deadly attackers. The fossa can climb down vertically, which is unusual for a true mammal.
Axolotl
The axolotl is sometimes known as the walking fish, even though it is not a fish at all. Although it is an amphibian, it does not leave the water. It's a Mexican species that may be found throughout the land.
Mexican salamander is its common name. They are easy to maintain and resilient, making them ideal for new pet owners. Furthermore, their nutritional requirements are easy. Humans are not endangered. They can, however, pass on parasites and diseases to other pets.
Blob Fish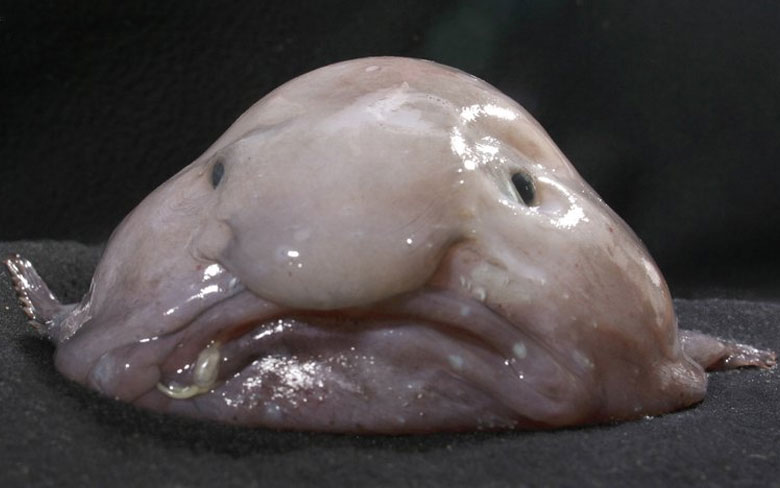 The pressure in its natural environment, 2,000 to 4,000 feet underwater, makes it seem like any other fish. The water pressure lessens when the blobfish is raised to the surface by fishermen's dragging nets, and the blobfish tends to lose its structure.
Blobfish looks like melting wax, with a grumpy older man's face. It has dark eyes, a large punchdrunk nose, and a constipation-like expression. The density of the blobfish, which lives in the deepest seas of Tasmania, Australia, and New Zealand, is slightly above that of water.
They are very protective of their families. The female can lay many eggs, and either parent will stay on the hatchlings to protect them from predators. Blobfish lack a swim bladder in comparison to other fish. They have an air sac on their backs that allows them to change their buoyancy.
Pink Fairy Armadillo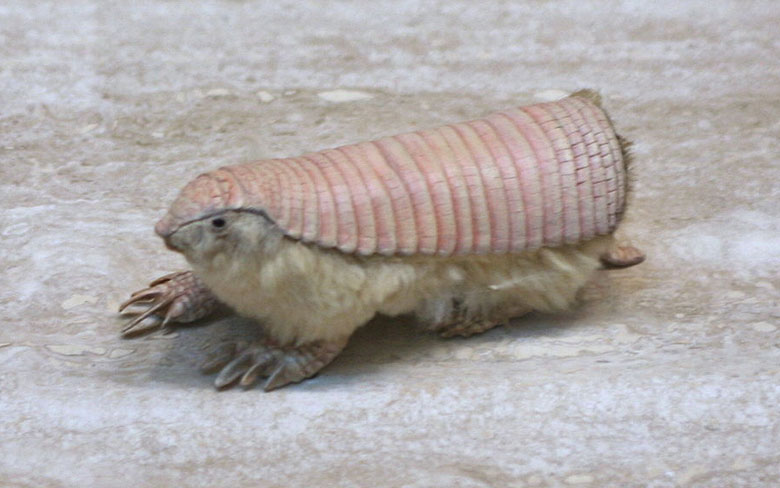 Pink Fairy Armadillo is the world's tiniest armadillo species, found exclusively in central Argentina. Pink fairy armadillos have a shell (carapace) like other armadillos, but they are softer, thinner, and more flexible, covering approximately half of their bodies. The pink hue of the shell derives from all the blood veins along its surface.
Pink fairies are highly sensitive to environmental changes, and in captivity, they generally only last a few days. A pink fairy can succumb to hypothermia from damp fur if its burrow floods. Pink fairy armadillos are very sensitive to stress, and humans should avoid them at all costs.
Tarsiers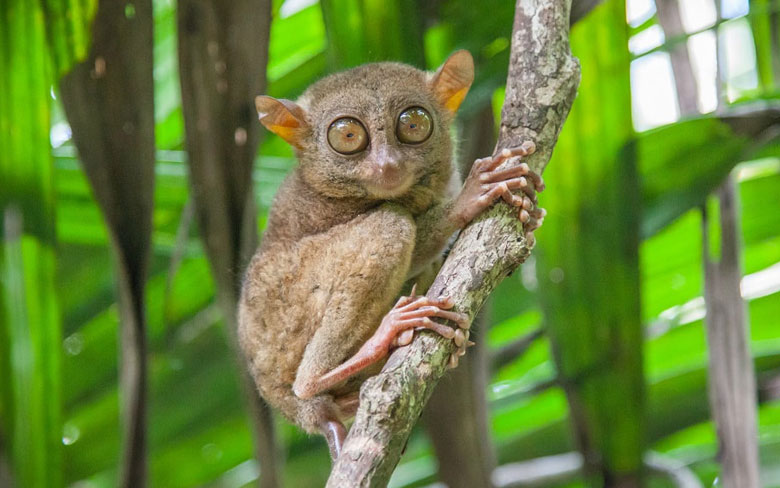 Tarsiers are fascinating animals that may grow to reach five inches long. They usually eat insects and have been seen jumping from tree to tree and eating birds.
They're nocturnal and use their bony fingers and long tail to move incredibly quickly. Every year, female tarsiers have around one baby tarsier. Turning their heads up to 180 degrees like an owl is so cool. What do you think?
They are fragile, emotionally sensitive creatures who are easily agitated. The tour guides warn that they commit themselves by beating their skulls against tree trunks when tarsiers are agitated. Therefore, visitors must keep noise to a minimum.
Conclusion
Our world is home to a diversity of beautiful animals, many of which are endangered. We must quit killing and utilizing these animals for entertainment to safeguard them. Animals that belong in the wild should remain in the wild!
Nothing compares to observing animals in their natural habitats, whether it's lions hunting their prey on the African savannah or gorillas swinging through the branches of a tropical rain forest.