Gymnastics involves a performer known as a 'gymnast' who performs unique stunts that are based on maintaining balance, such as, leaps, turn, acrobatic feats, handstand, flips, and lots of other balance-required movements. Gymnasts perform their stunts on different equipment such as the floor, gymnastics bars, ribbon, rings, and rope.
Here's another brief description of gymnastics:
Gymnastics is an exercise that involves coordination and a lot of physical movements. All gymnastics stunts are performed on floors, jumping horse, pommel horse, balance beams, and rings, etc.
What is Gymnastics?
Story
Gymnastics is derived from the Greek word 'gymnast,' which means 'naked.' In ancient Greece times, a lot of gymnastics competitions contained nude performers. After some time, the United States became the first country to ever witness gymnastics as a sport in 1862 and Gymnastics was got a name in the Olympics in the same year.
Gymnastics is a very old game, and it improved with time and got the title of a "modern game" in 1896 from the Olympics. In the early years of Olympic competitions, only men were allowed to compete as gymnasts, and only one particular sport was performed – rope climbing.
Back in the early days of gymnastics birth, rope climbing was a very special game to be included in the gymnastics tournaments; however, it is quite out-of-date nowadays.
Here's a fact: In 1928, the first Olympic competition was held in Amsterdam. During this year, women were allowed to compete for the first time as well. Sadly, side horse vaulting and rope climbing were eliminated from the competition.
Types of gymnastics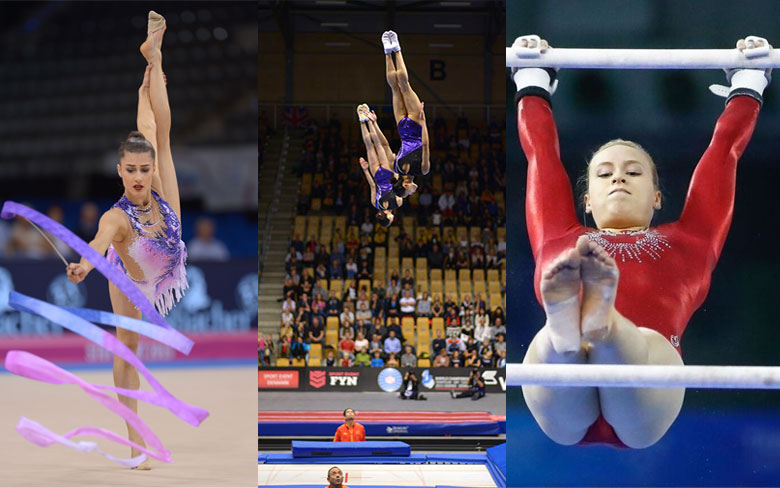 Based on the current Olympic rules, gymnastics are divided into three unique types.
Rhythmic Gymnastics is performed with ribbons, hoops, ropes, and other symmetric pieces of equipment as a part of their gymnastics routine.
It is easy to guess this category just from the name; it involves a trampoline. Gymnasts perform their routines on trampolines, and a flip is necessary to complete the trampoline trick. Trampoline gymnastics became a part of the Olympics in 2000.
In artistic gymnastics, both men and women compete with one another by performing stunts on apparatus like parallel bars, vaults, uneven bars, horizontal bards, pommel horse, balance beams, rings, and floor exercises.
Gymnastics Events
Both men and women perform stunts on different pair of apparatuses. Men are restricted to perform their physical activities on vaults, still rings, parallel bar, floor exercises, high bars. On the other hand, women are restricted to perform gymnastics on the uneven bar, balance beams, floor exercises, and vaults.
Who is Eligible for Gymnastics?
Gymnastics is based on flexibility, internal strength, and stability. These are the building blocks of a gymnast, and these are important to lead a healthy life. Gymnastics has nothing to do with gender or age. Anyone can be a gymnast, but it requires a lot of hard work, discipline, sacrifices, and devotion to stand up to the level of Olympics.
The Advantages of Performing Gymnastics
Gymnastics is a wonderful sport, and it comes with a lot of benefits for potential sportsmen. Above all the benefits, gymnastics enhances the physical and emotional development of an individual.
The most amazing benefit of gymnastics is that it can shape the body real good.
Gymnastics plays a vital role in enhancing the confidence of an individual.
Gymnastics makes a person realize his goals and ambitions.
Every challenge becomes a piece of cake due to the hard training in gymnastics.
Performing gymnastics helps to enhance one's ability to balance and flex.
The most Admirable Gymnastic Groups
The most admirable countries that have dominated the entire 20th century and have become the leading best gymnastic performers in the Olympics are Japan and the Soviet Union. Other than that, Romania, the United States, China, and Russia have also topped the Artistic Gymnastics.
The Rhythmic gymnastics is dominated by Russia, Ukraine, and Belarus by winning hundreds of Olympic medals. The Trampoline Gymnastics, on the other hand, is a winning category of gymnastics in China, Canada, and Russia. These three countries contain the most medals of Trampoline gymnastics than any other.
The Best Gymnastics Tournaments
The Gymnastics Olympics games happen every four years later, and the Artistic Gymnastics contains five groups which first appeared in the 2012 Olympic Sports in London.
In the non-Olympic years, World Championship got second place in becoming the largest Olympic competition of all time. Other than that, two gymnastics championships were held in the year 1994 and 1996.
The World Championship, on the other hand, happened after every two years. There are lots of other great competitions such as the Asian Games, the Pan American Games, World Cup Meets, and the European Championships.
Can Gymnastics be done at home?
Yes, of course, Gymnastics can be done at home. However, gymnastics does require a lot of physical and mental strength, a sense of equilibrium, harmonization, and suppleness.
Unfortunately, there are not a lot of gymnastics training centers in some areas, and it can be very expensive to get a formal trainer if you really want to become a professional gymnast. But, if you are passionate about gymnastics, then you have all the heart and strength to make it as a professional gymnast.
Is it Dangerous to Perform Gymnastics?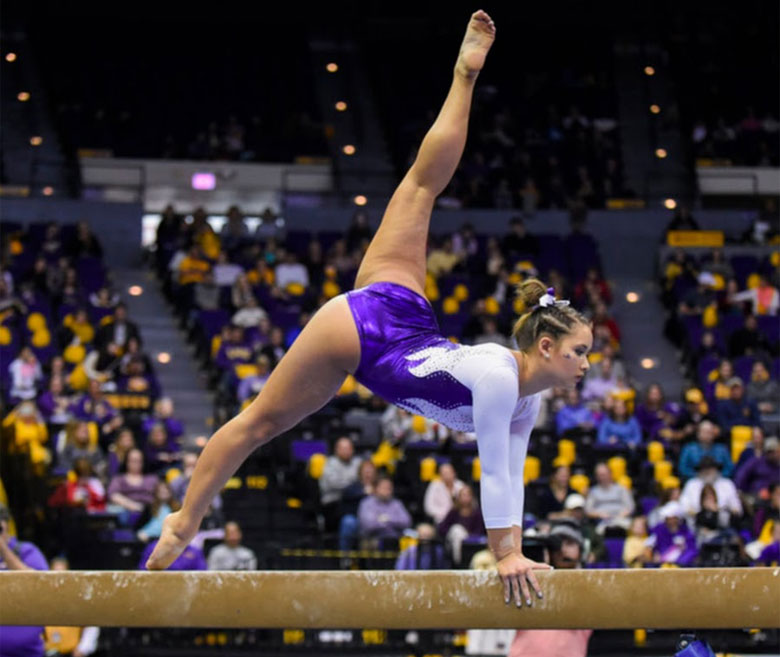 Without a doubt, gymnastics is a very dangerous sport. Some are die-hard lovers of gymnastics and do contain the qualities of becoming professional at their game, but only a few make it out with less possible injuries. Following are some basic dos and don'ts of gymnastics.
Gymnastics trainers often advise their players to lose weight and eat healthy food.
Gymnastics requires perfection, and even the slightest act of misbalance can lead to several injuries. Gymnastics often suffer from sprains and dislocated bones.
Do get Influential Trainers
When it comes to gymnastics training, it is important to get yourself the best of the best trainers. A trainer that plans out your regular schedule and bombs you with positivity has a higher chance of taking you to the top rather than a bad-news trainer.
The Death of the First Gymnast
Julissa Gomez on August 8, 1991, died while performing gymnastics. She was the first person ever to lose life while being a gymnast.
She was an American, and she was one of the best gymnasts of America in the 1980s. She first had an injury from a vaulting performance, but that injury became severe with time, and she couldn't make it.
What is the Relation of Gymnastics with Cheerleading?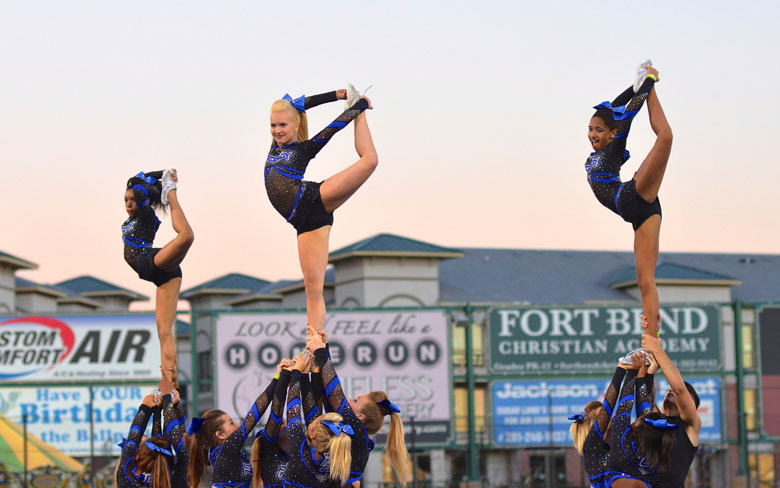 When we compare these two from a sports point of view, they are kind of similar. But, both require different strength capabilities during performance, training, and responsibilities are totally different. We cannot pass any statement regarding the convenience of any one of these sports, because both are difficult in their own way.
Gymnastics requires everyday training, while cheerleading does not.
Gymnastics requires physical strength and only physical strength, but cheerleading requires a smiley face and a good vocal.
Cheerleading is performed group-vise, but gymnastics is performed individually.
Some stunts are illegal in cheerleading, but they are legal in gymnastics.
Gymnastics Wear
As mentioned in the beginning, gymnastics requires unique physical movements on difficult pieces of equipment such as rings, vaults, pommel horse, and gymnastics bars. Performing stunts on these pieces of equipment require subtle dressing and gymnastic-related outfits.
Following is a list of the outfits that are suitable for performing gymnastics.
Shorts are not included in the gymnastics competitions, but they are best for wearing while training. Players can wear leotards with shorts, but shorts shouldn't be loose because that can include a risk of injury.
Note: Never wear shorts that include buttons, straps, zips, or pockets.
Some gymnasts do not wear undergarments because the leotard outfit is similar to a bathing suit. Undergarments should only be worn to cover the outfit.
Most gymnasts use leotards while performing. Leotards are similar to bikinis but are cut from the groin area.
Gymnasts wear leotards during the performance, but leotards should never contain strings, straps, or frills because that can cause a blunder in the performance.
Most gymnasts perform stunts barefooted, but some prefer to wear slippers especially designed for gymnastics. These slippers make sure that the gymnast doesn't trip or slip during a performance.
Pants are mostly worn during competitions or training. However, during sports, the pants are combined with singlets. The pants outfit is usually fit for rings, parallel bar, pommel horse, or high bar performances to keep the skin from rasping.
T-Shirts are not allowed in gymnastic tournaments, but this is a very comfortable garment for men. The only rule for wearing a T-Shirt while gymnast-ing is that the shirt should tight, fit, and elastic enough to withstand the physical movements.
FAQs
When did Gymnastics begin?
Gymnastics was introduced as a sport in the United States in 1862.
When did Gymnastics starred as an Olympic sport?
The first-ever Gymnastics Competition was held in 1928.
What are the reasons for quitting Gymnastics?
One can quit gymnastics for a lot of reasons which include, fear, money desire, freedom change, life risks, body changing, social pressure, and extra activities.
Is Gymnastics a cause of Scoliosis?
Yes, scoliosis can be caused by gymnastics due to trampoline jumping.
Is Gymnastics a confidence-booster?
Yes, gymnastics can increase the confidence level of an individual.
Can gymnastics lead to migraines?
Gymnastics requires a lot of focus, and that focus can often lead to headaches. So yes, gymnastics can cause migraines from performing stunts that require tumbling.
Can gymnastics break the hymen?
Side horse is a think cover which can easily be torn from different physical activities, and yes, gymnastics can break your hymen.
Is arthritis caused by Gymnastics?
Gymnastics often causes injuries, and these injuries can lead to arthritis as well.
Can Gymnastics lead to backaches?
Yes. The most common and foremost pain caused by gymnastics is lower back pain.
Is it dangerous to perform gymnastics?
Yes, it is dangerous to perform gymnastics because one slight bad move can cause several injuries and sprains that might not ever be healed.
Is gymnastics better or Karate?
Both karate and gymnastics offer different specialties, but gymnastics increases the elegance and suppleness of the body.
Is Gymnastics more preferable than cheerleading
The routines of gymnastics are well-established than the cheerleading routine.
Is it good to perform gymnastics?
Gymnastics play a vital role in maintaining the healthy body of a person which is a major helper to prevent diseases like cancer, heart disease, asthma, diabetes, obesity, and etc.